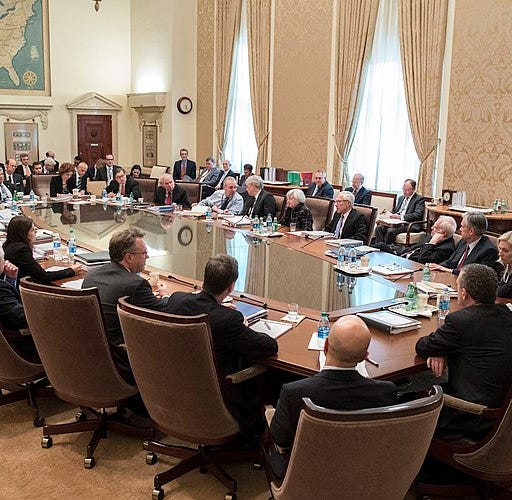 Dec 17, 2021 • 5M
The Automated Central Bank Is Superior
To investors,
There has been immense scrutiny on the Federal Reserve and central banks around the world over the last 18 months. Everyone from investors to business owners to retirees are trying to figure out what the central banks will do with interest rates and asset purchases, so they can better prepare their portfolios for the future.
It is easy to get lost in the day-to-day drama of what the central banks are going to do. Every mainstream media outlet is talking about the various scenarios. Investing forums and Twitter users are speculating on the color of the Fed Chairman's tie or whether he uses the word "dovish" or not. Some analysts even spend time trying to measure correlations between the length of press conferences and future interest rate decisions.
It has become absolute madness. The financial world, and various related aspects of society, all patiently wait for the decisions of a small group of 12 people who emerge from the FOMC meetings. There are other people in the room during the meetings, but ultimately 12 people are deciding what will happen to trillions of dollars in assets and billions of people. (here is a 2016 FOMC meeting as an example)
It doesn't have to be this way though. The elites who make up the minority don't have to be the ones to make the decisions. In fact, I would argue that the world would be better off if humans weren't in charge of making these decisions at all.
We know that human decision-making is flawed. We are emotional animals. We have bias. There is academic study after academic study that shows how humans are experts at poor judgement.
So what does that have to do with central banks?
Central banks are supposed to have two core components to them — independence and predictability. José Manuel González-Páramo, a member of the Executive Board of the European Central Bank from 2004 - 2012, gave a speech in June 2007 titled "Inflation Targeting, Central Bank Independence and Transparency." In that speech, he stated the following:
"Indeed, the principle of central bank independence in the pursuit of the goals of monetary policy has been codified in the legal systems of many countries. Perhaps even more importantly, there is evidence that the importance of this principle seems to be increasingly well understood by society at large. According to all surveys among euro area citizens, an overwhelming majority of respondents support the pursuit of price stability as a goal of the European Central Bank (ECB) and back the ECB's independence in order to guarantee the achievement of this goal….

…But I am not here to talk about politics. Indeed, one of the great advantages of central bank independence is precisely that we can ignore the political furor and concentrate on the welfare-enhancing objective of keeping inflation under control. At the same time, I could not agree more with the view that central bankers must strive to fully comply with the standards of transparency and accountability that democratic societies rightly demand from independent public agencies."
Central bank independence is absolutely crucial. Additionally, Jose went on to say the following about a central bank's predictability:
"Going back to the subject of expectations, I have thus far focused on inflation expectations. Before concluding, however, I should like to mention another type of expectation which is of interest to central banks, namely expectations regarding future monetary policy rates. Such expectations provide benchmarks against which to assess various aspects of crucial importance for a central bank's success, such as its transparency, its predictability, and the effectiveness of its communication strategy, among others. As a result, expectations regarding future policy rates, whether taken from surveys or financial market data, are an essential source of information for assessing the degree of understanding of a central bank's monetary policy strategy and conduct by market participants and external observers."
These are the words from central bankers themselves — the independence and predictability of a central bank are essential to the organization's effectiveness.
This brings me to a new type of central bank that has been created. It is fully automated, completely independent, and the most predictable organization in the world. What do I mean?
A pseudonymous person or group created an automated central bank a little over a decade ago. They ensured that no one person or organization would ever own it or control it. The central bank is decentralized, which gives it complete independence. This person or group also made sure to write the monetary policy for the central bank into software code and then ensured that no one would be able to change it unilaterally. As if that wasn't enough, the creator(s) of this digital central bank also open-sourced everything so that it could be audited by anyone, at any time, from anywhere.
This digital central bank structure allows for the most independent and most predictable central bank in the world. In a sense, you can think of this new creation as an automated central bank that is superior to the human-led central banks that have existed for the last few decades.
So what is this new central bank? Bitcoin.
Bitcoin is completely decentralized. It has a programmatic monetary policy. No one owns the network and no one controls it. The system is fully transparent and anyone can audit it. The monetary policy is written into software so you know every future monetary policy decision for the next century. Bitcoin is the most independent and most transparent central bank in the world.
As people begin to understand how this automated central bank works, they will slowly decide to start storing their economic value and personal wealth in the independent and predictable system. This difference is being highlighted even more recently with the undisciplined and variable decision-making that is happening.
Eventually the world won't hang on every word of a press conference. We won't rely on 12 people in a room making decisions for billions of people. The system will be more democratic. It will be more accessible. And ultimately, it will lead to a more prosperous world.
Independent. Predictable. Bitcoin.
This is the way.
-Pomp
---
SPONSORED: This year has seen unbelievable growth of this community and I wanted to pass on a small thank you to all my old and new subscribers alike.
To get your free unique code for a $40 credit at unstoppabledomains.com simply fill in this form.
Unstoppable Domains are the #1 provider of NFT domains, These domains make sending and receiving crypto easy, can be used as your username on Twitter and better yet they don't have any renewal or gas fees. 
Don't forget to fill in this form to get your unique $40 USD voucher.
Thanks,
Pomp.bitcoin
Please see full terms and conditions here
---
Zac Prince is the co-founder and CEO of BlockFi.
In this conversation, we go on a deep dive into BlockFi's product suite and discuss the Bitcoin Rewards Credit Card, Earning Rewards In Other Cryptocurrencies, Interest Accounts, BlockFi's regulatory update, and future products.
LISTEN TO THIS EPISODE OF THE POMP PODCAST HERE
---
Podcast Sponsors
These companies make the podcast possible, so go check them out and thank them for their support!
---
You are receiving The Pomp Letter because you either signed up or you attended one of the events that I spoke at. Feel free to unsubscribe if you aren't finding this valuable.
Nothing in this email is intended to serve as financial advice. Do your own research.
---