This installment of The Pomp Letter is free for everyone. I send this email to our investors daily. If you would also like to receive it every morning, join the 50,000 other investors today.
---
To investors,
Jason Williams and I are making a big bet on digital art.
World-class investors know that the best way to make generational returns is to pursue investment strategies that are unpopular, while ensuring that the new investment strategy is also correct. If you merely do something different than everyone else, but you're wrong, then that only makes you the idiot in the room. If you do something different than others, and you're right, then you capture significant profits.
In my opinion, one of the easiest ways to pursue a non-consensus investment strategy is to look for markets that have either (a) been abandoned by the crowd or (b) are so new that most investors don't realize they exist. Selecting the right market is the most important decision. This second category — the industries that are incredibly early in their lifecycle — is my favorite place to go hunting for opportunity.
Jason Williams and I have been searching for a new market that is too early for most people to have spent the time building an investment thesis. We finally think we have found the perfect opportunity — digital art. 
Before we spend time talking about the digital art market, let's take a quick look at the traditional art market:
The art market is estimated to have a market cap of approximately $65 billion for the last few years.

The United States, United Kingdom, and China make up about 85% of the entire market.

US sales of traditional art was nearly $30 billion in 2018, which made up more than 40% of the market.

Art dealers are responsible for about $36 billion in global sales.

Art auctions are responsible for about $29 billion in global sales.

Online art sales are only responsible for about $6 billion in global sales.

More than 50% of US art collectors are over the age of 50.

Asia, particularly Singapore (46%) and Hong Kong (39%), have high percentages of millennials as art collectors.
The traditional art market has done incredibly well over the last 20 years. From 2000 to 2018, the art market outperformed the S&P 500 by over 180% (see today's sponsor Masterworks for more details and a cool traditional art opportunity). The world's wealthiest people have been acquiring art for decades, whether it was for store of value, capital appreciation, or pure creative and intellectual stimulation. Regardless of your personal experience with traditional art, the numbers are absolutely staggering. 
There is a shift about to happen though. The world is going to change and it is going to change much quicker than most people realize. 
Similar to how Bitcoin is superior to gold in almost every way, digital art is superior to traditional art in almost every way also. A traditional piece of art is static and sits on a wall. There is no motion. The art does not change unless someone takes the art off the wall and hangs a different piece. Physical art is hard to move around the world, it can be easily damaged, and there is difficulty in proving what is authentic and what is not.
Digital art is the next evolution of art. Each piece can incorporate complex movement and motion into the art. A single screen on a wall can periodically cycle through different pieces of art at the predetermined direction of the homeowner or art collector. The digital art can be sent to anyone in the world with a few clicks of a button, it is immune from damage, and authenticity and provenance is transparently available for anyone to verify. Quite literally, digital art has significant advantages over traditional art in the same way that digital news has advantages over physical newspapers.
This transition to a digital art world is not a question of if it will happen, but rather when. In fact, I personally believe that the digital art market cap will grow to become larger than the physical art market cap. This may sound ridiculous today, especially since the digital art market cap is less than $10 million and the traditional art market is more than $60 billion, but this is exactly what disruption looks like. Estimating the exact timing of the digital art market eclipsing traditional art is hard, so I'll refrain from making a fool of myself on that front. My confidence level that we see a future 6,000x increase in the digital art market cap is fairly high though. 
Jason Williams and I have spent the last few months thinking through the best way to capitalize on the potential growth of the digital art market. We ultimately settled on the idea to partner with the best digital artists in the world in an attempt to bring attention and awareness to the great work they have been doing. Recently, we have commissioned a number of pieces and collections with the artists we believe to be absolute world-class. The first artist we are revealing is FEWOCIOUS. 
In my opinion, FEWOCIOUS is the best digital artist in the world. We have commissioned a 6-piece collection that takes radical new ideas and merges it with the FEWOCIOUS style of pop art that has become globally recognized. The first piece in the collection that we are sharing publicly is titled "The Innovator's Dinner."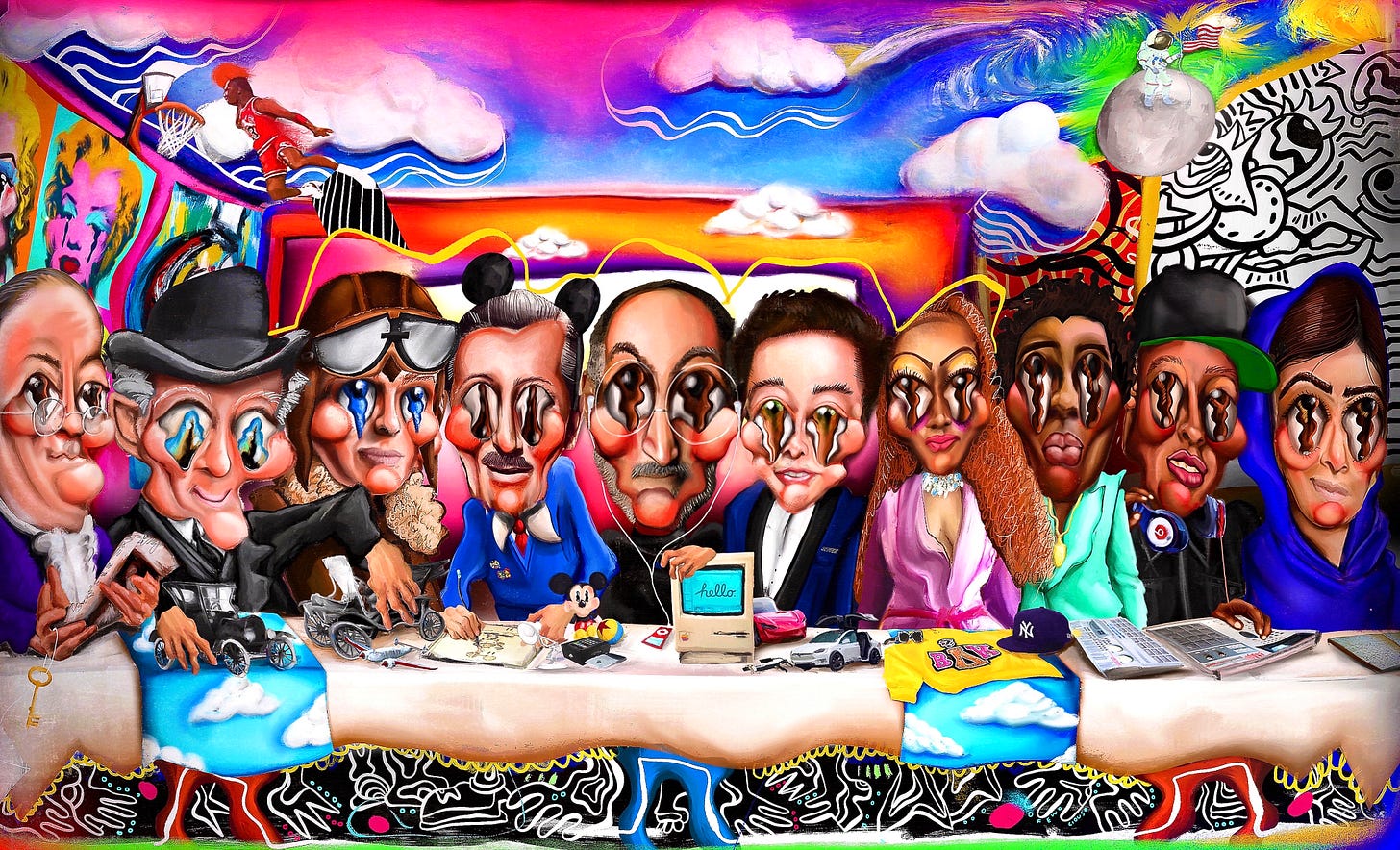 This piece features famous innovators over the last few centuries. From left to right, it includes Benjamin Franklin, Henry Ford, Amelia Earhart, Walt Disney, Steve Jobs, Elon Musk, Beyonce, Jay-Z, Dr. Dre, and Malala Yousafzai. Each is presented at the same table in a tip-of-the-cap to Leonardo da Vinci's The Last Supper. It is our hope that this iconic digital art will serve as the quintessential example of what is possible in this new world.
"I'm super excited to work with Jason and Pomp on this collection! Digital art is the future. Our goal is to create dope art that shows what's possible for that future. I can't wait for everyone to see what we've been working on together!" - FEWOCIOUS
In addition to the FEWOCIOUS collection and other private commissions, we have been busy participating in various digital art auctions. We are not ready to showcase everything we have done yet, but here are a few highlights:
Jason and I both have deep conviction in the future of digital art, so we plan to invest heavily in the space over the coming months and years. We are constantly looking for the best digital artists. We'll continue publicly sharing the various artists we work with and the pieces we add to our collection. This should be a lot of fun — check out the digital art at Nifty Gateway, SuperRare, and OpenSea.
We would love to have you join us.
-Pomp
---
SPONSOR: What's the most lucrative investment in the world? With paintings selling for $450,000,000+, our money is on art. That's not a typo: blue-chip art has outperformed the S&P by 180% from 2000–2018, according to Artprice. So what do you call it when one startup makes investing in great works by Banksy and Kaws affordable for everybody? We call it a great opportunity—and so do 80,000 other investors. Why wait?

*See important disclosures here
---
THE RUNDOWN:
Philippine Central Bank Warms Up to Digital Money to Aid Fintech: Philippine central bank Governor Benjamin Diokno said the technology behind digital tokens could improve delivery of financial services, as the regulator proceeds to study the feasibility of its own digital currency. Digital tokens expand reach and lessen costs of financial services, Diokno said in an emailed reply to Bloomberg late Thursday. It could also help the central bank eventually reduce the use of fiat money, he said.Read more.
Crypto Exchange Bitfinex Wins More Time to Present Documents: The crypto exchange Bitfinex won additional time to provide documents in a case filed last year by New York Attorney General Letitia James that claims that it hid the loss of comingled client and corporate funds. In a virtual ruling Thursday, New York state Judge Joel M. Cohen extended an injunction by 90 days and directed a special referee to set a schedule to provide documents requested. Cohen said he'd defer to the referee in determining which documents related to the cryptocurrency Tether, which is affiliated with Bitfinex and related companies, are pertinent to the case. He also hinted that he may not extend the injunction again. Read more.
Investment Firm Blockchain Capital Joins Libra Association: One of the oldest investment firms in crypto has joined the governance organization behind the Facebook-backed Libra project. The Libra Association announced Friday that Blockchain Capital would advise on the creation of its global payment system. Read more.
US Space Force Taps Blockchain Firm Xage Security for Data Protection: The recently created United States Space Force, or USSF, and the U.S. Air Force Research Lab has chosen blockchain firm Xage Security to develop data security systems. In a statement, Xage Security said it was awarded a contract to provide end-to-end data protection for the USSF. The company will employ its blockchain-based Xage Security Fabric solution for the project. Read more.
World's Largest Sovereign Wealth Fund Indirectly Holds Almost 600 Bitcoin: The Norwegian Government Pension Fund, also known as the Oil Fund, has over $1 trillion in assets, including 1.4% of all global stocks and shares. It is considered the world's largest sovereign wealth fund. According to Arcane Research's report on Sept. 19, the fund also owns almost 600 Bitcoin through its investment holdings. Arcane Research analysis data shows that the Norwegian oil fund has 577.6 BTC through its investment in business intelligence firm MicroStrategy. This puts the company's portfolio in BTC at around $6.3 million. The Norwegian Government Pension Fund has a 1.51% stake in MicroStrategy. Read more.
---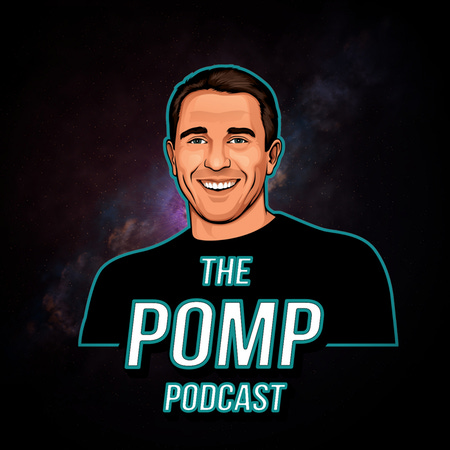 LISTEN TO THIS EPISODE OF THE POMP PODCAST HERE
---
Robert Rosenberg served as the CEO of Dunkin Donuts for 35 years. He took a company with 100 shops and $10 million in sales when he first became CEO, to 6500 outlets including Baskin Robbins Ice Cream Shops and nearly $2.5 billion in sales the year he retired.
In this conversation, Robert and I discuss:
How to hire

How to fire

Finding culture fits

Defining competence in specific areas

The four primary functions of a leader

When to go public vs stay private

The value of a brand
I really enjoyed this conversation with Robert. Hopefully you enjoy it too.
LISTEN TO THIS EPISODE OF THE POMP PODCAST HERE
---
Podcast Sponsors
These companies make the podcast possible, so go check them out and thank them for their support!
---
If you enjoy reading "The Pomp Letter," click here to tweet to tell others about it.
Nothing in this email is intended to serve as financial advice. Do your own research.
---