The US Should Tokenize The Dollar Immediately
This installment of Off The Chain is free for everyone. I send this email to our investors daily. If you would also like to receive it every morning, join the 30,000 other investors today.
---
To investors,
The United States must tokenize the US dollar immediately if it wants to remain globally competitive.
This was my message on CNBC's Squawk Box last Friday. It has been something that I've been contemplating for the last few weeks and I'm now convinced that the only rational response to Bitcoin/digital currencies is for the world's super power to embrace the disruptive technology, rather than fight it.
The United States currently controls the world's reserve currency. The US dollar holds this position because it is widely adopted, generally seen as trustworthy, and is supported by the most effective military in the world. If a different currency was to gain more adoption, become more transparent, or be backed by a more effective military, the US dollar would be in jeopardy of losing global reserve status.
Unfortunately for the United States, this is the exact threat digital currencies present.
Military Power
Historically, the United States has proven to be superior in head-to-head combat with other nation states. Whether it involves ground troops, naval warfare, or air supremacy, there has been one dominant force for the last 50+ years. But as we have previously discussed in "Bitcoin's Department of Defense: The Case for a Global Reserve Currency With No Guns," we are moving to a new age of conflict. The country with the most bombs, bullets, and tanks doesn't necessarily equate to the strongest military.
This new world is about fighting smarter, rather than harder. It is focused on cyber warfare. And in cyber security, the country who has the best defense will have the greatest military strength. Along these lines, there will be plenty of people who argue that Russia and China are ahead of the US in cyber security (I disagree), but ultimately the strongest computing network in the world belongs to Bitcoin. The decentralized settlement network is attacked thousands of times a day, with hundreds of billions of dollars as the incentive, but has never been penetrated in a decade.
Simply, the US offensive military capabilities prepare it to be dominant in a past world, but decentralized networks are better prepared for the future.
Transparency
Any system that uses a public ledger is more transparent than a system that uses private ledgers or centralized authorities. This transparency ultimately leads to higher degrees of trust, but not because people actually trust the system. People trust these public ledger-based systems because they have the ability to verify information themselves.
Currencies are no different. Imagine how much more comfortable the citizens of a country would be if they could verify the information that their central banks tell them, rather than being required to trust them. By embracing public ledger technology, the United States could quickly increase the transparency of the US dollar, which would ultimately lead to higher levels of "trust."
Global Adoption
The US dollar is incredibly accessible for most people in the Western world. You go to the bank or ATM, put in your debit card, punch a few buttons, and out comes dollars. As you would imagine though, this isn't the same experience for everyone around the world.
In fact, it is quite difficult for many people to get US dollars. They need a bank account, have to be able to get to a physical bank or ATM, and can't live in a country where sanctions or dollar shortages are prevalent. Instead, these same people merely need an internet connection in order to access digital currencies.
Conclusion
The United States can't become the most effective military in the cyber world, unless it was willing to completely decentralized it's networks and currency ownership. However, the country can become more transparent and more globally adopted.
Transparency will be the hardest idea to sell to government leadership, because true transparency is not selective. It will give insight into what the Federal Reserve is doing, what politicians are paying who, and general flow of funds throughout the market.
But the one aspect of this argument that most people will agree upon is adoption. If someone can more easily get access to the Chinese Yuan compared to the US dollar, then the US dollar will be at a disadvantage. There won't be a competition between digital and non-digital currencies in the future. Every currency will be digitized.
The true competition is going to come at the monetary policy level. The United States has a head start here, so tokenizing the dollar would likely provide more cushion from disruption, but even that action will ultimately be futile in my opinion. People are going to opt for a currency that can't be seized, censored, or debased.
People are going to choose to store their wealth in Bitcoin.
-Pomp
---
The "Off The Chain" podcast has been downloaded in every country in the world, with more than 1,500,000 combined downloads. You can listen to the latest episode with Mark Yusko, Founder & CIO at Morgan Creek Capital Management here: Click here for Off The Chain podcast
---
THE RUNDOWN:
Facebook-Led Libra Could Be Boon to UN, Says Crypto Project's Chief: The Facebook-conceived Libra cryptocurrency, to be launched by a Geneva-based association next year, is not intended to replace existing currencies, Libra Association Managing Director Bertrand Perez said on Friday. "We are not in the area of implementing any monetary policy with the (Libra) Reserve," Perez said at a blockchain conference hosted at United Nation headquarters in Geneva. The project could help reach many U.N. sustainable development goals, such as eliminating poverty and reaching gender equality, he said at the conference, which included speakers from the Swiss National Bank and International Monetary Fund. Read more.
Crypto Giant Bitmain Is Setting Up a Miner Matchmaking Service: Bitmain Technologies Ltd. dominates cryptocurrency mining by selling the chips that generate most of the world's new virtual coins. Now it wants to expand its grip on the industry by helping miners find optimal locations to host their lucrative machines. The Beijing-based company announced Friday that it will launch a first-of-its-kind platform to connect crypto miners with data-center facilities. The World Digital Mining Map will serve as an online hub for mining farm owners to tout their warehouse setup and capacity, with Bitmain's support in areas like design and operations. Read more.
JPMorgan Says ICE Debut, Position Shakeout Likely Tanked Bitcoin: Bitcoin's 20% drop earlier this week was likely fueled by the effect of Intercontinental Exchange Inc.'s new futures contracts and an unwinding of long positions, according to JPMorgan Chase & Co. The cryptocurrency's plunge, its biggest in a week since last November, took it from around $10,000 to a close Friday of $8,061. Though the strategists led by Nikolaos Panigirtzoglou were quick to point out that the introduction of physically delivered futures was a further step to maturity for the market, they said it probably depressed prices. Read more.
NBA Says Basketball Player Can't Tokenize His Contract After All: Spencer Dinwiddie took a shot at tokenization, but the National Basketball Association blocked him. The NBA said Friday that Dinwiddie's plan to pledge part of his contract earnings for a security token offering violates the league's collective bargaining agreement. "The described arrangement is prohibited by the C.B.A., which provides that 'no player shall assign or otherwise transfer to any third party his right to receive compensation from the team under his uniform player contract,'" the league said. Read more.
Honeyminer Acquired by Blockchain Firm Core Scientific: Diggy the bear's honey pot just got a bit sweeter. Today, Stax Digital–creator of popular cryptocurrency mining product Honeyminer–announced its acquisition by Core Scientific, an AI and blockchain firm. Through the deal, Core Scientific is bringing in Stax Digital's key assets including Honeyminer's entire staff and intellectual property. Debuting in July 2018, Honeyminer is the leading software for GPU cryptocurrency mining on personal computers. The platform is available on Windows, and as of May, MacOS. Read more.
---
LISTEN TO THIS EPISODE OF THE OFF THE CHAIN PODCAST HERE
---
Parker Lewis is the Head of Business Development at Unchained Capital. He is one of the most thoughtful people I have come across in Bitcoin and this episode did not disappoint. We cover a lot, so make sure to listen through the entire thing — highly recommend!
In this conversation, Parker and I discuss:
Bitcoin

The value proposition

Why people should care

Then we go through each of the latest writings of Parker, including "Gradually Then Suddenly," "Bitcoin Can't Be Copied," "Bitcoin is Not Too Volatile," "Bitcoin Does Not Waste Energy," "Bitcoin is Not Too Slow," "Bitcoin Fixes This," and "Bitcoin Not Blockchain."
I really enjoyed this conversation with Parker. Hopefully you enjoy it too.
LISTEN TO THIS EPISODE OF THE OFF THE CHAIN PODCAST HERE
---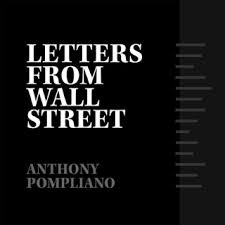 In this new podcast, I read through letters, notes, and memos from investors and entrepreneurs that cover financial insights from the world's most successful companies and investors. The podcast is sponsored by eToro, the world's leading social trading platform.
Today's episode is:
CEO Lawrence Culp of General Electric shares his 2018 Letter to Shareholders.
LISTEN TO THIS EPISODE OF THE "LETTERS TO WALL STREET" PODCAST BY CLICKING HERE
---
Interested in crypto research? Look no further. The premier research firm in the space, Delphi Digital, has two subscription offerings for individuals and institutions alike. Take a look at their Bitcoin and Ethereum reports to get a taste of their analysis. [Click here]
---
If you enjoy reading "Off The Chain," click here to tweet to tell others about it.
Nothing in this email is intended to serve as financial advice. Do your own research.
---