The United States Will Eventually Tokenize The Dollar
This installment of Off The Chain is free for everyone. I send this email to our investors daily. If you would also like to receive it every morning, join the 35,000 other investors today.
---
To investors,
The idea of the United States creating a digital dollar is gaining steam. If you remember, I floated the idea on CNBC's Squawk Box a few weeks ago.
This statement wasn't an off-hand comment though. I had previously spent two days on Capitol Hill talking to multiple Congressional offices, staffers from the Senate Banking Committee, members at the State Department, and other government-related organizations or representatives. These meetings had been facilitated by Jason Brett at the Value Technology Foundation, which is a non-profit focused on supporting the advocacy, research and development, application, and education around blockchain technologies.
Surprisingly, the reception to this idea was quite encouraging during my conversations. It was that reception, combined with the importance of the issue, that compelled me to mention it on television.
There was immediate support for the idea publicly. The first heavyweight to jump in was Ohio Congressman Warren Davidson who has long been a proponent of Bitcoin and digital currencies.
Davidson's understanding of digital currencies, along with their potential impact (both positive and negative), is impressive. He was challenged on the nuances of his beliefs in the comments, which led to a fairly clear articulation of the difference between digital and tokenized dollars. (Side note: You have to love that we have US Congressmen publicly interacting with pseudonymous Bitcoin Twitter accounts like "@MrHodl")
Within days of Congressman Davidson's tweet, two more Congressmen stepped up in support of a tokenized dollar. French Hill and Bill Foster sent a letter to Federal Reserve Chairman Jerome Powell asking him to look into creating a digital/tokenized dollar. The two representatives explicitly stated their concerns:
"We are concerned that the primacy of the U.S. Dollar could be in long-term jeopardy from wide adoption of digital fiat currencies. Internationally, the Bank for International Settlements conducted a study that found that over 40 countries around the world have currently developed or are looking into developing a digital currency."
They then went on to elaborate with:
"Relying on the private sector to develop digital currencies carries its own risks, including loss of control of monetary policy, as well as the ability to implement and enforce effective anti-money laundering and counter-terrorism financing (AML/CTF).

The Facebook/Libra proposal, if implemented, could remove important aspects of financial governance outside of U.S. jurisdiction. In the private sector, J.P. Morgan recently became the first U.S. bank to create and successfully test a digital coin representing a fiat currency. Additionally, next year, Wells Fargo plans to begin piloting Wells Fargo Digital Cash, which will be a cryptocurrency linked to the U.S. dollar."
The letter finishes with six direct questions, including clarity on whether the Federal Reserve has looked into tokenizing the dollar yet, whether there is any legal or national security issues that would prevent the Fed from doing this, what the perceived market risks are, and any "salient design features" that would have to be considered if the United States was to pursue the tokenization of the US dollar.
While we are waiting on a response from the Federal Reserve, the conversation around a tokenized dollar has quieted over the last two weeks. But that all changed yesterday.
The former chairman of the CFTC, Chris Giancarlo, and the former Chief Innovation Officer of the CFTC, Daniel Gorfine, published a Wall Street Journal op-ed titled "We Sent a Man to the Moon. We Can Send the Dollar to Cyberspace."
In the piece, they propose a structure for a digital dollar that is created and governed via public-private partnership:
"We propose a digital dollar—a government-sanctioned blockchain protocol, created and maintained by an independent nongovernmental group but administered by banks and other trusted payment organizations. Cash brought into the system would be exchanged for digital U.S. dollars on a blockchain, with the cash lodged in special escrow accounts maintained by the Federal Reserve."
They then go on to explain the benefits of this system:
This new payment network would still rely on trusted, regulated intermediaries to maintain digital wallets and validate transactions. But it would also let individuals, companies and states tap the potential advantages of distributed-ledger payments, such as much higher transaction speed, enhanced access and greater transparency. This should mean lower costs for businesses and consumers and new economic models based on real-time transactions and micro-payments.

Security would be another major advance. Because no individual validator of the payment ledger would hold complete information regarding all payments, the system would solve some of the privacy and antitrust concerns that arise when a single intermediary—like WeChat or a foreign central bank—holds complete information.

Most important, compared with a private or foreign digital currency, this system would extend the central role of the U.S. dollar in global finance and allow it to compete confidently in the new digital era. The first major digital-currency initiative to draw American users would be fully and unequivocally backed by the greenback.
Obviously, I think they are dead on. They even nailed the analogy to the Space Race. On August 26th, I sent a letter to each of you titled The Great Currency Race: Who Will Win Global Reserve Status?
In it, I explained why the Space Race was so compelling to tens of millions of people around the world:
The Great Space Race kicked off 64 years ago this month. The 20 year period of competition between the United States and the Soviet Union produced artificial satellites, unmanned space probes of Venus and Mars, and the first human to land on the Moon. This race for innovation enthralled millions of people around the world as two superpowers put their resources into an effort that they both considered important for national security reasons.
And why so many countries are becoming interested in the Great Currency Race:
The next decade is going to bring us a new global race. A race where numerous countries will allocate billions of dollars in an effort to capture potential economic, defense, and societal benefits — the race for global reserve currency status.

It has been 75 years since the Bretton Woods System was implemented and we are entering the early days of a currency competition that is being driven by superpowers that feel the existing system does not serve their needs. Whether it is China and Russia complaining about the challenges and expenses associated with the US dollar, or it is Venezuela, North Korea, and Iran becoming interested after having sanctions levied against them, many countries are quickly beginning to seek alternative options to move away from a dollar denominated system.
I then went into detail about the different paths that countries can choose to pursue in this race (violence or innovation), how some countries are currently pursuing their own digital currencies, and why most people are forgetting that Bitcoin is the ultimate dark horse in this race.
Lastly, I touch on why so many people will pay attention to this:
Just as the Space Race enthralled millions of people as countries competed to out innovate each other, the Great Currency Race will capture the imagination of hundreds of millions of people.

Money is at the core of every society. It is how we transact. It is how we measure the value of something. It is how we understand the power and potential of our resources. Simply, money is the most interesting topic in the world.

And if countries are going to compete with each other, and with private groups of people, to see who can create the most valuable money in the world, you better believe that interest in the Great Currency Race will dwarf the Space Race.
The Great Currency Race has already begun. The United States must move quickly to gain an advantage. If they don't, the country risks being left behind.
Bitcoin continues to gain strength, along with adoption. It has the highest probability of winning globally right now. If the US wants to compete, Giancarlo said it best: "We Sent a Man to the Moon. We Can Send the Dollar to Cyberspace."
-Pomp
---
The "Off The Chain" podcast has been downloaded in every country in the world, with more than 1,500,000 combined downloads. You can listen to the latest episode with Mark Yusko, Founder & CIO at Morgan Creek Capital Management here: Click here for Off The Chain podcast
---
THE RUNDOWN:
The IRS Will Now Ask if You Own Crypto in the Most Widely Used US Tax Form: The Internal Revenue Service has updated the main form individual U.S. taxpayers use to report their income to include a question about cryptocurrencies. Following the release earlier this week of the IRS's long-awaited guidance for reporting crypto-related income, the IRS on Friday circulated a draft of the new Form 1040, Schedule 1, Additional Income and Adjustments to Income. Read more.
Visa, Mastercard, Stripe, and eBay All Quit Facebook's Libra: Facebook's embattled Libra project suffered a major blow on Friday as four payment processors—Stripe, Visa, Mastercard, and Mercado Pago—withdrew from participation in the Libra Association, the Geneva-based group Facebook created to develop the virtual currency. eBay also announced its resignation Friday. eBay's former subsidiary, PayPal, quit the group last week. Read more.
Facebook Sued Over Calibra's Look-Alike Logo: Over the summer, Facebook unveiled its Libra cryptocurrency and the Calibra subsidiary that would help manage it. Facebook also unveiled a logo for Calibra and, it looked somewhat similar to the logo of Current, a startup bank. Current has now filed a lawsuit against Facebook, alleging trademark infringement. Read more.
Chinese Banking Giant CCB Expands Blockchain Platform as Volume Breaks $53 Billion: China Construction Bank, one of the largest Chinese commercial banks, has expanded its trade finance blockchain platform with new abilities, including cross-chain and inter-bank transactions, as trading volume surpasses $53 billion. Speaking in Beijing at the official launch of the upgraded platform BCTrade2.0, CCB vice president Ji Zhihong said the new platform will leverage blockchain technology to provide better financial services for Chinese exporters.Read more.
Identity Thief Spends $5 Million on Cloud Computing to Mine Cryptocurrency: Singaporean citizen Ho Jun Jia, 29, also known as Matthew Ho, was indicted for stealing over $5 million worth of cloud computing services to mine cryptocurrencies, according to a grand jury indictment from the U.S. District Court in Seattle, Washington. Ho was arrested in Singapore and is being charged with wire fraud, access device fraud, aggravated identity theft. Read more.
---
LISTEN TO THIS EPISODE OF THE OFF THE CHAIN PODCAST HERE
---
Bradley Tusk is a venture capitalist, political strategist and writer. He is the Founder and CEO of Tusk Holdings, which includes Tusk Ventures, Tusk Strategies, Kronos Archives, Ivory Gaming and Tusk Philanthropies. Tusk Ventures is the world's first venture capital fund to work with and invest solely in high growth startups facing political and regulatory challenges. Tusk Philanthropies is leading the U.S. efforts to allow people to vote in elections on their phones. Bradley recently wrote a memoir called The Fixer: My Adventures Saving Startups From Death By Politics and hosts a podcast called Firewall.
🚨 Full Show Notes Available Here 🚨
In this conversation, Bradley and I discuss:

Graduating early from the University of Pennsylvania in 1995, and immediately beginning his political career as the Press Secretary for Parks Commissioner Henry Stern [5:15];

What it was like working for Mike Bloomberg as his Campaign Manager and his opinion on "the thing that made Mike so successful" [7:25];

Anthony asks: "Do you see a significant advantage for folks who have business experience and operate from a management and executive type approach versus other approaches?" [12:20];

His experience as Chuck Schumer's Communication Director and the valuable lessons he learned in Washington DC [15:55];

Becoming the deputy governor of Illinois and story behind Rod Blagojevich [19:46];

Anthony asks about criminal justice reform and "What's it like being on the other side where I'm sure people are constantly asking for pardons?" [22:45];

A closer look at Bradley's relationship with Rod Blagojevich and his decision to testify in both of his corruption trials [27:30];

The "inherent soft corruption that exists" in politics today and his failed campaign to get De Blasio out of office in 2016 [28:48];

How he met Travis Kalanick and the vision behind Uber [34:28];

The practice of Gerrymandering and the potential for blockchain technology in voting [54:30];

The most important book Bradley's ever read, why he thinks aliens are real, and Brad's question for Pomp [1:20:30];
I really enjoyed this conversation with Bradley. Hopefully you enjoy it too.
LISTEN TO THIS EPISODE OF THE OFF THE CHAIN PODCAST HERE
---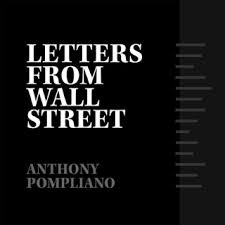 In this new podcast, I read through letters, notes, and memos from investors and entrepreneurs that cover financial insights from the world's most successful companies and investors. The podcast is sponsored by eToro, the world's leading social trading platform.
Today's episode is:
John Huber of Saber Capital Management shares his mid-year update for 2019
LISTEN TO THIS EPISODE OF THE "LETTERS TO WALL STREET" PODCAST BY CLICKING HERE
---
Interested in crypto research? Look no further. The premier research firm in the space, Delphi Digital, has two subscription offerings for individuals and institutions alike. Take a look at their Bitcoin and Ethereum reports to get a taste of their analysis. [Click here]
---
If you enjoy reading "Off The Chain," click here to tweet to tell others about it.
Nothing in this email is intended to serve as financial advice. Do your own research.
---