The United States Is Suffering From The Innovator's Dilemma
This installment of Off The Chain is free for everyone. I send this email to our investors daily. If you would also like to receive it every morning, join the 38,000 other investors today.
---
To investors,
Bitcoin and blockchain technology are about to take the global stage.
Two days after Facebook's Mark Zuckerberg was hauled in front of Congress to be questioned about the social media giant's plans for the Libra digital currency, Chinese President Xi Jinping made his first public remarks about blockchain technology.
"We must take the blockchain as an important breakthrough for independent innovation of core technologies. [We must] clarify the main direction, increase investment, focus on a number of key core technologies, and accelerate the development of blockchain technology and industrial innovation."
The general sentiment of Xi's comments was simple — blockchain technology is really important for the future and China plans to be the global leader.
As I have continued to write over the last few months, the pursuit of Bitcoin, blockchain, and digital asset superiority will become our generation's Space Race. The underlying technology of triple entry accounting is likely to lay the foundation for automation, which stands to be the most disruptive innovation since the internet.
The technology has been created and pushed out into the world. There is no putting the genie back in the bottle. Bitcoin, the first application of blockchain technology and currently the most valuable, was first revealed in a white paper on October 31, 2008. While a lot has happened in the 11 years since, it is becoming obvious that nation states are just now starting to pay attention.
Each of these sovereign countries can choose to do one of three things:
Ignore Bitcoin, blockchain technology, and digital assets.

Actively work to stifle Bitcoin, blockchain technology, and digital assets.

Embrace Bitcoin, blockchain technology, and digital assets.
Previously, it appeared that most countries would choose to ignore the industry, a few global super powers would work to stifle it, and only nefarious actors like illegitimate governments or sanctioned nations would elect to embrace this innovation. But that all changed last week with President Xi's comments.
China is the world's largest country with almost 1.4 billion people. Over the last few decades they have transitioned from a country that was reliant on stealing intellectual property and having other countries choose them as an outsourcing partner to a country that is pushing the pace of innovation across artificial intelligence, computing, CRISPR, and many other frontier technologies.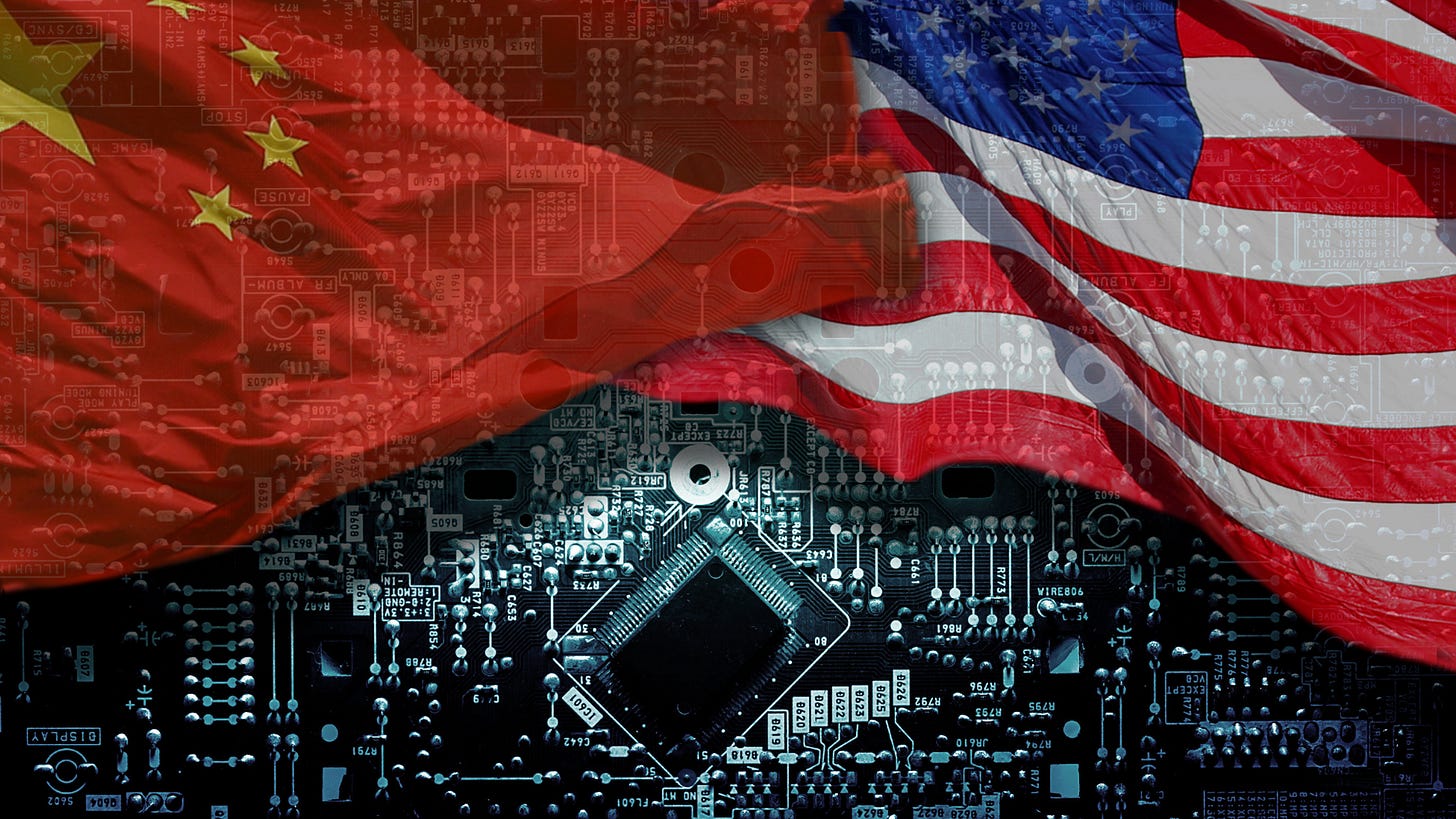 This move to become a leader in technology was not by accident. The country's ruling party made significant investments in educating their work force, while clearly articulating that this would be a national priority moving forward. Couple the top-down message with the sheer size of the population and you can see why other countries are failing to keep up.
But it isn't just the size of China's population that is important. They also are willing to outwork the average American worker as well. Last year, famed Sequoia Capital investor Mike Moritz wrote an op-ed in the Financial Times titled "Silicon Valley would be wise to follow China's lead." In it, he highlighted this work ethic:
"Here, top managers show up for work at about 8am and frequently don't leave until 10pm. Most of them will do this six days a week — and there are plenty of examples of people who do this for seven. Engineers have slightly different habits: they will appear about 10am and leave at midnight. Beyond the week-long breaks for Chinese new year and the October national holiday, most will just steal an additional handful of vacation days. Some technology companies also provide a rental subsidy to employees who choose to live close to corporate HQ."
Now I'm not arguing that a company, or its employees, has to work 6-7 days a week in order to push the pace of innovation. But I am arguing that any group that puts more effort into something is likely to make more progress.
Which brings me to the stark contrast between the United States' and China's response to Bitcoin, blockchain technology, and digital assets. The United States has been overly negative on various aspects of the industry for a number of years.
Congress and the Senate have been publicly berating one of America's largest companies over their plans to create a digital currency and build infrastructure to embrace this new technology.

The SEC has spent millions of dollars and hundreds of man hours chasing down startups that have chosen to embrace this new technology, while refraining from issuing new rules or guidance to clarify the regulatory uncertainty.

The government also actively worked to manipulate the Bitcoin price in 2017/2018 by introducing futures products in order to deflate price.

The IRS has provided clarifications surrounding digital assets that maximizes tax revenue, but drastically deters innovation and market participation.
But all of this is dwarfed by the top-down message from President Trump and his administration.
The general sentiment is clear — Bitcoin, blockchain technology, and digital assets are not a priority for America.
While unfortunate, this should be expected. The United States of America is suffering from the Innovator's Dilemma — a concept popularized by author Clayton Christensen in his book The Innovator's Dilemma: When New Technologies Cause Great Firms to Fail.
In the book, Christensen lays out an argument for "how successful, outstanding companies can do everything 'right' and yet still lose their market leadership – or even fail – as new, unexpected competitors rise and take over the market." These unexpected competitors are usually disruptive technologies and the companies are caught off guard because what they have done in the past has worked, so they are slow to change their ways.
This is exactly what is happening in the United States today. We are the world's most powerful country. We control the global financial system and the global reserve currency. And we have been the greatest beneficiary of the capitalism-driven boom over the last 50+ years. But just like in investing, making current decisions off past performance is a dangerous game.
At the heart of this issue is the US dollar. The United States has greatly benefitted from controlling the global reserve currency, including the ability to print money and weaponize the dollar against adversaries.
There are two new challengers to the dollar's king status though. The first is Bitcoin and the second is China's digital currency (now being called DCEP). Bitcoin is fairly self-explanatory — it is a digital currency that is fully transparent and not controlled by anyone. If you are anywhere in the world, you have the same level of information as anyone else in the world. You don't have to worry about anyone inflating away the currency, nor censoring or seizing your wealth when you are using Bitcoin. Pretty powerful for the billions of people around the world that don't live in the United States.
The second challenger is much more recent. China has been studying digital currencies, and in particular central bank-issued digital currencies, for at least the last 5 years. Only recently have they begun to publicly talk about their plans to launch a Chinese digital currency.
While we definitely don't have all the information, it is becoming apparent that China is taking this seriously. We have President Xi's comments from last week. Then today, the Vice Chairman of China Center for International Economic Exchanges confirmed the specific plans around a national digital currency (DCEP).
So what exactly is this digital currency? The short answer is that no one is certain yet. There is plenty of speculation circulating, but the confirmed facts are light at best. Some of the more valid information appears to be very high level as well:
But China isn't only going to embrace blockchain technology for a national digital currency though. Right after President Xi's comments, there was a flood of announcements and information coming out of China. Some of them included:
This amount of information almost makes you wonder if this was a highly scripted sequence of events, especially given the relative short period of time that had transpired since Zuckerberg's testimony in front of Congress.
Regardless of whether the timing was intentional or not, the contrast is clear — China is ready to embrace one of the most important technologies of the future, while the United States is set on regulating and stifling any innovation with it.
The United States has enjoyed one of the most prosperous runs in history. We have built the global super power of all super powers. There has been no one who could compete with us over the last 50+ years. But we are at risk of having that all change if we get too comfortable.
We must innovate. We must embrace entrepreneurship. We must continue to keep an offensive mindset — one that encourages people from around the world to come to our country so they can benefit from our capital, our knowledge, and our capitalist mindset. We must ensure that we don't fall into a defensive mindset. We can't afford to transition from a country of wealth creation to wealth redistribution.
Simply, we must disrupt ourselves by reinventing ourselves.
The future will be automated, global, and largely decentralized. There will be a power shift from corporations and governments back into the hands of individuals. The first few countries who empower this shift will have the greatest chance of thriving in the new world.
Blockchain technology is not the only technology that matters. Others like artificial intelligence, machine learning, self-driving cars, CRISPR, 5G, and advanced compute design are just as important. Countries not only can't afford to fall behind on any of these, but they must look to lead on each of them.
The United States is in a dangerous position — innovate or be disrupted. Our current mindset of requiring innovators to ask permission of government is unlikely to be a successful one.
Innovation requires out of the box thinking. It requires someone to push the envelope. It is dependent on quick, iterative processes. All things that government has no expertise in.
The best thing we can do in America is to return to our roots. Celebrate entrepreneurship. Encourage innovation. And get government out of the way.
Because if we don't, the next book that Clayton Christensen writes will be titled "How America Was Disrupted By Its Own Playbook."
-Pomp
---
Did you enjoy reading this letter? Subscribe to read it daily, along with 38,000 other investors who depend on Off The Chain to understand what is happening in the Bitcoin and crypto industry.
---
THE RUNDOWN:
Chinese Official Touts Blockchain After Xi Praises Technology: A senior Chinese foreign-exchange regulatory official called for "special attention" to be paid to blockchain as the nation looks to gain advantages from digital finance. The State Administration of Foreign Exchange is looking to use blockchain and artificial intelligence in cross-border trade finance and macro-prudential regulation, Lu Lei, deputy director of the regulator, said at the Bund Summit in Shanghai Sunday. Read more.
Facebook CEO: China Will Debut Digital Renminbi in Coming Months: Facebook CEO Mark Zuckerberg told lawmakers on Wednesday that China will launch a digital currency in the "next few months" as part of the country's "Belt and Road" strategy, a program designed to exert Chinese economic influence worldwide. In his testimony, Zuckerberg repeatedly tried to frame Facebook's cryptocurrency plans in the context of global financial innovation, and the risk of China taking the lead in the field. His message to politicians was that they should let Project Libra move forward—even if they have misgivings about it— or risk giving China the upper hand. Read more.
Alipay, Tencent Beware: China's Digital Yuan Is Closing In: Chinese billionaires Jack Ma and Pony Ma, who built their online finance empires by dominating the country's online payments industry, are facing what could be the strongest competitor yet: the central bank. The People's Bank of China is set to provide its own electronic version of the yuan soon, potentially the first major central bank in the world to issue a digital national currency. In doing so, the PBOC is throwing down the gauntlet to Ant Financial's Alipay and Tencent Holdings's WeChat Pay for a share of China's $27 trillion payments industry. Read more.
China's Congress Passes Cryptography Law, Effective Jan. 1, 2020: The Standing Committee of the 13th National People's Congress in China passed a cryptography law on Saturday that will be effective on January 1, 2020. The announcement came one day after Chinese President Xi Jinping called on the country to seize opportunities in blockchain technology. While China still bans cryptocurrency trading and its national digital currency is not yet hatched, cryptography, as an integral underpinning of blockchain technology, could be key to the country's push to be more competitive in the blockchain space. Read more.
Blockchain Startup Raises $5M to Automate Airport Security Checks: Blockchain startup Zamna raised $5 million to automate airport security checks using blockchain and biometrics technology. The startup plans to use the funding to deploy its Advance Passenger Information platform. Zamna also said that International Airlines Group, Emirates Airlines and United Arab Emirates' General Directorate of Residency and Foreigners Affairs are now among its clients. Read more.
---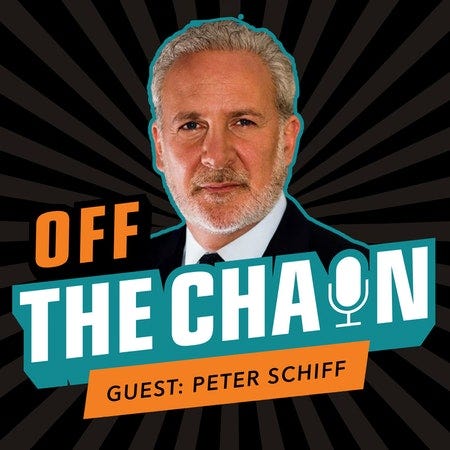 LISTEN TO THIS EPISODE OF THE OFF THE CHAIN PODCAST HERE
---
Peter Schiff is the Chief Economist and Global Strategist at Euro Pacific Capital. He has been a large detractor of Bitcoin and a big proponent of gold over the years. I wanted to record this conversation because it gave me a chance to hear Peter's point of view, while sharing some additional context that I thought could sway his opinion. I had a lot of fun recording this one, so hope you take a listen.
In this conversation, Peter and I discuss:
The history of money

The macro economy

The current signs of an impending crisis

Why he's so bullish on gold

What his concerns around Bitcoin are

Peter confirms that Bitcoin is scarce, and that it can't be censored or seized.
I really enjoyed this conversation with Peter. Hopefully you enjoy it too.
LISTEN TO THIS EPISODE OF THE OFF THE CHAIN PODCAST HERE
---
Interested in crypto research? Look no further. The premier research firm in the space, Delphi Digital, has two subscription offerings for individuals and institutions alike. Take a look at their Bitcoin and Ethereum reports to get a taste of their analysis. [Click here]
---
If you enjoy reading "Off The Chain," click here to tweet to tell others about it.
Nothing in this email is intended to serve as financial advice. Do your own research.
---