The Token Density Theory
Today's installment of Off The Chain is free for everyone. I send this email to our investors daily. If you would also like to receive it every morning, you can subscribe here.
---
People love to debate the survivability of various cryptoassets whenever a new token is launching that could be deemed competitive. Not only is this the wrong framework to use, but it shows a misunderstanding of the macro picture.
Take Facebook's recent announcement of their new cryptocurrency, Libra. Upon the release of the white paper, many people began calling for the eventual death of Bitcoin, XRP, GUSD, or a variety of other cryptoassets that act as a currency or are built for remittances. This is an intellectually lazy way to assess the future viability of each asset.
The best way to explain the Token Density Theory is to start with a parallel example — restaurants located at an intersection.
At first you have a single restaurant (Restaurant A). That restaurant is growing their business nicely and everything seems to be going well. Eventually, rumors spread that a new restaurant is going to open across the street. The owners of Restaurant A start to get nervous because they're going to have competition. 
The rumors end up being true. Restaurant B opens across the street from Restaurant A, but something weird happens — Restaurant A's business seems unaffected. Then something really horrible happens. There are rumors that more restaurants are going to be opening up at the intersection. Quickly, Restaurant C, D, and E all open their doors at various locations of the intersection.
Although Restaurant A's owners have been freaking out about the increased competition, they are shocked to find out that they are seeing an increase in revenue, instead of the anticipated decrease. 
Why is this? Density drives demand. 
In the restaurant example, more and more people flock to the intersection when they are hungry because they know there are multiple options available for food. The intersection eventually becomes known as the location where "all the restaurants are."
The same mechanisms are at play with tokens in the crypto industry. Whenever a new token that is deemed desirable by consumers is introduced to the ecosystem, it has an additive effect on the market. More and more people are incentivized to participate.
Let's go back to Libra for a minute. Based on the Token Density Theory, the launch of Facebook's digital currency is more likely to bring in net new market participants, rather than take away existing participants from established cryptocurrencies. This is important to understand because the macro framework to apply to crypto is not about which cryptocurrency is "winning" against its peers, but rather to evaluate whether the overall number of users in crypto is increasing or decreasing. 
Based on the Token Density Theory, Libra is likely to create an influx of users for Bitcoin and other tokens if it successfully launches. Additionally, it wouldn't be surprising to see other large technology companies create their own tokens, which would further increase the positive effect on existing tokens.
We are still in the very early days of this industry. Experimentation should be encouraged and it is beneficial for us to be optimistic. As each new token of substance gets launched, I can't help but smile at the thought of them helping Bitcoin continue it's dominance.
-Pomp
---
The "Off The Chain" podcast has been downloaded 1,000,000+ times in 160 countries. You can listen to the latest episode with Ben Mezrich, Author of Bitcoin Billionaires here: Click here for Off The Chain podcast
---
THE RUNDOWN:
Tala CEO: How Facebook's Libra Cryptocurrency Can Help Companies Scale: Facebook's ambitious plan to release its own cryptocurrency dubbed Libra has been met with an avalanche of concern from regulators worldwide. House Financial Services Chairwoman and U.S. Rep. Maxine Waters (D.-Calif.) called for Facebook to pause work on Project Libra, which is slated for release next year, for further regulatory scrutiny. Markus Ferber, a German member of the European Parliament warned the social media giant could turn into a shadow bank. Bank of England Governor Mark Carney noted that if it takes off, "it will have to be subject to the highest standard of regulation." But the CEO of Tala, a mobile lending company that focuses on the under- and unbanked around the world, sees a more optimistic possibility. Read more.
How Facebook's Libra Will Turbo-Charge Its Ad Empire: Facebook has revealed the details of its Project Libra crypto coin, an ambitious plan to bring digital currency like Bitcoin to billions of people worldwide. The plan will be carried out with dozens of partners, including Uber and MasterCard, and could remake the global payment industry. But what's in it for Facebook? Project Libra will help the social network do what it does best: collect data and sell advertising. Read more.
Senate Banking Committee Schedules July Hearing on Facebook's Libra Crypto: The U.S. Senate Committee on Banking, Housing, and Urban Affairs will hold a hearing on July 16 regarding Facebook's new cryptocurrency, Libra. The hearing, "Examining Facebook's Proposed Digital Currency and Data Privacy Considerations," comes in the wake of calls from members of Congress to more closely examine Libra and its potential risks. There have even been calls to halt work on the project until hearings are held. Read more.
Bitcoin Faces Technical Hurdle as Libra Steals Crypto Spotlight: While it seems like everyone's fixated on the Libra cryptocurrency championed by Facebook Inc., Bitcoin aficionados are looking toward the $10,000 mark as the next price hurdle for the largest digital asset. But a key technical obstacles lie ahead. Bitcoin failed to breach the level when it last approached it in May 2018. In addition, the token's relative strength index, which identifies general price trends, is nearing overbought levels. The RSI moves between zero and 100 to depict the strength of recent price changes. Read more.
---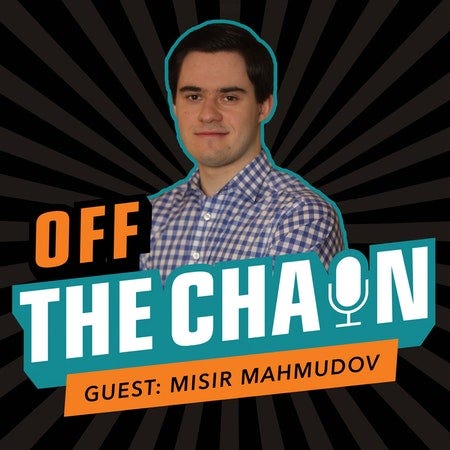 LISTEN TO THIS EPISODE OF THE OFF THE CHAIN PODCAST HERE
---
Misir Mahmudov is an analyst at Adaptive Capital, and recently graduated from Columbia University. His brother is the most downloaded episode I have ever recorded on the podcast, but Misir may have topped it with this conversation. His understanding of money, economics, Bitcoin and the future is incredibly rare. I can't recommend you listen to this enough.
In this conversation, Misir and I discuss:
The importance of understanding money

Scarcity as a driver of value

Why gold used to be money

Why Bitcoin is the digital gold

An analysis of Bitcoin's future market cap

The idea of Bitcoin as stored time
I really enjoyed this conversation with Misir. Hopefully you enjoy it too.
LISTEN TO THIS EPISODE OF THE OFF THE CHAIN PODCAST HERE
---
Here are my tweets from yesterday:
---
Interested in crypto research? Look no further. The premier research firm in the space, Delphi Digital, has two subscription offerings for individuals and institutions alike. Take a look at their Bitcoin and Ethereum reports to get a taste of their analysis. [Click here]
---
If you enjoy reading "Off The Chain," click here to tweet to tell others about it.
Nothing in this email is intended to serve as financial advice. Do your own research.
---