The Radical Protection Portfolio
This installment of Off The Chain is free for everyone. I send this email to our investors daily. If you would also like to receive it every morning, join the 30,000 other investors today.
---
We are living in radical times.
The stock market has reached record highs, debt levels are at levels previously unseen, and it seems like the party can go on forever. Of course, we know it can't. And it won't, but that doesn't stop anyone from enjoying seemingly unending profits and charts that continue ripping upward.
The funny thing about overheated markets though is that the future return of those assets is simultaneously decreasing. Take the S&P 500 — for 1997-1999, the three years leading up to the dot com bust, the annual returns were 31%, 26%, and 19% respectively. That performance was followed by losses of 10%, 13%, and 23% from 2000 to 2002.
As if the macro trends weren't enough of a warning sign, we are seeing founders take hundreds of millions of dollars off the table, unprofitable companies going public, and multi-billion dollar funds saying it feels like an "out of body experience" when fundraising. It is like the entire market, both public and private, got drunk together and no one wants the party to end.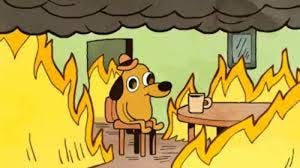 But Mr. Market doesn't care. Mr. Market does what it is structurally built to do. It will reward those who continue to be prudent and disciplined, while punishing those who got drunk and out-of-hand with greed. On top of a potential large drawdown in prices, Vanguard and others are projecting 10 year annualized real returns of 2-4% in US equities and 0.5-2.5% aggregate real returns in US bonds.
Is 0.5-4% annualized upside for a decade really worth the risk of holding heavy equity and bond bags when the market draws down 20-50% in an economic downturn?
To make matters worse, the market highs are compounded by slowing growth, increasing global instability, and central banks who have become addicted to low interest rates and quantitative easing. Simply, this won't end well.
So what should an investor do?
The short answer is that there is no perfect plan. There are numerous options available, with each presenting various pros and cons. Sophisticated investors will be adept at navigating a potential economic downturn with a combination of asset allocation, low time preference, and a touch of greed right when everyone else capitulates.
I won't bore you with the standard portfolio construction options, but rather I want to take the space below to propose a radical portfolio that could help investors weather the upcoming storm.
Remember, radical times call for radical actions. And having large exposures to overvalued markets is incredibly risky. So rather than continuing to drink the kool-aid, here is what would be an aggressive, yet interesting, strategy moving forward:
Divest all assets into 100% cash position — This won't be easy for most large investors to do overnight, but they could sell their public equities tomorrow and capture the roughly 18% gain they have seen year-to-date. Over the next 6-12 months, the goal would be to sell all other assets (bonds, commodities, currencies) to get as close to an all-cash position as possible (ex: obviously investments like private equity are less liquid and will be harder to divest, but there are plenty of drunks at the table who would be thrilled to buy whatever the investor is selling).

Purchase Bitcoin with 5% of available cash — The decentralized digital currency is the best performing asset of the last decade. Past performance doesn't indicate future performance, but the asset is likely to do very well as interest rates are lowered and more fiat currencies are printed. The value of Bitcoin is based on supply and demand economics — a fixed supply asset has to go up in USD price as long as demand increases (demand increases in times of global instability, along with central bank's manipulation of economies). Bitcoin continues to be non-correlated, and even inversely correlated at times (ex: May 2019), which makes it the perfect asset to add to this cash-heavy portfolio.
Before you roll your eyes, there is some compelling data on why this type of portfolio could be powerful moving forward. Essentially, the risk/reward trade-off of 95% cash and 5% Bitcoin is incredible.
First, the risk profile is quite clear — an investor could lose up to 5% of their portfolio in the worst case scenario. While no one wants to lose money, a 5% loss would be a smaller drawdown than the S&P 500 had last year (-6.24%).
Second, the upside for Bitcoin is quite asymmetric. The asset will either be worth much more than it is today in terms of USD price, or it will be worthless. This type of binary outcome, combined with the non-correlated nature of the asset, gives investors a great hedge against economic chaos.
While the idea of a 95% cash / 5% Bitcoin portfolio may sound extreme, it wouldn't be an anomaly if the portfolio performed well moving forward. Earlier this year, @100trillionUSD shared this chart:
A version of the Radical Protection Portfolio has previously done very well. A 99% cash / 1% Bitcoin portfolio would have driven ~10% annualized returns. A 98% cash / 2% Bitcoin portfolio would have driven ~20% annualized returns. Both of these allocations accomplished this outperformance while simultaneously taking less risk than investing exclusively in Treasury bonds.
Pretty crazy data to look at.
I call this portfolio the "Radical Protection Portfolio" because it accomplishes two things: (1) capped downside risk of only 5% and (2) potential upside returns in the 20%+ range. There just aren't many other portfolio constructions that rival these potential outcomes.
The alarms are ringing loudly in our ears. From inverted yield curves to obviously greedy behavior, but the question remains — who has the discipline and courage to listen to the warning signs? The short answer is not many people. It is basic human psychology. When everyone is drunk at the party, each investor thinks they'll be lucky enough to have a seat when the music stops.
But not everyone can have a seat. And most investors will get hurt badly by continuing to ignore risk management and persisting with an offensive strategy. In radical times, it is necessary to take radical actions. And during economic downturns, the best defense is a great offense.
Which brings me to the best part of the Radical Protection Portfolio — perfect positioning to be greedy when there is blood in the streets. By going to 95% cash today, a disciplined investor will have maximum dry powder available to them when the economic downturn occurs.
The large cash position will give them incredible leverage and allow them to opportunistically buy discounted and/or distressed assets. As Warren Buffett so eloquently said, "be fearful when others are greedy and greedy when others are fearful."
The greed we are currently seeing is unsustainable. The Radical Protection Portfolio is an extreme, yet simple, way of becoming defensive and fearful, while benefitting from the ultimate hedge. This isn't financial advice, but rather a portfolio construction I've been thinking a lot about given the current macro environment.
The next economic drawdown will expose who made good decisions today. And whether we like it or not, Mr. Market is a ruthless judge who shows mercy to no one.
-Pomp
---
The "Off The Chain" podcast has been downloaded 1,000,000+ times in 160 countries. You can listen to the latest episode with Tavi Costa, Global Macro Analyst at Crescat Capital here: Click here for Off The Chain podcast
---
THE RUNDOWN:
Tron's Justin Sun Invites eToro Founder to Lunch With Buffett: There are only four days left until Tron founder Justin Sun's lunch with Warren Buffett and Sun has handed out another golden ticket. The lucky winner? Yoni Assia, founder and CEO of eToro. Sun also invited Circle CEO Jeremy Allaire to the lunch, a fete for which he paid a $4.57 million donation. Read more.
U.S. Regulator Probing Crypto Exchange BitMEX Over Client Trades: The U.S. Commodity Futures Trading Commission is investigating crypto exchange BitMEX, a platform that's become wildly popular in Asia for letting people make big bets with little money down. The months-long CFTC probe is focused on whether BitMEX broke rules by allowing Americans to trade on the platform, which isn't registered with the agency. The regulator considers virtual currencies like Bitcoin to be commodities, and it has jurisdiction over futures and other derivatives based on them. Read more.
Fidelity's Crypto Arm Has Officially Applied to Operate in New York as a Trust: Fidelity Digital Assets has officially applied to the New York Department of Financial Services for a Trust license, according to several sources familiar with the matter. If its application is successful, Fidelity Digital Assets would be cleared to add New York to the handful of states in which it currently operates its custody business for digital assets. This is the latest development for the burgeoning provider of storage and trading solutions for bitcoin, allowing it to go head to head with rivals like Coinbase, which secured its qualified custodian designation in October alongside firms Gemini and Paxos. Read more.
Steve Wozniak Has Joined an Energy-Focused Blockchain Startup in Malta: Apple co-founder Steve Wozniak has joined a Malta-based blockchain enterprise targeting more efficient use of energy. Speaking at an event on the island Thursday, Wozniak said he has invested in the EFFORCE project – which enables investors to back energy efficient projects around the world – and become a co-founder. According to the Malta Independent, Wozniak explained that the firm aims to bring money savings on energy, but also help the environment, a factor he said was important to him. Read more.
Global Accounting Firm KPMG Partners with Microsoft, R3 on Telecoms Blockchain: KPMG, a multinational accounting firm, is partnering with software firms TOMIA, Microsoft, and R3 to develop a blockchain for telecom settlements. One of the "big four" accounting firms, KPMG has pursued industry-specific blockchain pilots in the past, always with an eye to settling cross-border, or network, complexities. The latest partnership, with two distributed ledger industry leaders, Microsoft and R3, continues in the vein of resolving the issues that arise from multi-party connections. Specifically, KPMG is looking to address the hard data issues that will arise from 5G connectivity. Read more.
Token Startup Founder Took Steps to Sue Lubin, ConsenSys for $13 Million: Ethereum co-founder Joseph Lubin could soon be sued by a former employee, according to court documents filed in New York. Harrison Hines, former head of Token Foundry at Lubin's Brooklyn-based venture studio ConsenSys, began the process of filing a legal complaint in June against his former employer. The complaint seeks more than $13 million for alleged fraud, breach of contract, unjust enrichment and unpaid profits. Read more.
---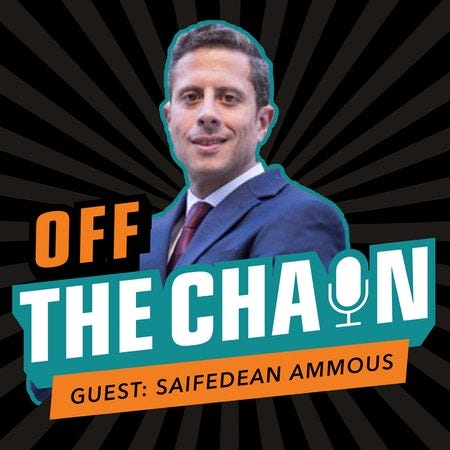 LISTEN TO THIS EPISODE OF THE OFF THE CHAIN PODCAST HERE
---
Saifedean Ammous is the author of The Bitcoin Standard and Associate Professor of Economics at Lebanese American University. He is widely regarded as one of the best minds in Bitcoin, which is obvious throughout this episode. I really enjoyed the conversation and highly recommend you listen to the Professor drop his knowledge :)
In this conversation, Saifedean and I discuss:
Austrian economics

Bitcoin as a risk-on asset

Bank fines

The Bitcoin maximalists in congress

What his current outlook is on the global macro economy
I really enjoyed this conversation with Saifedean. Hopefully you enjoy it too.
LISTEN TO THIS EPISODE OF THE OFF THE CHAIN PODCAST HERE
---
Here are my tweets from yesterday:
---
Interested in crypto research? Look no further. The premier research firm in the space, Delphi Digital, has two subscription offerings for individuals and institutions alike. Take a look at their Bitcoin and Ethereum reports to get a taste of their analysis. [Click here]
---
If you enjoy reading "Off The Chain," click here to tweet to tell others about it.
Nothing in this email is intended to serve as financial advice. Do your own research.
---