The Perfect Storm For Bitcoin Is Upon Us
Today's installment of Off The Chain is free for everyone. I send this email to our investors daily. If you would also like to receive it every morning, you can subscribe here.
---
The perfect storm is brewing for Bitcoin.
Traditional markets are getting scarier and scarier by the day. Just yesterday, PIMCO's CIO of US Core Strategies Scott Mather stated "We have probably the riskiest credit market that we have ever had." He was specifically speaking about a comparison to the mid-2000s right before the global financial crisis, in terms of size, duration, quality and lack of liquidity.
He went on to say "we see it in the build up in corporate leverage, the decline in credit quality, and declining underwriting standards - all this late-cycle credit behavior we began to see in 2005 and 2006." While these comments were concerning, the more worrisome moments of Mather's interview was the time he spent talking about central banks.
He started off by admitting that "people are probably too optimistic about the growth outlook in the US." But then added, "I think that's what you're seeing now in markets. People are starting to come to a more realistic outlook about the forward-looking growth prospects, as well as the power of central banks to pump up asset prices."
This last sentence is what caught my attention. Mather had previously noted that central banks had become "powerful in terms of taking volatility out of the market and pumping asset prices up," but their ability to do this was going to be reduced moving forward. If you remember, I previously wrote about Ray Dalio's similar belief that central banks will be less powerful during the next recession.
Central banks have previously had two tools available to address potential recessionary periods — interest rate cuts and quantitative easing. During the next recession, they will return to these tools, but more people are beginning to think that these tools will be ineffective. With the current interest rates, we would not be able to cut the 500+ basis points that have been cut in the last two bear markets. Additionally, we continue to print money at an alarming rate, which softens the impact of that tool as well.
If Scott Mather's concerns come to fruition in the credit market, and the public equity market takes a nose dive like my partner Mark Yusko has been calling for, the central banks will be called on to address the situation. But if they are as ineffective as Mather and Dalio are predicting, investors are going to have limited options. They can keep a low time preference and weather the storm (unattractive), they can run to US treasuries (likely), they can move their wealth to gold (possible but unlikely), and/or they can turn to Bitcoin for a non-correlated, scarce store-of-value.
But this is where the perfect storm comes in.
It looks like central banks are going to be forced to make hard decisions in the first half of next year, which will coincide with Bitcoin's block reward being cut in half. As a reminder, the block reward is the amount of Bitcoin that is distributed to the network's miners approximately every 10 minutes.
The potential scenario is that interest rates will get slashed, fiat printing will explode, and Bitcoin will get more scarce all around the same time — this is like taking a forest fire and accidentally dropping thousands of gallons of gasoline on it, instead of dropping water. Whoops!
While I believe strongly in Bitcoin's future prospects, it would be intellectually dishonest if I didn't mention that the scenario that I'm laying out would be incredibly painful. Average Americans (and people around the world) would get hurt by the ramifications of this type of market scenario. Hopefully it won't come to fruition, but unfortunately I don't think we have anyone awake at the wheel to stop it.
-Pomp
---
The "Off The Chain" podcast has been downloaded 1,000,000+ times in 160 countries. You can listen to the latest episode with Ted Livingston, CEO of Kik here: Click here for Off The Chain podcast
---
THE RUNDOWN:
Robinhood's Free Crypto Trades Powered by Chicago's Jump Trading: Robinhood Markets Inc.'s move to add cryptocurrencies trading last year was certainly a popular one, helping the maker of the free trading app double its customer base. It's turned to Jump Trading LLC, a little-known but profitable Chicago trading firm that's also benefited from being an early mover on cryptocurrencies. Jump's role, which hasn't been previously reported, shows that some traditional financial players are diving into the world of crypto trading, even as the offering is so new that Robinhood doesn't provide it in every state. Read more.
Project Libra: Everything We Know About Facebook's Cryptocurrency: The world's biggest social media company appears dead-set on launching its own cryptocurrency. Facebook has yet to announce plans publicly but media reports on its crypto ambitions have emerged over the past six months, painting a partial picture of how the social network wants to capitalize on blockchain technology. In short, a team led by former PayPal president David Marcus is building an asset-backed cryptocurrency, one designed to operate within the company's existing messaging infrastructure (WhatsApp, Instagram and Facebook Messenger). Read more.
US Lawmakers Urge Trump Advisor Larry Kudlow to Promote Blockchain: A group of U.S. lawmakers has urged advisors to President Donald Trump to include blockchain on their list of emerging technology initiatives. The bipartisan letter, which was spearheaded by U.S. Representatives Trey Hollingsworth (R.-IN) and Darren Soto (D.-FL), asks the National Economic Council to host a forum on the nascent technology, as well as to include blockchain on a list of technologies that the Trump Administration will promote. Read more.
Egypt Lifts Ban, Will Allow Licensed Cryptocurrency Companies: Egypt appears to be loosening its restrictions on cryptocurrency. Previously Egypt banned all cryptocurrency under Islamic law. Shawki Allam, the current Grand Mufti of Egypt, issued that ban in early 2018, stating the technology could undermine the legal system via tax evasion, money laundering, and other fraudulent activities. However, as the market has expanded and neighboring countries have begun exploring the technology, the government is softening its stance. Read more.
Telegram-Based Crypto Wallet App Now Allows Fiat Purchases: An app that puts a cryptocurrency wallet inside your Telegram account is making it easier to buy coins with U.S. dollars. Button Wallet launched in late 2018 as a messenger-based platform for sending payments, a la Venmo. Currently integrated with Telegram, the company tells CoinDesk it has 100,000 users with 2,000 actively using the product. "For mass-market adoption of decentralized banking, you need more people," said Button Wallet COO Rachael McCrary. "You need to make it easier for people to buy in." Read more.
---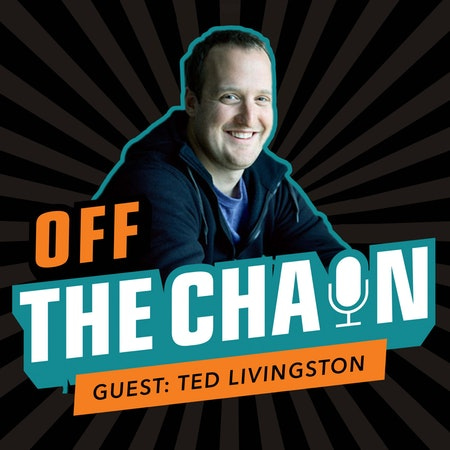 LISTEN TO THIS EPISODE OF THE OFF THE CHAIN PODCAST HERE
---
Ted Livingston is the CEO of Kik.
In this conversation, Ted and I discuss:
Building one of the most popular messaging apps in the world

The challenges with creating sustainable business models for these products

How cryptocurrencies could be a solution

Where Kik is with the regulatory battle they're currently in

Every negative comment about Kik that Pomp has ever heard
I really enjoyed this conversation with Ted. Hopefully you enjoy it too.
LISTEN TO THIS EPISODE OF THE OFF THE CHAIN PODCAST HERE
---
Here are my tweets from yesterday:
---
Interested in crypto research? Look no further. The premier research firm in the space, Delphi Digital, has two subscription offerings for individuals and institutions alike. Take a look at their Bitcoin and Ethereum reports to get a taste of their analysis. [Click here]
---
If you enjoy reading "Off The Chain," click here to tweet to tell others about it.
Nothing in this email is intended to serve as financial advice. Do your own research.
---