The Great Currency Race: Who Will Win Global Reserve Status?
This installment of Off The Chain is free for everyone. I send this email to our investors daily. If you would also like to receive it every morning, join the 30,000 other investors today.
---
To investors,
The Great Space Race kicked off 64 years ago this month. The 20 year period of competition between the United States and the Soviet Union produced artificial satellites, unmanned space probes of Venus and Mars, and the first human to land on the Moon. This race for innovation enthralled millions of people around the world as two superpowers put their resources into an effort that they both considered important for national security reasons.
The next decade is going to bring us a new global race. A race where numerous countries will allocate billions of dollars in an effort to capture potential economic, defense, and societal benefits — the race for global reserve currency status.
It has been 75 years since the Bretton Woods System was implemented and we are entering the early days of a currency competition that is being driven by superpowers that feel the existing system does not serve their needs. Whether it is China and Russia complaining about the challenges and expenses associated with the US dollar, or it is Venezuela, North Korea, and Iran becoming interested after having sanctions levied against them, many countries are quickly beginning to seek alternative options to move away from a dollar denominated system.
Illustration by Peter Arkle for TIME
There are two paths for the Great Currency Race to play out — violence or innovation. The violent path would see the world's superpowers engage in combat to establish military superiority as a proxy for global leadership, which in turn would give the winner the right to install their national currency as the global reserve. This is the path that has historically been pursued, since as early as the Roman empire, but it is also the most primitive path and one where other countries are likely to believe they have a low probability of emerging victorious against the United States.
Due to the potential death toll and collateral damage of the first path, the second path — innovation — is where I believe the Great Currency Race will eventually unfold. Many countries may not believe they can beat the United States with military might, but almost all of them believe they can out innovate the current leader.
The innovation path will naturally lead everyone to the creation of digital currencies, especially as each nation becomes convinced of the lower costs, greater adoption, increased compliance and security, and ultimately greater ability to collect tax revenues. These digital currency attempts will be variations of each other — some will be single country efforts, some will be multi-country efforts, some will be digital versions of existing fiat currencies, some will include brand new monetary policies, and some may not actually be controlled by a government.
Although we are still in the early days of the Great Currency Race, we are seeing a few countries attempt to get a head start:
Venezuela — The Venezuelan government has been crippled by economic sanctions, which led to the creation of the Petro in an attempt to circumvent these sanctions and access international financing options. This government-issued cryptocurrency was supposed to be backed by the country's oil and mineral reserves, but has failed miserably and does not appear to be functioning as a currency.

Switzerland — The Federal Council of the Government of Switzerland has previously requested a report on the pros and cons of a government-backed cryptocurrency. While the interest level for pursuing this idea seems to be dissipating, it wouldn't surprise me if Switzerland quickly returned to the idea of an "e-franc" as soon as another developed nation launches a cryptocurrency.

China — The People's Bank of China has reportedly been working on a government-issued cryptocurrency that will replace the physical Chinese Yuan after launch. This project has been underway for a number of years and it is no secret that China is looking for ways to reduce their dependence on the US dollar system.

India — The Indian government put together a panel to make a recommendation on how to deal with cryptocurrencies. That panel's recommendation was to ban all cryptocurrencies that are not backed by sovereign nations, but to also have India pursue the creation and launch of it's own digital currency that would replace the existing Indian Rupee.
These are just a few examples of how countries are currently assessing the situation. There are many others, but this is all at the beginning stages today. The economic, defense, and societal benefits to whoever controls the global reserve currency is too large of an incentive for most countries to afford to sit on the sidelines.
The Great Currency Race has already started. But there is one key difference between this race and the Space Race. The Great Currency Race has a dark horse competitor. A competitor that was built by an anonymous person or group. A competitor that already has millions of people adopting it. A competitor that is more secure than any other currency system in the world.
The dark horse competitor in the Great Currency Race is Bitcoin.
The aspects of the digital currency that make it weird and different, including the decentralized nature and lack of identifiable owners, are exactly the aspects that give it a significant advantage over the other competitors in this race. Just as the Space Race enthralled millions of people as countries competed to out innovate each other, the Great Currency Race will capture the imagination of hundreds of millions of people.
Money is at the core of every society. It is how we transact. It is how we measure the value of something. It is how we understand the power and potential of our resources. Simply, money is the most interesting topic in the world.
And if countries are going to compete with each other, and with private groups of people, to see who can create the most valuable money in the world, you better believe that interest in the Great Currency Race will dwarf the Space Race.
The competition is just beginning. Buckle up and get ready. We haven't seen anything like this before.
-Pomp
---
The "Off The Chain" podcast has been downloaded in every country in the world, with more than 1,500,000 combined downloads. You can listen to the latest episode with Mark Yusko, Founder & CIO at Morgan Creek Capital Management here: Click here for Off The Chain podcast
---
THE RUNDOWN:
Circle CEO: China's Digital Currency Could 'Bypass' Western Bank System: Circle CEO Jeremy Allaire says the U.S. lagging behind China's development of a national digital currency could alter the way Western companies transfer payments. Allaire said China is setting the pace in the development of a digital currency equivalent of its fiat currency, the renminbi, and could soon bypass Western rules through direct settlements. Allaire also said Circle continues to be interested in the development of stablecoins, such as its USD Coin. Read more.
Binance Offers VIP Accounts to Hacked Users: Binance has released an update from its "security and investigations team" stating that it will give affected users VIP accounts on the site. Binance notes that though some of the photos match actual accounts others are lacking key details or show evidence of manipulation. "The latest evidence of this investigation indicates that some of the leaked images overlap with images that were processed by a third-party vendor, which Binance contracted a few times between early December 2017 and late February 2018," wrote the team. Read more.
Blockchain Will Integrate BitPay's Payments System For Wallet Payments: Bitcoin wallet and blockchain explorer provider Blockchain announced a partnership with the largest bitcoin processor, BitPay. Blockchain will integrate BitPay's payment architecture into its wallet service. This partnership will allow Blockchain wallet users to pay merchants online or on mobile. BitPay processes approximately $1 billion in bitcoin alone every year for businesses and individual clients and over $2.8 billion in other cryptos for institutional clients since 2011. Read more.
Blockchain May Be Used in FDA Medical Reviews and Recalls: The Food and Drug Administration may incorporate blockchain to improve drug and medical products reviews and recalls. In a speech at the Office of the National Coordinator for Health IT Third Interoperability Forum, on August 22, principal deputy commissioner Dr. Amy Abernethy, said the FDA is looking to modernize the way health care providers, drug manufacturers, and regulatory agencies communicate. Without going into details, Abernethy said the agency plans to roll out uses of artificial intelligence, APIs and blockchain in this modernization effort. Read more.
Largest Korean Exchange to Review Listings and Drop Failing Coins: Bithumb will start reviewing its cryptocurrency listings on a monthly basis, becoming the second South Korean exchange this month to update its listing policies. The audits will determine whether the crypto exchange's listed coins and tokens are eligible for continued trading. The reviews will be undertaken by the newly formed Listing Eligibility Deliberation Committee, starting from September. Read more.
---
LISTEN TO THIS EPISODE OF THE OFF THE CHAIN PODCAST HERE
---
For the 150th episode of Off The Chain, I spoke with my partner Mark Yusko. He is the founder & CIO of Morgan Creek Capital Management and co-founder and partner at Morgan Creek Digital. Each day I am lucky to learn from Mark's 25+ years of allocating billions of dollars to the best investors in the world. This is one of the longest and best episodes I have ever recorded. Highly, highly recommend listening!
In this conversation, Mark and I discuss:
Mark's background

What it's like running a university endowment

The Morgan Creek founding story

How institutional investors think about portfolio construction

How demographics affect financial asset performance

Why inflation steals wealth from the poor

How banks take control of your money when you deposit it

The best advice he's ever gotten

Why governments help companies manipulate their stock prices

What the benefits of Bitcoin are to institutional investors

Where he expects Bitcoin to go in the future
I really enjoyed this conversation with Mark. Hopefully you enjoy it too.
LISTEN TO THIS EPISODE OF THE OFF THE CHAIN PODCAST HERE
---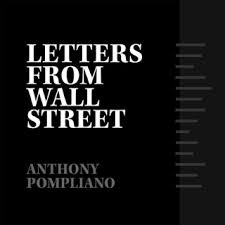 In this new podcast, I read through letters, notes, and memos from investors and entrepreneurs that cover financial insights from the world's most successful companies and investors. The podcast is sponsored by eToro, the world's leading social trading platform. This week's episodes include:
Ray Dalio's 2019 Investor Letter — "Paradigm Shifts" (Bridgewater Associates)

Paul Graham's 2008 Investor Letter — "How To Disagree" (YCombinator)

Tim Cook's 2019 Letter to Shareholders (Apple)

Martin Whitman's 2012 Letter to Shareholders (Third Avenue Management)

Joel Gascoigne's 2013 Investor Letter — "Expert of Nothing" (Buffer CEO)
LISTEN TO THESE EPISODES OF THE "LETTERS TO WALL STREET" PODCAST BY CLICKING HERE
---
Here are my tweets from yesterday:
---
Interested in crypto research? Look no further. The premier research firm in the space, Delphi Digital, has two subscription offerings for individuals and institutions alike. Take a look at their Bitcoin and Ethereum reports to get a taste of their analysis. [Click here]
---
If you enjoy reading "Off The Chain," click here to tweet to tell others about it.
Nothing in this email is intended to serve as financial advice. Do your own research.
---