Oct 22, 2020 • 6M
The Digitally Native Financial System Is Being Built Right Before Our Eyes
To investors,
The United States financial system has long enjoyed a position of global leadership due to the clear regulatory environment, deep liquidity, strong economy, large asset management firms, and advanced technology. You can see the leadership highlighted in the US dollar's global reserve status, the US stock exchanges, and the flow of capital to US investors and companies.
These country-specific advantages made a lot of sense in a world where companies and products were tied to a geography. The NASDAQ or New York Stock Exchange are both based in New York. A US financial firm is based in an American city. The Federal Reserve is based in Washington, DC. You get the picture.
We are transitioning to a world where physical geography doesn't matter anymore though. This transition started under the current system when traders didn't have to go the stock exchange floor and computers could execute transactions. You then started to see the transition continue during COVID-19 when the Federal Reserve was holding remote meetings. But this is all small evolution type change — there is a tidal wave of disruption that is about to occur and the US financial system is not ready for it.
The most important economy in the world is not tied to a single geography. It is instead the digital world that we all live in when we get on our computers and smartphones. In order to thrive in the digital world, you have to become proficient in the native currency (Bitcoin), native communication (asynchronous), and native customs (memes/gifs). But there has been one thing missing from this digital world over the last few decades — a native financial system.
We have merely been using the legacy financial system (that was built for the physical, geographic-based world) with a few tweaks in the digital world. It is becoming clear that this old system is holding back progress though. It takes too long to send money around the world. The power is still concentrated too heavily in the hands of the politically connected, powerful people of the past. There are antiquated regulations that allow incumbents the ability to slow down, or even stop, progress so that they can continue to profit. Simply, the bandaid solution was to evolve the legacy financial system to appear effective in the digital world, but we are now beginning to understand that this won't be sufficient.
A new digitally-native financial system is being built from scratch to serve digital citizens globally. We had to start with the creation of a native currency for this economy and we now have Bitcoin. No one controls it. No one has an outsized advantage in acquiring it. No one can use it to hurt anyone else. It is fair, equitable, and the embodiment of the internet ethos that digital citizens have come to know and love.
The next step is for digital citizens to build fully decentralized financial applications. These products and services will serve the same purpose as the centralized versions, but they will follow the same principles as Bitcoin. No one will own them. No one will have an outsized advantage in using them. And no one can use them to hurt anyone else. There are lots of teams trying to build these decentralized applications now, but so far there have been very few that adequately fulfill the necessary elements of what will make one of these products sustainable.
If we can have fully decentralized money and fully decentralized financial applications, we will achieve the impossible — a new, fully functioning financial system that is native to the digital world. The incumbents of yesterday will be on the same level playing field as everyone else. Technology will serve as the great equalizer. It won't be about who has the most money, is the most connected, or can capture gains based on regulatory arbitrage. Instead, the system will reward those who are the most intelligent, those who have the courage and conviction to act earliest, and those who show a proficiency in the skills necessary for the digital world.
Governments and incumbents are not oblivious to what is going on here. They are watching closely. Whether it is the Chairman of the CFTC talking positively about Bitcoin and Ethereum, or it is China trying to build a centralized digital currency, they are all paying attention. One of the most interesting developments to watch will be who remains a passive onlooker compared to who becomes an active participant. We are seeing most of the innovation come from the private sector (as you would expect), but eventually these governments are going to start jumping in the game.
An easy first step would be to begin putting Bitcoin in their central bank reserves. If that happens in a major country, it will set off a global game of FOMO. There are countries that will also start to embrace the decentralized applications as well. They will realize that it is ineffective to fight the transition and those who lead the way will be rewarded nicely. It appears that Dubai is getting ready to make a major leap in that direction — they have put forward new legislation drafts that would usher in a digital financial system/assets within the country. China and other countries in Asia are jumping in head first. Unfortunately, the United States is the laggard here. Hopefully that will change.
The playbook is simple. We live in a digital world. Physical geographies don't matter nearly as much as they once did. There will be a new currency and financial system built native to this digital world. We already have the currency and it is gaining global adoption at an incredible rate. The decentralized financial applications are in the experimental phase right now. Majority (95%+) of the current iterations won't survive, nor will they ever gain any significant traction. The next iteration will be the ones to watch (we saw this in the internet too — most ideas in late '90s were great, but too early….they all became successful when tried again about a decade later).
The disruption that is underway will take a long time to play out. I'm more convinced now than ever that Bitcoiners are right. The future is clear. We will have the digitally native financial system that leverages decentralization and internet ethos to take back power from the incumbents. The legacy system built a world of inequality. It is about time technologists swung the pendulum back in the direction of the people.
-Pomp
---
SPONSORED: Did you know that 97% of outstanding bonds yield less than 5%? The average savings account earns a measly 0.5%. With the stock market trading at a lofty 26x P/E, investors are desperate for an alternative asset class (other than BTC!) to put their hard-earned wealth. Stocks and bonds just aren't cutting it: that's where Masterworks comes in. 
Masterworks lets you buy and sell investments in blue-chip art by artists like Banksy, KAWS and Monet. Art is a $1.7T asset class that outperformed the S&P by 180% between 2000 and 2018 with almost no correlation to the stock market. Here's how it works: Masterworks qualifies paintings with the SEC, takes them public, and makes shares available to their 95,000+ investors. 

Run, don't walk: Pomp subscribers can skip the 22,000 person waitlist today.*
---
THE RUNDOWN:
Quibi Is Shutting Down Barely Six Months After Going Live: Quibi Holdings LLC is shutting down a mere six months after launching its streaming service, a crash landing for a once highly touted startup that attracted some of the biggest names in Hollywood and had looked to revolutionize how people consume entertainment. The streaming service, which served up shows in 5- to 10-minute "chapters" formatted to fit a smartphone screen, has been plagued with problems since its April debut, facing lower-than-expected viewership and a lawsuit from a well-capitalized foe. Read more.
CasperLabs Raises $14M From Launch-Day Node Runners: Blockchain startup CasperLabs has banked $14 million from investors who pledged to secure its proof-of-stake Casper network at launch. CasperLabs CEO Mrinal Manohar confirmed the private CLX token presale to CoinDesk and further revealed that Digital Strategies had led the investment, with headline participation from HashKey Capital and Blockchange Ventures, as well as 52 others. Nearly half of subscribers already held CasperLabs equity, he said. Read more.
Villanova University to Send Private Ethereum Blockchain Into Space to Test Inter-Satellite Communication: Villanova University's College of Engineering is sending a private Ethereum blockchain into space to test whether distributed ledger technology can help satellites exchange data. Read more.
Tesla Reports Fifth Consecutive Quarter of Profits: Elon Musk's electric car and renewable energy company, Tesla, reported third-quarter results after the bell on Wednesday. The stock rose about 3% after hours as the company beat expectations on EPS and revenue, and reported its fifth consecutive quarter of profit. Read more.
The Dollar Remains Vulnerable to 'Significant Depreciation:' One Standard Chartered Bank analyst warns that the greenback is vulnerable to a "significant depreciation" as sovereign fundamentals appear to be "pointing south." "You have the twin deficits in the U.S. getting worse, you have the trade balance at the worst in 15 years," said Eric Robertsen, global head of research at Standard Chartered Bank. Read more.
---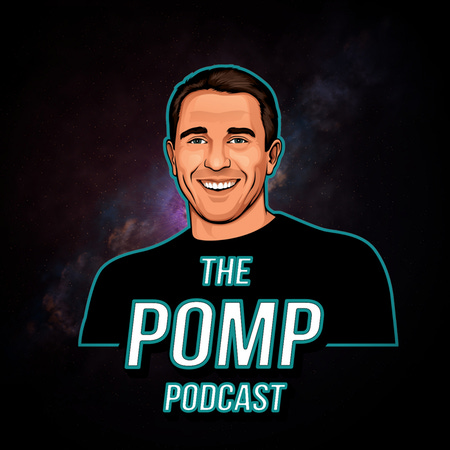 LISTEN TO THIS EPISODE OF THE POMP PODCAST HERE
---
Peter Doyle is a Managing Director and co-founder of Horizon Kinetics. He is a senior member of the research team, along with being a member of the Investment Committee and the Board of Directors. This was a master class in investing and global macro analysis, so definitely worth listening.
In this conversation, Peter and I discuss:
Inflation

How technology is deflationary

Why capitalism is broken in the US

Saturation of tech companies

How Peter currently views the global macro environment
I really enjoyed this conversation with Peter. Hopefully you enjoy it too.
LISTEN TO THIS EPISODE OF THE POMP PODCAST HERE
---
Podcast Sponsors
These companies make the podcast possible, so go check them out and thank them for their support!
---
You are receiving The Pomp Letter because you either signed up or you attended one of the events that I spoke at. Feel free to unsubscribe if you aren't finding this valuable.
Nothing in this email is intended to serve as financial advice. Do your own research.
*See important information
---