Raising crypto money in 2019
The following letter is written by Ryan Selkis, CEO of Messari. They recently announced a new fundraising round and I asked Ryan to put together some thoughts on what the experience of fundraising during the bear market was like. He is a great writer and I'm excited about how it turned out. Hope you enjoy it!
---
Earlier this week, we announced that my company, Messari, closed a $4 million funding round led by Uncork Capital.
You can read more about the news here, and Pomp might have something to say about Messari above the fold. In brief, though, we work with 65+ crypto asset teams on standardizing their key data and community disclosures. We also offer research and analytics tools that help investors evaluate these projects. Think: "EDGAR + Factset for crypto."
Messari has carved out an interesting, if early, niche. But this post isn't about our company so much as it is about the process of raising money for a crypto venture in 2019.
I'll start with the obvious.
Closing a round is a great milestone because:
a) it meant we didn't die, despite an 85% draw down in our end market during the first year of operations post-launch;

b) we've now got the capital and runway to build the foundation for a useful pick and shovels business that customers seem to want (and need) to exist; and

c) we added a crypto-skeptical-but-curious Silicon Valley VC as our lead—another red pill dispensed!--plus we got someone with fresh eyes on our board of directors.
The fundraise itself was a *slog*. It was a far cry from what I experienced raising money in January 2018.
The good news is that I know a lot of investors, and we had opportunities to sell our vision for the future to many smart people. If fundraising is a numbers game, we had an unfair advantage, as our top of funnel list was ~90 current and prospective investors. Of those, 12 were funds we identified as target leads (including Uncork). We were looking to add someone to our board with a strong VC track record outside of crypto, and backfill the round with insiders and select strategic partners.
The bad news is that I know a lot of investors, and that our top of funnel was 90 different current and prospective investors. That meant a very high percentage of those 90 firms took calls and meetings. (In fact, only 10 declined to engage up front.) So we met with 80 firms and individuals in "phase one" that each required at least an hour or so of in-person time.
Even though we condensed those meetings into about six weeks from the first week of May to mid-June it was difficult to sustain our pace and energy. Between scheduling, following up with multiple calls and emails after meeting #1, and pulling together diligence responses and a data room, phase one took about 250 hours in total. This for someone who's got a six year track record in the industry, and has helped build two of its highest profile brands already (DCG and CoinDesk).
It's why any entrepreneur will warn you fundraising is a full-time job.
We were fortunate to ultimately hit our target fundraising amount and valuation with a lead investor we really liked after this process. My sanity is intact because we went from phase one to signed term sheet in just a few additional weeks. But I know many other teams have struggled in this environment.
There will continue to be some consolidation.
While I can't speak to the feedback they've received, I feel like some of our "no's" are illustrative. And they boil down to a few general themes:
"I don't have conviction on timing, and the market momentum needs to return before I get excited." This one is very true and fair for us, and other picks and shovels businesses who are selling to the existing market. The crypto asset market must thrive for Messari to build a big business. Why would an investor take idiosyncratic risk on a company if they can bet the market and then come back to us later? We had a good answer for this, but only 50% of the investors with market momentum concerns bought in to our answer.

"I don't have conviction on the token economy beyond bitcoin and maybe ether." I AGREE. The irony of this pushback is that I didn't think it would affect us with investors given how outspoken I've been with the same criticism. Our vision is that our customer mix will change over time, and we'll ultimately support synthetic, security-like instruments and assets that look and feel like traditional financial assets. But it was a very tough hurdle to get people on board if they believed that 50% or 90% of our current customers would eventually churn. I understand this, and would imagine it has impacted many other businesses where VC's worry about the addressable market side of the "crypto services" economy.

"I don't have conviction on you and your team." Thank you for your time. We're going to rip the throat out of the competitor you just funded that we didn't know about going into this meeting. (Kidding. Kinda.)

"I don't have conviction on your product need." This last one is healthy, and interesting. There's this funny dynamic where VC's investing in crypto will regularly and conveniently overlook near to medium term "product need" when investing in a company which plans to sell a token. Many will buy "immediate need, long-term investment horizon" or "long-term need, short-term investment horizon" opportunities. But don't come to them with "moonshot idea and market, but will take time and patience."
All told, we added three new investors (including our lead), while the majority of our existing investors also reinvested. We're thankful for their support, and I'm thankful it's over so that we can get back to work building our company.
If you're a seed stage entrepreneur raising money, DM me on twitter (or Pomp!) and I'm happy to help you if I can. It's pretty brutal out there right now, but you can find the right backers with a solid business, enough intensity, and a healthy dose of gallows humor.
Despite the short-term pain, fundraising is a phenomenal opportunity to hone your vision, lock down your business model, and effectively communicate a strategy to people who can introduce you to customers, partners, and recruits. Treat it like BD, and it won't be so painful.
Good luck!
-Ryan Selkis
---
The "Off The Chain" podcast has been downloaded in every country in the world, with more than 1,500,000 combined downloads. You can listen to the latest episode with Mark Yusko, Founder & CIO at Morgan Creek Capital Management here: Click here for Off The Chain podcast
---
THE RUNDOWN:
Compound Raises $25 Million to Expand Crypto Lending: At a time when high interest savings accounts are languishing at an anemic 2%, Craig Hammell found a way to earn more than 8% this past summer. Instead of storing his money with a bank, the software engineer lent it out to cryptocurrency owners on Compound, an automated lending platform. Hammell is one of a growing number of investors seeking high yield who have turned to Compound, a startup that's part of an exotic industry known as decentralized finance. The San Francisco company, which recently raised a $25 million Series A round from venture capital firm Andreessen Horowitz, relies on software and so-called smart contracts to bring together crypto borrowers and lenders. Read more.
Ledger's Vault Scores $150 Million in Crypto Insurance From Lloyd's Syndicate: Ledger, the creator of the iconic Nano hardware wallet, is wooing institutional investors to use its technology to custody cryptocurrency for themselves with the help of big-name insurance broker Marsh. Marsh has arranged a $150 million insurance policy from Lloyd's of London syndicate Arch for users of the startup's Ledger Vault technology platform, the companies announced Thursday. The move is another sign that the insurance industry is gradually becoming comfortable writing coverage for digital assets – widely considered a prerequisite for institutional investment. Read more.
Northern Trust Testing Fractionalized Bonds on Blockchain: Custody bank Northern Trust is testing the trading of fractionalized bonds on a blockchain. Working with Singapore-based debt markets company BondEvalue, the bank is providing asset servicing for large, high-grade bonds that will be tokenized and divided for retail investors on Hyperledger Sawtooth. These bonds are normally too large for individual investors, but the quality of the bonds is attractive. The move shows Northern Trust's continued interest in the technology after it developed then sold its private equities blockchain, which shortens the time to market for new high-tech private equity funds. With $124.3 billion in assets, Northern Trust is the 24th largest bank in the U.S. Read more.
Fintech Arm of Chinese Insurance Giant Files for US IPO After Blockchain Push: SoftBank-backed OneConnect Financial Technology, the fintech arm of China's largest insurance company Ping An Insurance, filed a prospectus on Wednesday for an initial public offering with the U.S. Securities and Exchange Commission. The firm plans to list its shares on NASDAQ. OneConnect's filing with the SEC today called for a target raise of $100 million, though that figure could go higher. Read more.
US Authorities Arrest Alleged SIM Swappers After Crypto Thefts: The FBI arrested two Massachusetts residents Thursday on charges of attempting to steal cryptocurrency and hijack social media accounts from individuals by "SIM swapping" their phones. According to a press release, the U.S. Department of Justice has charged Eric Meiggs, 21 and Declan Harrington, 20, on counts of conspiracy, wire fraud, computer fraud, abuse and identity theft for allegedly targeting cryptocurrency company executives and other individuals "who likely had significant amounts of cryptocurrency," as well as those "who had high value or 'OG' (slang for 'Original Gangster') social media account names." Read more.
---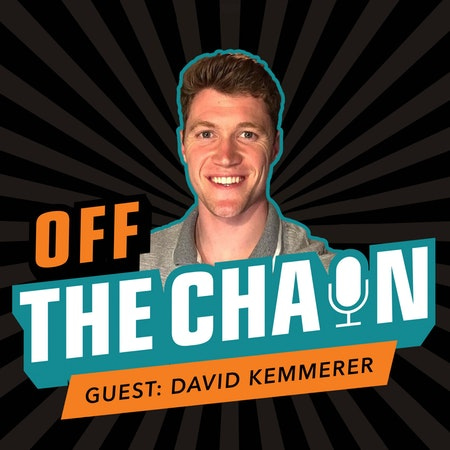 LISTEN TO THIS EPISODE OF THE OFF THE CHAIN PODCAST HERE
---
David Kemmerer is Co-founder and CEO of CryptoTrader.Tax and is one of the most well versed people when it comes to the new IRS tax guidance related to cryptocurrencies. As we come to the end of the year, I wanted David to come on and explain what everyone should know about crypto and taxes. Hope you enjoy!
In this conversation, David and I discuss:
The new tax guidance from the IRS

Why it's so complex

Why cryptocurrencies are becoming more difficult to report through the legacy infrastructure exchanges

How CryptoTrader.tax is helping clients quickly and accurately report their tax treatments
I really enjoyed this conversation with David. Hopefully you enjoy it too.
LISTEN TO THIS EPISODE OF THE OFF THE CHAIN PODCAST HERE
---
Interested in crypto research? Look no further. The premier research firm in the space, Delphi Digital, has two subscription offerings for individuals and institutions alike. Take a look at their Bitcoin and Ethereum reports to get a taste of their analysis. [Click here]
---
If you enjoy reading "Off The Chain," click here to tweet to tell others about it.
Nothing in this email is intended to serve as financial advice. Do your own research.
---