Monetary Stimulus Is Rocket Fuel For Bitcoin
This installment of Off The Chain is free for everyone. I send this email to our investors daily. If you would also like to receive it every morning, join the 30,000 other investors today.
---
Nassim Taleb once wrote, "The three most harmful addictions are heroin, carbohydrates, and a monthly salary." While these are definitely horrendous addictions, Taleb forgot to mention a fourth — monetary stimulus.
Central banks are addicted to monetary stimulus and they aren't even trying to hide it anymore.
The European Central Bank indicated they will resort to more monetary stimulus in September due to the economic outlook getting "worse and worse." ECB President Mario Draghi specifically stated "This outlook is getting worse and worse. It's getting worse and worse in manufacturing, especially, and it's getting worse and worse in those countries where manufacturing is very important."
While the ECB's comments were lacking detail, we know that central banks have two tools to combat slowing growth or economic downturns — cut interest rates and print more money. As I continue to say, this is rocket fuel for Bitcoin.
First, the interest rate cuts and quantitative easing are an attempt to continue pumping asset prices, but those tools are going to be less effective than they previously have been. Central banks cut rates by more than 5.0% in the last two recessive periods. Obviously we don't have 5.0% to cut given the current interest rates are well under that.
Additionally, we printed money recklessly for a decade. Just like an addict that needs to consume more and more of a drug to continue feeling a high, central banks will be required to print such enormous amounts of money that it will dwarf what we saw previously.
The actions of central banks aren't the only thing that we should be paying attention to either — the timing is very important as well. The impact of monetary stimulus is normally not seen for 6-12 months after the initial actions are taken. Given that the rate cuts are likely to be initiated in September, the impact won't be seen until February 2020 or later.
That means that the monetary stimulus impact will hit within 90 days of the 50% reduction in the Bitcoin monetary supply schedule. Think about that for a minute. We are going to see traditional assets being artificially pumped at the exact same time that the stock-to-flow ratio of Bitcoin becomes drastically more attractive. Incredible.
Now don't anticipate Bitcoin's price to see an immediate increase that causes price charts to look like they are going vertical. Instead, it will take time for the confluence of events to reveal itself in price. Regardless of the timing, Bitcoin's value proposition is about to become painfully obvious to the world.
A decentralized, digital currency that can't be manipulated or debased is even more valuable when central banks around the world are manipulating or debasing their currencies. The direct comparison highlights the pros and cons of each monetary system.
Normally I would be worried about these types of central bank decisions, but thankfully we have an alternative asset that provides an insurance policy against this chaos.
Bitcoin was built in the depths of the last recession and has spent the last decade battle hardening itself for this moment — it is time to see just how great Bitcoin can be.
BONUS: US GDP numbers for last quarter just came in at 2.1%. This is down from 3.1% the quarter before. As the economy slows, both here in the US and abroad, it will accelerate the monetary stimulus plans of central banks. Buckle up.
-Pomp
---
The "Off The Chain" podcast has been downloaded in every country in the world, with more than 1,500,000 combined downloads. You can listen to the latest episode with Tavi Costa, Global Macro Analyst at Crescat Capital here: Click here for Off The Chain podcast
---
THE RUNDOWN:
MIT Fellow Says Facebook 'Lifted His Ideas For Libra Cryptocurrency: Avid students of the literature on monetary innovation might feel deja vu when reading Facebook's Libra white paper. Several aspects of the social network's much-ballyhooed global cryptocurrency project uncannily resemble the vision laid out in a paper published last year in the Royal Society's Open Science publication. Read more.

Abra App to Restrict Services for US Users Over Regulatory Issues: Crypto investment app Abra has been forced to make changes services to U.S. customers over "regulatory uncertainty and restrictions" in the country. In a blog update on Thursday, the firm said the adjustments come "in an effort to continue to be compliant and cooperative with US regulations as they currently exist". Read more.
Venezuela Turned Airport Taxes Into Bitcoin To Avoid Sanctions: Venezuelan President Nicolás Maduro and his administration appear to be leveraging tax revenue and cryptocurrencies as part of a broader effort to evade economic sanctions, an investigation by Spanish newspaper ABC has found. As detailed in a story published Monday, the newspaper asserts it uncovered a scheme by which Maduro and his associates were using a digital wallet app to turn tax revenue from domestic airports into bitcoin and other cryptocurrencies that were then transferred to exchanges in Hong Kong, Hungary, Russia and China. Read more.
'However Long It Takes': Zuckerberg Vows To Win Over Libra Regulators: Facebook CEO Mark Zuckerberg says the company will spend "however long it takes" to get regulators and others on board before launching the Libra cryptocurrency project. Speaking during a quarterly earnings call on Wednesday, the social media giant's founder sought to assure investors that Facebook would act responsibly with its development of Libra, the ambitious crypto project revealed last month as a potential payments rail for unbanked individuals. Read more.
---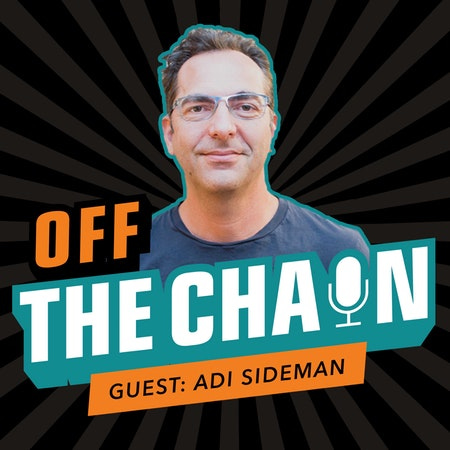 LISTEN TO THIS EPISODE OF THE OFF THE CHAIN PODCAST HERE
---
Adi Sideman is the CEO of YouNow. He and his team recently received Regulation A+ approval for a token sale from the SEC. This episode helps explain what that means and the process required to gain the approval.
In this conversation, Adi and I discuss:
Creating incentives using tokens

How to build crypto products that people actually use

What went into gaining Reg A+ approval

Where YouNow goes next
I really enjoyed this conversation with Adi. Hopefully you enjoy it too.
LISTEN TO THIS EPISODE OF THE OFF THE CHAIN PODCAST HERE
---
Here are my tweets from yesterday:
---
Interested in crypto research? Look no further. The premier research firm in the space, Delphi Digital, has two subscription offerings for individuals and institutions alike. Take a look at their Bitcoin and Ethereum reports to get a taste of their analysis. [Click here]
---
If you enjoy reading "Off The Chain," click here to tweet to tell others about it.
Nothing in this email is intended to serve as financial advice. Do your own research.
---