Lack Of Leadership Is The New Power
This installment of Off The Chain is free for everyone. I send this email to our investors daily. If you would also like to receive it every morning, join the 35,000 other investors today.
---
To investors,
Bitcoin is increasingly becoming the only digital currency that has a chance to reach mass adoption on a global scale. This is less about active Bitcoin wallets increasing, transaction volumes growing, or the hash rate continuing to hit new all-time highs though. It has more to do with the lack of tolerance that sovereign nations have for the rise of a digital currency that is not controlled by a government.
Take Facebook's Libra for example — governments around the world responded negatively to the initial announcement. They argued that Libra would need to meet the highest regulatory standards, be approved by each jurisdiction in which they tried to operate in, and clearly stated that the currency must steer clear of posing a threat to the power & control enjoyed by those that are in charge of sovereign currencies.
But the issues for Libra haven't stopped there. Last week, France and Germany issued a joint statement where they said "no private entity can claim monetary power, which is inherent to the sovereignty of nations." This comment was in support of the two countries' plan to block Libra within their borders if the digital currency was ever to launch. And this is on top of the recent revelation that the Eurozone countries are quietly working on a public cryptocurrency which would make the corporate sponsored currencies (like Libra) redundant.
Think about the current situation for a second. Governments have gone from not understanding or acknowledging digital currencies to arguing that only governments can claim monetary power to now revealing that they are working on their own public digital currency. The speed at which these events are unfolding is unbelievable.
But all of the backlash against Facebook's Libra currency is actually a good thing in my opinion. It is highlighting the main difference between Bitcoin, a decentralized digital currency, and all of the other attempts to build a new currency. While governments are issuing cease & desist orders to resource-constrained projects or hauling Facebook's leadership in front of Congressional hearings, Bitcoin continues to gain adoption and dominance. The lack of knowledge around the creator, combined with the lack of ongoing leadership from a single individual or organization, has served as one of the greatest advantages.
Saifedean Ammous, the author of The Bitcoin Standard, brings up an interesting point in his tweet from yesterday. Facebook is one of the richest, most powerful corporations in the world. They have the resources and connections to do anything they want, but they are running full speed into a brick wall of regulation currently. Yet, a completely anonymous person, potentially with no resources or connections, has been able to build, launch, and scale a new world currency without issue.
How can this be? The answer is complex, but it revolves around a key idea — Decentralization and lack of leadership is the new power.
This is true for many things in the world that we are entering. Take the protests in Hong Kong. One of the reasons that the social unrest has lasted so long is that there is not one person or group leading the movement. There is no single point of failure that can be put in jail. There is no one to kidnap or kill. The power of the movement comes from the decentralization and lack of leadership.
So when it comes to digital currencies, there are a few things that I anticipate will happen:
Governments will continue to pressure any corporation that launches a digital currency with the ambition of gaining global adoption. These nation states will either block the currencies themself or they will regulate the corporation into a box that prevents the digital currency from reaching any material level of success.

Governments will create, launch, and scale their own digital currencies. Some countries, like China, are already working on this, while others will make the decision in the future. These government-issued digital currencies will range in structure from private & fully centralized to public & semi-centralized, but each one will share the common thread of keeping control with a central bank or government.

Bitcoin will be the last survivor. The decentralized digital currency is a living example of the proverb "what doesn't kill you makes you stronger." As governments continue to outlaw or regulate other digital currencies, the largest market cap asset will gain more adoption, benefit from the computing network becoming more resilient, and ultimately be the only digital currency with the potential to gain global adoption.
There are plenty of people who (1) don't believe these scenarios are likely or (2) believe there is a breakdown in the logic of how these scenarios will play out sequentially. That is okay and they may even be right. But on the slight chance that I am correct in my analysis, we are looking at one of the largest paradigm shifts in human history.
It is clear today that many people, from private citizens to public corporations, have a belief that there will be a separation of money and state in the future. We are starting to see the reactions from state actors, but so far there are almost no surprises. As we push forward into the digital, hyper-connected world, the ideas and movements that can leverage technology to coordinate resources globally, while maintaining a lack of leadership, stand to gain the most power.
A movement without leadership requires the early participants to be unselfish and principle-driven. The good news for governments is that there will be very few movements who have the discipline to follow this playbook. But for the small number of groups that can leverage the model, we are likely to see them change the world.
-Pomp
---
The "Off The Chain" podcast has been downloaded in every country in the world, with more than 1,500,000 combined downloads. You can listen to the latest episode with Mark Yusko, Founder & CIO at Morgan Creek Capital Management here: Click here for Off The Chain podcast
---
THE RUNDOWN:
Tagomi Rollout Paves Way for Institutional Crypto Shorting: Crypto brokerage Tagomi released its borrowing and lending platform to the wider public, enabling investors to short cryptocurrencies like bitcoin and ethereum. Tagomi's COO Kevin Johnson said its new platform addresses issues that stymie institutional crypto shorts. Many large-scale investors could not short cryptocurrencies as rapidly as they might short an equity position because the existing borrowing process for crypto is too complex, Johnson said: "It's multiple steps, it's a lot of work." Read more.
Central Banks to Meet With Libra Founders in Switzerland on Monday: Officials from the European Central Bank and 25 global central banks will meet with Libra to assess the financial stability risks of the project. On Sept. 16, Libra representatives will meet with the Committee on Payments and Market Infrastructure, a part of the Bank of International Settlements, in Switzerland. The event will be the first major encounter between Libra's founders and global policymakers since Facebook revealed its plans for the stablecoin project. Read more.
eToro Aims to Put Derivatives on the Blockchain With Lira Programming Language: eToro, an Israel-based exchange platform, revealed a new programming language designed to simplify derivatives trading. Chief blockchain specialist Omri Ross said the language, dubbed Lira, will reduce the risks involved in settling financial contracts and enable the creation of new derivative products from assets on the ethereum blockchain. A demo trading platform, built by eToroX Labs, was also revealed to enable retail and institutional investors to begin trading derivatives. The platform uses Lira to test a full range of contract experimentation. Read more.
ConsenSys Announces Codefi Project to Boost DeFi Adoption: Ethereum co-founder Joseph Lubin is going all-in on decentralized finance applications. "Ethereum is a shared execution space and we should also be building things that synergize," Lubin said. To that end, Lubin announced that his Brooklyn-based venture studio, ConsenSys, would enter the DeFi ecosystem with a new product suite, Codefi. Read more.
Germany's Largest Bank Joins JPMorgan's Blockchain Network: Germany's largest bank, Deutsche Bank, has joined JPMorgan's blockchain-based network, the Interbank Information Network. Two years in operation Launched as a pilot in 2017, the JPMorgan-led blockchain initiative now has a network of 320 banks that have entered the platform to swap global payments data using the Ethereum network. Read more.
---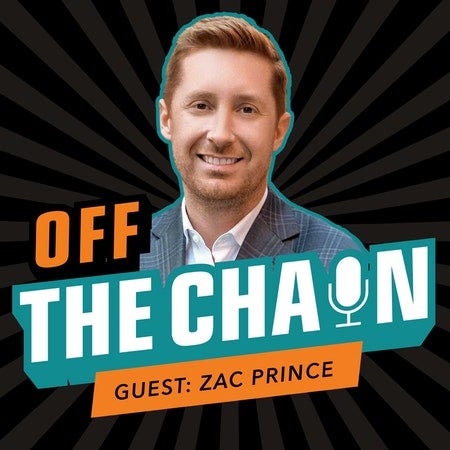 LISTEN TO THIS EPISODE OF THE OFF THE CHAIN PODCAST HERE
---
Zac Prince is the co-founder and CEO of Blockfi. This is his second appearance on the podcast and it was even better than the first. Blockfi has exploded in growth recently, which is likely due to the product offering combined with the team's focus on customer service. I'm a proud investor in the company so hope you enjoy this one!
In this conversation, Zac and I discuss:
Lending in the crypto markets

How to earn 6-8% interest on your Bitcoin and Ether

Why BlockFi just removed their account minimums and fees

What Zac is excited about moving forward
I really enjoyed this conversation with Zac. Hopefully you enjoy it too.
LISTEN TO THIS EPISODE OF THE OFF THE CHAIN PODCAST HERE
---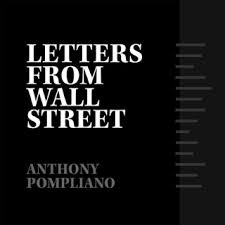 In this new podcast, I read through letters, notes, and memos from investors and entrepreneurs that cover financial insights from the world's most successful companies and investors. The podcast is sponsored by eToro, the world's leading social trading platform.
Today's episode is:
Steve Schwarzman of Blackstone Asset Management discusses the company's 2018 financial performance, areas of interest to him currently, and what investors should be paying attention to as Blackstone moves forward.
LISTEN TO THIS EPISODE OF THE "LETTERS TO WALL STREET" PODCAST BY CLICKING HERE
---
Here are my tweets from yesterday:
---
Interested in crypto research? Look no further. The premier research firm in the space, Delphi Digital, has two subscription offerings for individuals and institutions alike. Take a look at their Bitcoin and Ethereum reports to get a taste of their analysis. [Click here]
---
If you enjoy reading "Off The Chain," click here to tweet to tell others about it.
Nothing in this email is intended to serve as financial advice. Do your own research.
---