It Is Becoming Irresponsible To Have No Exposure To Bitcoin
This installment of Off The Chain is free for everyone. I send this email to our investors daily. If you would also like to receive it every morning, join the 30,000 other investors today.
To investors,
The alarms are blaring. This is not a drill. We are speeding towards global financial chaos with no brake pedal. There is an all-out economic war being carried out by two of the largest economic superpowers in the world.
There are plenty of "experts" that will tell you why they believe various aspects of this chaos are occurring, but there is one thing we are all certain of — the instability is only getting more concerning.
Don't believe me? Lawrence Summers, the former Secretary of the Treasury under President Bill Clinton, put it best when he tweeted:
Here is what we know for sure:
The Chinese yuan broke 7 for the first time in a decade on Sunday night. China's government continues to depreciate their currency in response to the tariffs and threats of President Trump and the United States.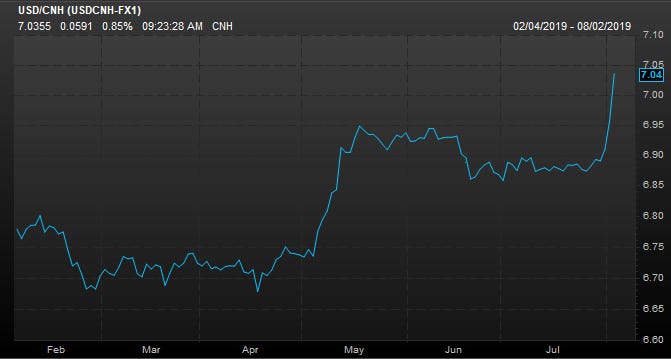 The Hong Kong stock market is in a mini-death spiral. The charts look like prices fell right off a cliff.
Kyle Bass, the investor famous for shorting the housing market before the global financial crisis, has been talking about many of these issues for years. This video highlights a nuanced aspect of Hong Kong's banking system size and the systematic risk it has taken on.
More and more people are starting to identify and discuss the positive benefits to having Bitcoin exposure during times of global chaos. Fundstrat's Tom Lee talks about the digital currency's correlation to equities and gold in this segment today.
There appears to be a visual correlation between USDCNY and Bitcoin.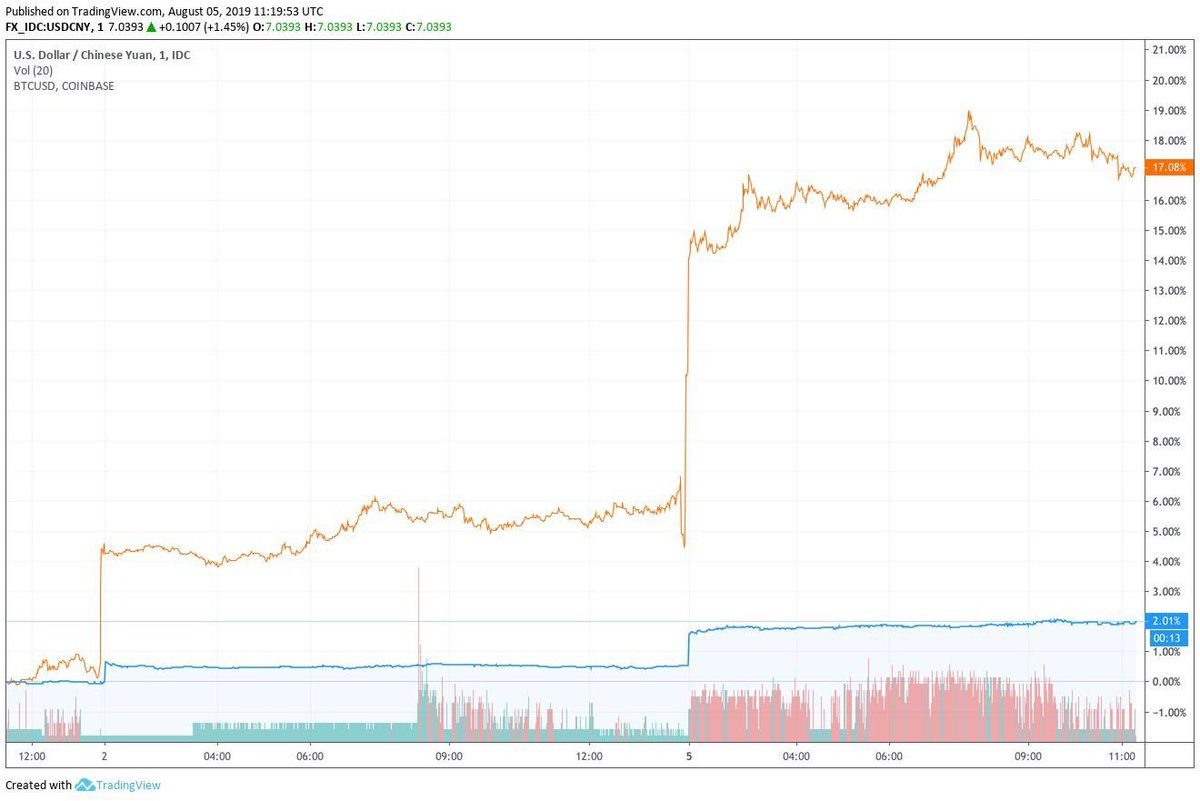 US stocks experienced significant losses yesterday.
And while all this is happening, President Trump can't help but weigh in:
But China was unfazed. In fact, they decided to suspend agricultural product purchases from the United States.
And so the United States Treasury department decided to officially designate China as a currency manipulator. This is the first time the U.S. has done this to a major trade partner since 1994.
But the funny thing is that China has been manipulating their currency to keep it propped up for years. The recent devaluation of the currency was merely the product of the Chinese government refusing to manipulate it anymore.
It's a strange world we live in.
But we must understand a few key things:
There is an economic war being waged and both sides are being completely rational. They each are taking steps to accomplish their goals as they act in self-interest, which only makes the war even worse.

The United States is fighting a street fight with its hands tied behind its back. Our government is unable or unwilling to take certain drastic measures that could be more detrimental to China, which can be seen as the checks and balances system working, or it could signify a lack of coordination between various aspects of the government.

China's depreciation of the yuan has mitigated many of the proposed effects of the tariffs and economic war. The country is not being hurt nearly as much as President Trump and the US had hoped.
Regardless of the chaos, there is a global hedge available that is becoming increasingly obvious — Bitcoin. We are now at a point where I would argue that it is irresponsible for an investor to have 0% exposure to the digital currency in their portfolio.
Why?
Bitcoin is a non-correlated, asymmetric return-profile asset. It has proven to even be inversely correlated in times of increased global instability. Take May 2019, for example — the trade wars were escalating and threats of tariffs were being lobbed at multiple countries.
Bitcoin was up 55% for the month and showed a negative correlation to the S&P 500 and gold.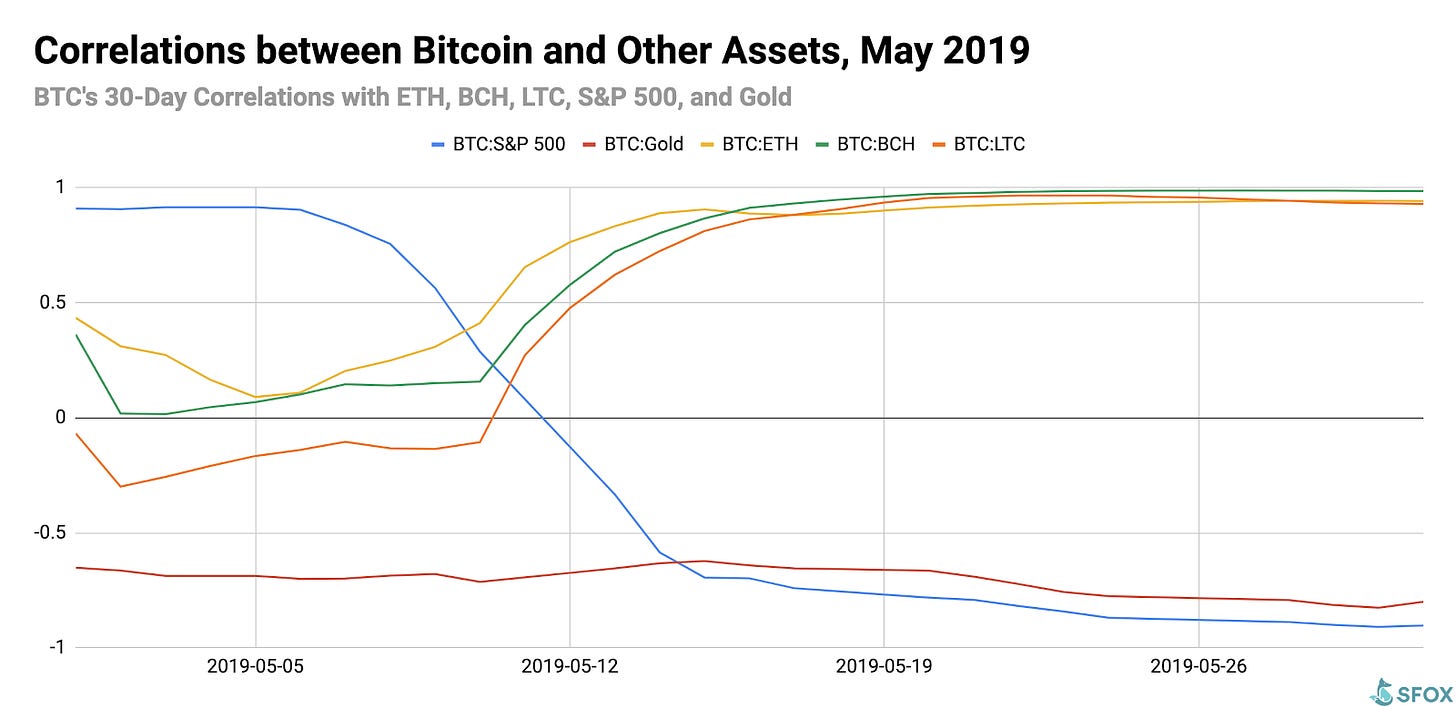 We have seen similar correlations over the last few weeks as well.
And since the beginning of the year, the correlation has been slightly negative, which continues to make a strong case for Bitcoin as a global hedge.
We are living in exceptionally volatile and unpredictable times. Institutional investors have sought out non-correlated assets as portfolio diversification tools for decades.
Now that Bitcoin is presenting itself as the perfect global hedge, it will quickly become irresponsible for these investors to remain with 0% exposure to the digital currency. They shouldn't sell 100% of their assets and invest it all in Bitcoin, but it definitely makes sense for them to get a 1-5% allocation to "schmuck insurance."
BONUS: I went on CNBC's Squawk Box this morning to talk about Bitcoin, China, and the current environment. Here are two clips.
-Pomp
The "Off The Chain" podcast has been downloaded in every country in the world, with more than 1,500,000 combined downloads. You can listen to the latest episode with Kyle Bass, Founder & CIO at Hayman Capital Management here: Click here for Off The Chain podcast
THE RUNDOWN:
Tezos Co-Creator Commits to Donating Millions in Future XTZ Proceeds: Kathleen Breitman, one of the co-founders of the Tezos blockchain, has signed a binding commitment with Founders Pledge to donate a portion of her initial coin offering proceeds. Tezos raised $232 million in mid-2017 in what was the largest ICO at the time. Breitman says she's in no rush to cash out. Her eventual gifts should amount to millions of dollars, though, that depends on how Tezos and crypto perform in the next few years. Read more.
IBM Launches New Blockchain Platform for Supplier Data Management: Tech giant IBM and blockchain company Chainyard have jointly developed a new blockchain network for supply chain management. Alongside IBM, the Trust Your Supplier network's founding members are also American brewing company Anheuser-Busch InBev, tech companies Cisco, Lenovo, Nokia, Schneider Electric, British pharmaceutical company GlaxoSmithKline and telecoms company Vodafone. The product is built on the IBM Blockchain Platform and aims to eliminate manual time-consuming processes and help reduce the risk of fraud and errors. Read more.
Mastercard Is Building a Team to Develop Crypto, Wallet Projects: Payments giant Mastercard is seeking to hire a number of blockchain professionals, including several senior roles, in an apparent effort to develop cryptocurrency and wallet products. Mastercard is a member of the Libra Association — a loose cross-industry consortium tentatively supporting the launch of Facebook's upcoming cryptocurrency, Libra. Facebook itself is now actively recruiting personnel for its native wallet, Calibra, but has pledged to allow free competition of wallets inside of the Libra ecosystem during the House and Senate hearings in July. Read more.
Samsung Is Now Offering 17 Crypto Apps: Samsung is adding to its blockchain dapp arsenal by including over a dozen new apps in its Blockchain Keystore online app market. Launched in March 2019, Samsung's online dapp store, Blockchain Keystore, has grown from an initial four applications to a total of seventeen. The four original dapps included a password wallet, a game, a social media app, and a billing app while new dapps include an assortment of products from social media app Anpan to entertainment app The Hunters. Read more.
Thailand to Bring Cryptocurrency Under Anti-Money Laundering Rules: Thailand's anti-money laundering regulator is planning to amend the country's laws to include cryptocurrency. Speaking to the Bangkok Post, Police Major General Preecha Charoensahayanon, secretary-general of the Anti-Money Laundering Office (Amlo), said he believes that, while currently not an issue, cryptocurrency "will be a tool of new money laundering." Preecha said that Amlo currently does not receive complaints around money laundering involving cryptocurrencies, but warned: "We may not find any clue, but that doesn't mean the wrongdoing does not occur." Read more.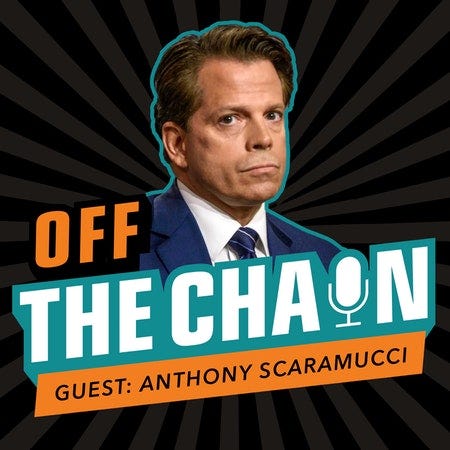 LISTEN TO THIS EPISODE OF THE OFF THE CHAIN PODCAST HERE
Anthony Scaramucci is the founder of SkyBridge and the former White House Director of Communications. He is one of the most well-known people in finance, but no one was aware of his current thoughts on Bitcoin and cryptocurrencies. I found him to be intelligent, thoughtful, kind, well-versed in history, and open to new ideas. This is a must listen episode so make sure you take time to digest this one!
In this conversation, Anthony and I discuss:
The macro economy

The history of money

The current structural issues in America

What he took away from his time in the White House

Why he thinks Bitcoin could be interesting
I really enjoyed this conversation with Anthony. Hopefully you enjoy it too.
LISTEN TO THIS EPISODE OF THE OFF THE CHAIN PODCAST HERE
Here are my tweets from yesterday:
Interested in crypto research? Look no further. The premier research firm in the space, Delphi Digital, has two subscription offerings for individuals and institutions alike. Take a look at their Bitcoin and Ethereum reports to get a taste of their analysis. [Click here]
If you enjoy reading "Off The Chain," click here to tweet to tell others about it.
Nothing in this email is intended to serve as financial advice. Do your own research.