Facebook's future is private, but don't bet against them
---
Join thousands of others who receive this daily analysis of crypto markets & news in their inbox every morning - subscribe now.
---
Facebook's annual F8 conference was filled with announcements yesterday, but the one that stood out to me was when Mark Zuckerberg said "the future is private." This is a bold shift in strategy for the social media giant compared to the past decade's focus on connectivity and data sharing.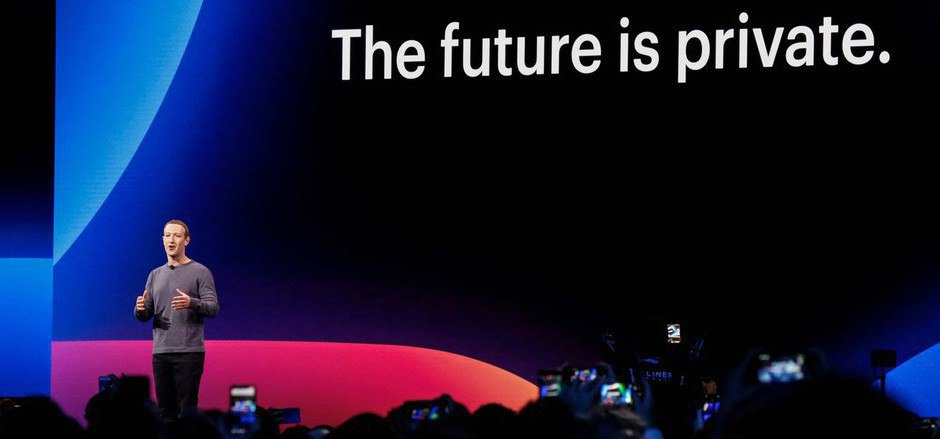 As you would expect, there are plenty of people who don't believe Facebook or don't think it is possible for a large corporation to successfully navigate such a tectonic shift in strategy. There are two major challenges here:
Facebook's business is built on data — Majority of the company's revenue comes from their ability to target ads at users better than almost anyone on the internet. This is made possible by the enormous amounts of data that the company has access to, which would be drastically reduced by this new focus on privacy.

Facebook has struggled historically with privacy — The company's reputation around privacy is not stellar recently. Whether it exposed sensitive data or gave access to user data based on partnerships, there are plenty of examples to support the detractors' claims.
This is not the first time that Facebook has faced a "bet the company" shift in strategy though. The company was in big trouble from 2010-2012 because of their lack of success on mobile. It looked like they had completely missed the trend and wouldn't be able to capture the value shareholders were expecting. Matthew Ingram summarized the situation well in a 2016 article on Fortune.com:
In 2012, Facebook was so mobile-challenged that it had to warn investors publicly via an SEC filing about its weakness in the mobile market. At the time, it hadn't gone public yet, but it was preparing to do so, and it filed an amended prospectus saying it was struggling with mobile advertising and not having much success.

In the filing, the company said that it did not "directly generate any meaningful revenue from the use of Facebook mobile products, and our ability to do so successfully is unproven." The network said it had tried inserting what it called "sponsored stories" into mobile Facebook feeds, but wasn't having much luck.

By the end of 2012, Facebook's mobile revenue was at 25% of overall revenue, and by the end of 2013 it was at 50% of revenue. Last year, less than four years after saying it was making nothing on mobile and wasn't sure it ever would, Facebook booked more than $4 billion in mobile advertising revenue, or 80% of the total.
Ingram goes on to explain that Facebook's ability to solve this problem and shift their strategy so quickly was not driven by profits, but rather by focusing on serving their users. He highlights a quote from Mark Zuckerberg during a 2016 earnings call, where Mark is explaining what drove their decision to shift strategies to mobile:
I don't know where you got that story from. I never had a conversation with the engineering team, where we were behind on mobile and I said, "We need to do this to make money." That's not really how we operate. What happened was we realized mobile was growing faster than desktop and people were shifting their usage. It was the more important thing for people's consumer experience.

That's when we made the shift. Not in our business first, but in how we developed the products. I told all of our product teams, when they come in for reviews: "Come in with mobile. If you come in and try to show me a desktop product, I'm going to kick you out. You have to come in and show me a mobile product."
It wouldn't surprise me if we are seeing the start of another successful strategy shift from Facebook. The company has proven time and again that they have the appetite, and necessary skills & experience, to disrupt themselves. The key ingredients to Facebook's ability to do this are:
Facebook has the best talent — Many of the best people in the world work at the company still. The executive team has been working together for the better part of a decade now and they have incredibly high retention rates among their most important roles. This team has seen almost everything and they have the skill set necessary to figure out the latest puzzle.

Facebook is highly analytical — Most companies in this position would put a bunch of smart people in a room and start making decisions. Facebook does the exact opposite. They are one of the most data-driven organizations in the world and won't make any decisions until they feel they are fully informed. In fact, there is a near zero chance that Zuckerberg stood on stage and claimed "The future is private" without having already done a deep dive into the data.

Facebook has the necessary resources — It takes an incredible amount of money, time, and headcount to conduct a strategy shift of this magnitude. Thankfully, the social media giant has plenty of all three, along with a user base of over 2 billion people monthly.
With that said, Facebook is not guaranteed to be successful just because they have the right ingredients. They will need to make the correct decisions over the coming years, while also successfully executing each body of work. From my opinion, here are the main themes to watch for as they move forward:
Facebook will change the business model — The company is likely to shift from an ad-based revenue model to a financial services-based model. It is not hard to imagine Facebook shedding the ad business when you remember that many elements of the privacy initiative will make it more difficult to drive ad dollars. Additionally, the idea of facilitating payments and other financial services is not new. We can look to Asia-based services like WeChat or Alibaba for inspiration on what is possible.

Decentralization will take center stage — Facebook's leadership team is no stranger to bold bets, so the boldest bet would be to start decentralizing aspects of the product. Zuckerberg has already hinted at the idea of decentralizing Facebook Connect (but highlighted there are unknown challenges with doing this as well) and I'm sure they have thought through many other features as well. While unpopular, I still believe the Facebook cryptocurrency has a higher likelihood of being decentralized than most are giving it credit for too.

Privacy as a means of innovation — The core concepts of privacy (data security, encryption, lack of data sharing, anonymity/pseudonymity, etc) place extreme challenges on technologists building products. Unless of course, the technologists see the privacy concepts as advantages that create opportunities for them to build new types of products and services that were previously not possible. This is the theme where I have thought the least about personally, but it feels like the companies that realize privacy can be an advantage will have a significant moat in the future.
It is no secret that having worked at Facebook previously will create a bias in the way that I look at the company and the team. However, I couldn't help but get excited while listening to Mark Zuckerberg talk about privacy and the future of Facebook. They have an incredible challenge ahead and it won't be easy, but if they are successful, Facebook has the opportunity to pull off one of the greatest pivots in corporate history.
Ideally, the company lessens their dependence on ad-based revenue in the next five years, while building the best privacy-focused communications platform in the world. And if they are able to do that, I wouldn't be surprised if Facebook attempts to build financial infrastructure for the billions of people who currently don't have it available.
Mark Zuckerberg has spent almost half his life thinking about how to make the world a better place by connecting humans publicly. Just imagine what happens when he puts his mental energy and resources behind making the world a better place by allowing people to communicate in private.
He and the Facebook team are not people I would want to bet against.
-Pomp
---
The "Off The Chain" podcast has been downloaded 1,000,000+ times in 160 countries. You can listen to the latest episode with Charlie Lee, Founder of Litecoin here: Click here for Off The Chain podcast
---
THE RUNDOWN:
Microsoft Outlook Hackers Stole Crypto Using Victims' Emails: On the heels of a trove of 773 million emails, and tens of millions of passwords, from a variety of domains getting leaked in January, Microsoft has faced another breach affecting its web-based email services. Microsoft has confirmed that a certain "limited" number of people who use web email services managed by Microsoft — which cover services like @msn.com and @hotmail.com — had their accounts compromised. Read more.
ErisX Launches Crypto Spot Market on Heels of New $20 Million Raise: Aspiring crypto derivatives provider ErisX took one step closer to its ultimate goal with the launch of a spot market. The exchange announced that it will immediately support dollar trading pairs with bitcoin, bitcoin cash, litecoin and ethereum, as well as bitcoin trading pairs with the other three cryptocurrencies at launch. While ErisX has a number of firms looking to trade on its platform at launch, it did not disclose any names. Read more.
Nasdaq Adding Index for XRP Cryptocurrency to Global Data Service: Stock exchange operator Nasdaq is adding yet another cryptocurrency index – this time for the world's third-largest cryptocurrency, XRP. The company announced Monday that, through its partnership with New Zealand-based blockchain data and research firm Brave New Coin, it will offer "real-time" index information for XRP starting May 1. Specifically, the XRP Liquid Index (XRPLX) will offer a spot or reference rate for the price of XRP, quoted in U.S. dollars and "based on the most liquid ends of their markets." Read more.
JPMorgan Exec Joins Blockchain Gold-Trading Firm Tradewind as CEO: Tradewind, a blockchain-powered marketplace for precious metals, has hired a senior executive from JPMorgan to be the startup's first-ever CEO. Michael Albanese, most recently the global head of collateral management at the New York-based megabank, has over 20 years of experience at major financial institutions and will be helping the startup expand its product offering and client base, Tradewind said. Read more.
11% of Americans Own Bitcoin, Major Awareness Increased Since 2017: 11% of the American population owns the major cryptocurrency bitcoin, according to a new survey published by Spencer Bogart of venture capital firm Blockchain Capital on April 30. Blockchain Capital partner Bogart today posted the results of a new survey conducted by Harris Poll in order to provide analytics data on bitcoin's demographic trends. Conducted between April 23, 2019 and April 25, 2019, the survey included answers of 2,052 American adults and represents an expanded version of the previous demographic survey released by the firm in October 2017. Read more.
---
Interested in crypto research? Look no further. The premier research firm in the space, Delphi Digital, has two subscription offerings for individuals and institutions alike. Take a look at their Bitcoin and Ethereum reports to get a taste of their analysis. [Click here]
---
If you enjoy reading "Off The Chain," click here to tweet to tell others about it.
Nothing in this email is intended to serve as financial advice. Do your own research.
---