Earning Bitcoin Will Rise In Popularity In 2020
To investors,
Welcome to the first work day of 2020. This should be a great year for each of you, along with various companies in the crypto industry.
One of the trends that should gain a lot of steam this year is "earning Bitcoin." The general premise is that an individual can obtain Bitcoin by either purchasing it or earning it. The last few years have been focused on empowering people to purchase the digital currency, which can be seen in the build out of various forms of infrastructure, including exchanges (regulated, unregulated, centralized, or decentralized), OTC desks, and other liquidity providers.
The increased ability for people to purchase Bitcoin is important, but it creates a selection bias for the types of individuals who are willing to move a percentage of their wealth into the new asset. It requires someone to take fiat currency and trade it in for the digital currency. These individuals tend to be more finance focused — they have a basic understanding of money, markets, portfolios, investments, and/or assets. This understanding is what drove them to look at Bitcoin and ultimately take the plunge.
While the finance focused population is large, the population of individuals who would adopt Bitcoin if they simply earned it is much larger. These are people who are less likely to exchange their fiat currency into digital currency, either because they don't have a lot of fiat currency to risk or they don't have the basic understandings (or interest) in the nuances of finance related topics. The "earn Bitcoin" crowd is likely to become interested in the digital currency because it is additive income for them, rather than a requirement to lose fiat liquidity in order to gain Bitcoin.
Here are some of my favorite examples of how people will begin earning Bitcoin in 2020:
Commerce Rewards — Most people purchase goods and services on the internet. By using services like Fold App or Lolli, you can earn "Bitcoin back" on each purchase. This mechanism works identical to the cash back services that you are used to, except you are receiving Bitcoin rather than fiat currency.

Cash Back Credit Cards — Speaking of cash back, companies like BlockFi (I'm an investor) have announced their intentions to launch a credit card that pays the loyalty points / cash back rewards in Bitcoin, rather than dollars, points, or airline miles.

Mining — The ability for someone to turn their electricity into Bitcoin has become more and more popular recently. Companies like Coinmine (I'm an investor) have made it dead simple to plug in a piece of hardware in five minutes or less and begin mining. This "passive" income stream is not going to change most people's lives today, but over time the hardware and software systems will improve to the point that it will become a no-brainer for everyone to have a mining device in their home.

Interest Accounts — One of the big knocks against Bitcoin or other digital currencies is that they provide no cash flow. Numerous companies have built interest accounts that allow an individual to deposit their Bitcoin and then earn monthly interest payments on that deposit. There is a trade-off between keeping custody of your private keys and earning the interest, so there is obviously risk introduced, but the interest rates can be quite attractive (BlockFi offers 6.2% APY as of this writing) so many people are electing to participate.

Bitcoin salaries — Most people get paid by their employers in the national currency that is created by the country that they live in. This is unlikely to change any time soon, but there is an increasing amount of people that work for crypto companies that are choosing to take their salaries (or part of their salaries) in Bitcoin or other digital asset. I am anticipating that people will start companies focused on helping organizations run their payroll with Bitcoin as the currency of choice, but that may take some time to gain adoption with non-crypto companies.
This list is not meant to be exhaustive, but it should give you a good idea about the various ways that people can earn Bitcoin today. This idea should become more prevalent throughout 2020. One reason is that people want to acquire more Bitcoin and don't want to exchange fiat currency to do it. Another reason is that earning Bitcoin can reduce the KYC/AML requirements attached to that Bitcoin — this will become a very popular reason among the privacy-focused crowd.
Regardless of the reason for earning Bitcoin, there has been a lot of work over the last two years to build out companies that can help facilitate the earning of Bitcoin for those without a technical background. Any time you can empower people to earn additional income, especially if they are anywhere in the world, you are likely to gain traction as word spreads and people become more educated on how it works.
At various points throughout this year, I will have people from around the world write guests posts in this letter so we can see how people are earning (and spending) Bitcoin in real world scenarios. There is a lot of work that is underway across the industry, but the idea of pushing Bitcoin adoption via methods of earning is one of the most exciting trends in my opinion.
I hope 2020 is off to a fast start for each of you. It is great to be back writing, so please respond to this email if there is ever anything I can do to help you.
-Pomp
---
Today's newsletter is sponsored by eToro, the smartest crypto trading platform, and one of the largest in the world. Join 11 million other traders and create an account at eToro.com and build your crypto portfolio the smart way.
---
THE RUNDOWN:
10 Years Of Bitcoin Breakthroughs And Bombshells: As the decade began, only a handful knew anything about bitcoin, which was created on January 3, 2009 by a mysterious developer known to the world as Satoshi Nakamoto. During the latter half of the decade, as more people came to understand the benefits of blockchain technology, bitcoin and other cryptocurrency speculation took off. The ascendance of bitcoin has not been without its setbacks. Read more.
YouTube Calls Crypto Purge a Mistake But Many Videos Still Missing: YouTube erroneously purged cryptocurrency education videos from its video-sharing platform this week but claims to have reinstated them, according to a spokesperson. Content creators, however, are telling a different story. Responding to allegations that it had intentionally deleted content from cryptocurrency education channels ChrisDunnTV, Crypto Tips, BTC Sessions and others in what apparently amounted to hundreds of missing videos, the spokesperson said that YouTube made "the wrong call." Read more.
Chinese Internet Giant Tencent to Launch Digital Currency Research Team: Tencent, the Chinese internet giant and owner of WeChat, is reportedly forming a team to explore possible new use cases for cryptocurrencies. According to reports by Chinese media, Tencent issued an internal notice informing employees it was searching for someone to head a new cryptocurrency research unit, which will form part of the company's payments wing. Read more.
Ethereum Developer Virgil Griffith to Be Released on Bail to Parents: Virgil Griffith is slated to be released to his parents' home in Alabama pending some pre-release conditions, after a ruling by U.S. District Court Judge Vernon Broderick in New York Monday. "Laws in this country are not suggestions," Judge Broderick told the accused Ethereum Foundation developer as the hearing began, according to a tweet thread from Matthew Russell Lee, founder of Inner City Press, who covered the hearing live from the courtroom. Griffith is now, slated to be released to his parent's Tuscaloosa home under a $1 million bond. Read more.
Korea's Tax Agency to Withhold $70M From Crypto Exchange Bithumb: South Korea's National Tax Service (NTS) will withhold tax worth 80.3 billion won, or $70 million, from the country's largest crypto exchange Bithumb. CoinDesk Korea reported Sunday that Vidente, the largest shareholder of Bithumb Holdings, which runs Bithumb Korea, confirmed the withheld amount in a notice and said the tax will be imposed on its foreign customers. However, that may not actually happen. This is the first time the country's taxation agency has imposed tax on gains from cryptocurrency transactions, the report said. Read more.
---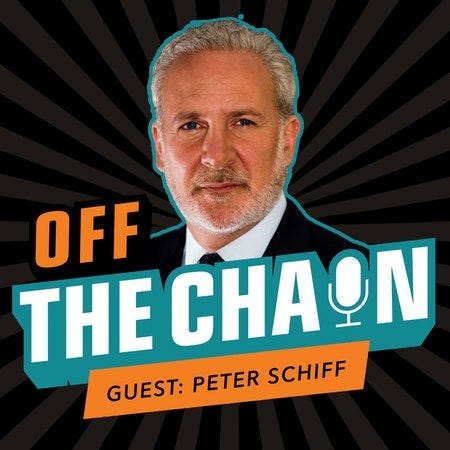 LISTEN TO THIS EPISODE OF THE OFF THE CHAIN PODCAST HERE
---
Peter Schiff is the Chief Economist and Global Strategist at Euro Pacific Capital. He has been a large detractor of Bitcoin and a big proponent of gold over the years. I wanted to record this conversation because it gave me a chance to hear Peter's point of view, while sharing some additional context that I thought could sway his opinion. I had a lot of fun recording this one, so hope you take a listen.
In this conversation, Peter and I discuss:
The history of money

The macro economy

The current signs of an impending crisis

Why he's so bullish on gold

What his concerns around Bitcoin are

Peter confirms that Bitcoin is scarce, and that it can't be censored or seized
I really enjoyed this conversation with Peter. Hopefully you enjoy it too.
LISTEN TO THIS EPISODE OF THE OFF THE CHAIN PODCAST HERE
---
Interested in crypto research? Look no further. The premier research firm in the space, Delphi Digital, has two subscription offerings for individuals and institutions alike. Take a look at their Bitcoin and Ethereum reports to get a taste of their analysis. [Click here]
---
If you enjoy reading "Off The Chain," click here to tweet to tell others about it.
Nothing in this email is intended to serve as financial advice. Do your own research.
---