Digital Mortgages Are Quickly Becoming The Standard
This installment of Off The Chain is free for everyone. I send this email to our investors daily. If you would also like to receive it every morning, join the 30,000 other investors today.
---
To investors,
We have talked at length in previous letters about the two investment theses that I have: (1) humans will trust software over other humans to store their wealth and (2) every stock, bond, currency, and commodity will be digitized. As part of the second thesis, we made a large investment in Figure Technologies — a company that issues "digital mortgages," which unlock significant advantages in transaction settlement times, transaction costs, and asset ratings from rating agencies.
The product that has been built by Figure is a perfect example of the value that can be created when you digitize assets in a thoughtful, compliant manner. Here is a simplified way of describing what they do:
Mortgage transactions have a borrower and a lender. Between those two parties, there are approximately 5-7 middlemen who charge a total of 7-8% fees per transaction. This process is fairly slow and fragmented.

Figure has "automated" the mortgage process by creating software which removes the need for each middleman. The automation of this process also decreases costs to ~5% transaction fees. Customers can now apply for a HELOC and be told within minutes whether they qualify or not and then receive the funds within 5 days.
The automation of the mortgage transaction was previously not possible because each mortgage was either analog (physical paper) or electronic (CUSIPs). Those technologies are not compatible with "automation software," but the advent of a digital mortgage changed all of that. Since launch, Figure has grown significantly.
The latest public numbers are that Figure is issuing $85 million in loan originations per month. That puts them on more than $1 billion in annualized originations. Not bad for a company that is only ~ 18 months old. But the origination of the mortgages is only part of the story. In fact, it is the least exciting part of the Figure story.
Figure has also built a blockchain-based transaction settlement layer (Provenance) which closely mimics the Depository & Trust Corporation (DTCC). In the traditional financial system, the DTCC settles more than $2 quadrillion of transactions per year. Obviously, that is a lot of transactions!
The Provenance blockchain empowers financial firms to benefit from same day settlement times (DTCC is 2 or 3 days), lower costs, and potentially higher ratings from the rating agencies (see Provenance's white paper on this here). While many people have promised similar benefits, no one has been able to (1) build the product, (2) get it launched, (3) put material volume through the product, and (4) entice large financial firms to begin moving their assets over.
Figure has successfully done all four of these things. But they aren't alone. The company announced yesterday that Caliber Home Loans, one of the largest mortgage lenders in the country, has also started to originate, service, and finance mortgages on the Provenance blockchain. Pretty incredible.
Provenance now has one of the largest mortgage originators and one of the fastest growing originators using the technology. There are more on the way. It wouldn't surprise me if the industry goes from 100% analog and electronic to more than 50% of new issuance being done digitally within the next 3-5 years. With more than $9 trillion in outstanding mortgages for US households and the top 3 mortgage originators each doing more than $50 billion per year, it is a massive market opportunity.
The best venture capital investments have a low probability of working, but unbelievably high return potential. The power laws of venture investing reward high risk, high return. And there are few bigger opportunities than disrupting how quadrillions of dollars of asset transactions are settled.
Eventually every stock, bond, currency, and commodity will be digitized. I'm just surprised at how fast it is happening.
BONUS: Watch this rap battle music video titled: Hamilton vs. Satoshi … pretty cool to see the way that people are bringing awareness to the industry :)
-Pomp
---
The "Off The Chain" podcast has been downloaded in every country in the world, with more than 1,500,000 combined downloads. You can listen to the latest episode with Mark Yusko, Founder & CIO at Morgan Creek Capital Management here: Click here for Off The Chain podcast
---
THE RUNDOWN:
Apple exec: 'We're Watching Cryptocurrency:' Apple may not be fully on the crypto bandwagon like other tech companies, but it is keeping an eye on digital currency. "We're watching cryptocurrency," Jennifer Bailey, vice president of Apple Pay, recently told CNN's Chief Business Correspondent Christine Romans at a private event in San Francisco. "We think it's interesting. We think it has interesting long-term potential." Read more.
Crypto or Gold? Paxos Offers Both With First Gold-Backed Token: Paxos, a New York cryptocurrency company known for selling a so-called stablecoins pegged to the U.S. dollar, is getting into precious metals. On Wednesday, it announced a product called PAX Gold, which lets customers buy a digital token that is backed by one troy ounce worth of gold held in a London vault. Read more.
Facebook Hires Two More Lobbyists to Boost Libra Cryptocurrency: Facebook Inc. hired two more lobbyists to help win over lawmakers threatening to stymie its launch of a cryptocurrency, according to lobbying disclosures filed this week. William Hollier, president of Hollier Associates LLC, began to lobby for the social-media company on issues including blockchain policy in late August, according to his disclosure. Hollier worked for Senator Mike Crapo, the Idaho Republican who heads the Senate Banking Committee, for more than a decade until 2003. Read more.
JPMorgan Fears New Breed of Crypto Like Libra Face 'Gridlock:' Stablecoins, a fast-growing subset of cryptocurrencies designed to avoid the large fluctuations of Bitcoin and Ether, could fail to function properly in periods of stress, according to JPMorgan Chase & Co. While the total value of all stablecoins is less than $5 billion, the low-volatility tokens are poised for rapid growth, and none more so than the Libra coin developed by Facebook Inc, said the analysts led by Joshua Younger.Read more.
Binance Launches Dollar-Backed Crypto Stablecoin With NYDFS Blessing: Crypto exchange Binance is launching a dollar-backed stablecoin in the U.S. Moreover, the new Binance USD has received the blessing of the New York Department of Financial Services. The exchange announced Thursday that NYDFS had approved the new offering, which Binance is launching in partnership with the Paxos Trust Company. Read more.
---
LISTEN TO THIS EPISODE OF THE OFF THE CHAIN PODCAST HERE
---
Sven Henrich is the Founder & Lead Market Strategist at NorthmanTrader. He is one of the most well versed people I've spoken to about the global economy and where we are headed. This is a fascinating conversation and I highly recommend listening!
In this conversation, Sven and I discuss:
The macro environment

How we got here

What central bank options are moving forward

What is "The Confidence Game"

Why some people are forced to buy overvalued assets
I really enjoyed this conversation with Sven. Hopefully you enjoy it too.
LISTEN TO THIS EPISODE OF THE OFF THE CHAIN PODCAST HERE
---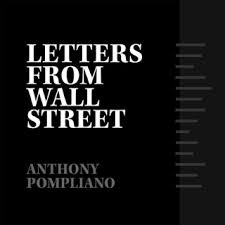 In this new podcast, I read through letters, notes, and memos from investors and entrepreneurs that cover financial insights from the world's most successful companies and investors. The podcast is sponsored by eToro, the world's leading social trading platform.
Today's episode is:
Disney CEO Bob Iger's letter "A Historic Day" to employees celebrates one of the largest acquisitions in history from Q2 2019.
LISTEN TO THIS EPISODE OF THE "LETTERS TO WALL STREET" PODCAST BY CLICKING HERE
---
Here are my tweets from yesterday:
---
Interested in crypto research? Look no further. The premier research firm in the space, Delphi Digital, has two subscription offerings for individuals and institutions alike. Take a look at their Bitcoin and Ethereum reports to get a taste of their analysis. [Click here]
---
If you enjoy reading "Off The Chain," click here to tweet to tell others about it.
Nothing in this email is intended to serve as financial advice. Do your own research.
---