Building a world built on TRANSPARENCY, rather than TRUST
This installment of Off The Chain is free for everyone. I send this email to our investors daily. If you would also like to receive it every morning, join the 30,000 other investors today.
---
To investors,
This weekend Jeffrey Epstein, the purported asset manager and convicted sex offender, committed suicide inside his Manhattan jail cell. As soon as the news broke, conspiracy theories ran wild online.
The hashtags #TrumpBodyCount and #ClintonBodyCount were trending on Twitter, the President of the United States retweeted a conspiracy theory video, the mainstream media spent the last 48 hours enthralled with attempting to prove or debunk various theories, and television anchors & producers even spelled out their conspiracies in plain English:
You get the point. Now to be crystal clear, I don't actually care about Jeffrey Epstein, or the various conspiracy theories, but I do care about a structural issue that this situation highlights — fewer and fewer people trust the very institutions our society is built upon.
This is not my personal opinion. According to the 2017 Edelman Trust Barometer:
Trust is in crisis around the world. The general population's trust in all four key institutions — business, government, NGOs, and media — has declined broadly, a phenomenon not reported since Edelman began tracking trust among this segment in 2012.

With the fall of trust, the majority of respondents now lack full belief that the overall system is working for them. In this climate, people's societal and economic concerns, including globalization, the pace of innovation and eroding social values, turn into fears, spurring the rise of populist actions now playing out in several Western-style democracies. 

To rebuild trust and restore faith in the system, institutions must step outside of their traditional roles and work toward a new, more integrated operating model that puts people — and the addressing of their fears — at the center of everything they do.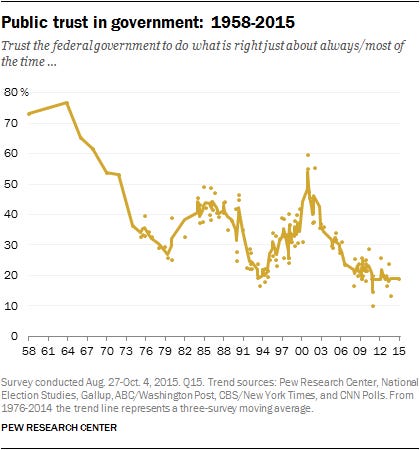 Think about this for a second. Our trust in businesses, our government, NGOs, and the media continues to decline. When a man dies in one of the most secure American prisons, a material percentage of the country believes that foul play was involved. They don't believe what the government and media is telling them.
We aren't talking about a random developing country where corruption is the default state, but rather the lighthouse of democracy and freedom. Absolutely incredible.
So what exactly does this have to do with bitcoin, blockchain technology, or cryptocurrencies?
In my opinion, it is all highly related. We are moving from a world where people are required to trust institutions, to a world where people have the ability to verify everything. This evolution won't happen overnight, but Bitcoin is the first piece of technology related to this trend that is starting to gain mainstream adoption.
Bitcoin can't help with the levels of trust surrounding non-financial aspects of governments, the media, non-profits, or majority of organizations in the world. The digital currency can however help address the distrust in a small subsection of the world — financial organizations and finance-related aspects of government.
The alternative system is being built so that individuals aren't reliant on believing what the government tells them about money, while also reducing the need for placing their faith in profit-driven financial institutions. Instead, the Bitcoin ecosystem is built on a single idea — "Don't trust, verify."
This is really, really important. A financial world built on TRANSPARENCY instead of TRUST will usher in new institutions, new assets, and ultimately change the way that money works. But this movement from TRUST to TRANSPARENCY won't just occur in finance though.
I anticipate that almost every aspect of government, media, and business will eventually experience this transition. Take police body cameras for example — we have reached a point in America where a police officer's word is no longer taken as fact. We now require many of them to wear literal cameras on their chest so they can record what they're doing and then we can VERIFY the events later, rather than TRUST the law enforcement officer.
Think of this as policing built on TRANSPARENCY rather than TRUST.
This paradigm shift is just starting. There are not hundreds of examples of it being implemented yet. This will change over time though. In fact, I think we are at the inflection point now.
Bitcoin has created the expectation of TRANSPARENCY rather than TRUST for a small portion of the world population. Over time, more and more people will learn about the benefits of this system and come to expect the same.
The reason for the paradigm shift is simple — a system built on transparency is better than one built on trust. The Jeffrey Epstein debacle this weekend exposed how pervasive the distrust in institutions really is. Thankfully, Bitcoin (and police body cameras) are proving that there are practical solutions to these issues.
The trend of distrust is not going to reverse. It is only going to accelerate. The faster we move to a world built on TRANSPARENCY, the better off we will all be.
-Pomp
---
The "Off The Chain" podcast has been downloaded in every country in the world, with more than 1,500,000 combined downloads. You can listen to the latest episode with Kyle Bass, Founder & CIO at Hayman Capital Management here: Click here for Off The Chain podcast
---
THE RUNDOWN:
Blockstream Reveals Massive Bitcoin Mining Facilities, Fidelity An Early Customer: Blockchain technology company Blockstream revealed details related to their massive Bitcoin mining data centers in Quebec, Canada and Adel, Georgia. The facilities account for a combined 300 megawatts worth of energy capacity, and they're currently available for hosting enterprise-level mining activities, in addition to Blockstream's own mining operations. Blockstream plans to open their facilities to smaller scale miners in the future. For now, two of their active customers include Fidelity Center for Applied Technology and LinkedIn founder Reid Hoffman. Read more.
Just 318 Crypto Addresses Control 80% of Tether: The cryptocurrency world is even more concentrated than most observers probably realize. While large holders of Bitcoin that are commonly referred to as whales own almost a fifth of the largest cryptocurrency, researcher Coin Metrics says the unique identifiers known as addresses show that only about 300 entities control around 80% of Tether, the token that serves as a conduit for trading on many of the world's largest crypto exchanges. Read more.
IBM Files Patent for a Blockchain-Based Web Browser: A new patent application from IBM describes a blockchain-based web browser. Filed on August 6 by the United States Patent and Trademark Office, IBM's patent is for a web browser backed by a peer-to-peer network. The browser collects pre-specified information from web browsing sessions, according to the patent. The information is then transferred to a network of peer-to-peer nodes for collection and storage. Information collection depends on the type of browsing experience chosen. Browsing on a work computer versus a personal browser would demand different settings, for example. Read more.
Ripple CEO Intends to 'Press Advantage' With New Investments: Blockchain payments startup Ripple is looking to make new investments and acquisitions, with a few deals reportedly underway, according to the company CEO. This announcement comes in light of Ripple's Q2 report, which detailed the company's total sales of its native token XRP increasing by nearly 48 percent to $251 million. This growth was driven primarily by a strong uptick in institutional sales. Read more.
15 Nations Plan Global Crypto Monitoring System Under FATF: Fifteen nations are planning to set up a system to monitor cryptocurrency transactions alongside the Financial Action Task Force. The aim is to stem the movement of funds for illicit purposes, such as money laundering and funding of terrorism, by collecting and sharing transaction data, as well as the personal information of cryptocurrency users. FATF, the international money-laundering watchdog, would manage the project, which is slated to be finalized by next year and live within several years.
---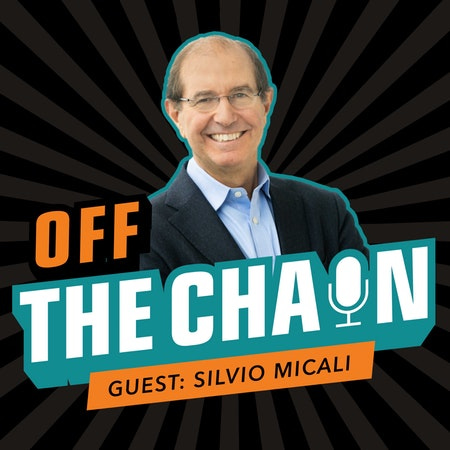 LISTEN TO THIS EPISODE OF THE OFF THE CHAIN PODCAST HERE
---
Silvio Micali is the founder of Algorand, and an Italian computer scientist at MIT's Computer Science and AI Laboratory. He is easily one of the smartest people I have ever had on the podcast, which becomes obvious almost immediately. Silvio has dedicated the last ~ 30 years to cryptography and other advanced computing methodologies. This episode was incredible to record and I highly recommend it.
In this conversation, Silvio and I discuss:
The origins of cryptography

Why a blockchain is so important

What Silvio thinks about Bitcoin

Why he created Algorand

How the system works

What's in store for Algorand moving forward
I really enjoyed this conversation with Silvio. Hopefully you enjoy it too.
LISTEN TO THIS EPISODE OF THE OFF THE CHAIN PODCAST HERE
---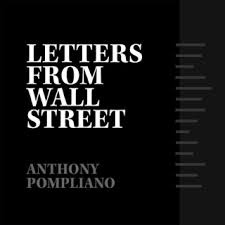 In this new podcast, I read through letters, notes, and memos from investors and entrepreneurs that cover financial insights from the world's most successful companies and investors. The podcast is sponsored by eToro, the world's leading social trading platform. This week's episodes include:
Benjamin Graham's 1946 Graham-Newman Annual Letter

Kyle Bass' 2019 Investor Letter — "The Quiet Panic"

Mark Zuckerberg's 2012 Facebook Founder Letter

Henry Ward's 2016 Carta Letter — "How to Hire"

Mark Leonard's 2017 Annual Constellation Shareholder Letter
LISTEN TO THESE EPISODES OF THE "LETTERS TO WALL STREET" PODCAST BY CLICKING HERE
---
Here are my tweets from yesterday:
---
Interested in crypto research? Look no further. The premier research firm in the space, Delphi Digital, has two subscription offerings for individuals and institutions alike. Take a look at their Bitcoin and Ethereum reports to get a taste of their analysis. [Click here]
---
If you enjoy reading "Off The Chain," click here to tweet to tell others about it.
Nothing in this email is intended to serve as financial advice. Do your own research.
---