Bitcoin's fundamentals are strengthening despite price decline
---
Join thousands of others who receive this daily analysis of crypto markets & news in their inbox every morning - subscribe now.
---
Bitcoin has become stronger as the price has declined.
Since December 2017's all-time high, Bitcoin is down ~80% to $4,000. Mainstream media is screaming that "Bitcoin is dead!" and the Twitter trolls are taking victory laps at the perceived demise of the "ponzi scheme."
Fortunately, nothing could be further from the truth. The fundamental drivers of the decentralized technology network are actually growing. Here are key data points:
The number of Bitcoin blockchain wallet users continues to increase dramatically over the last two years.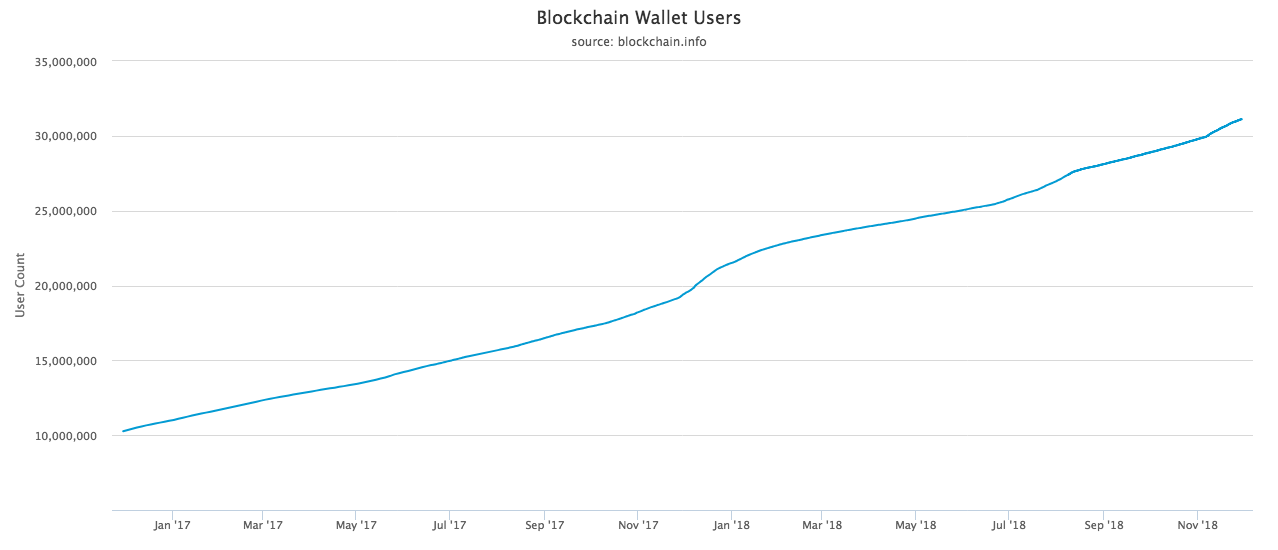 The cost per transaction continues to decline through 2018.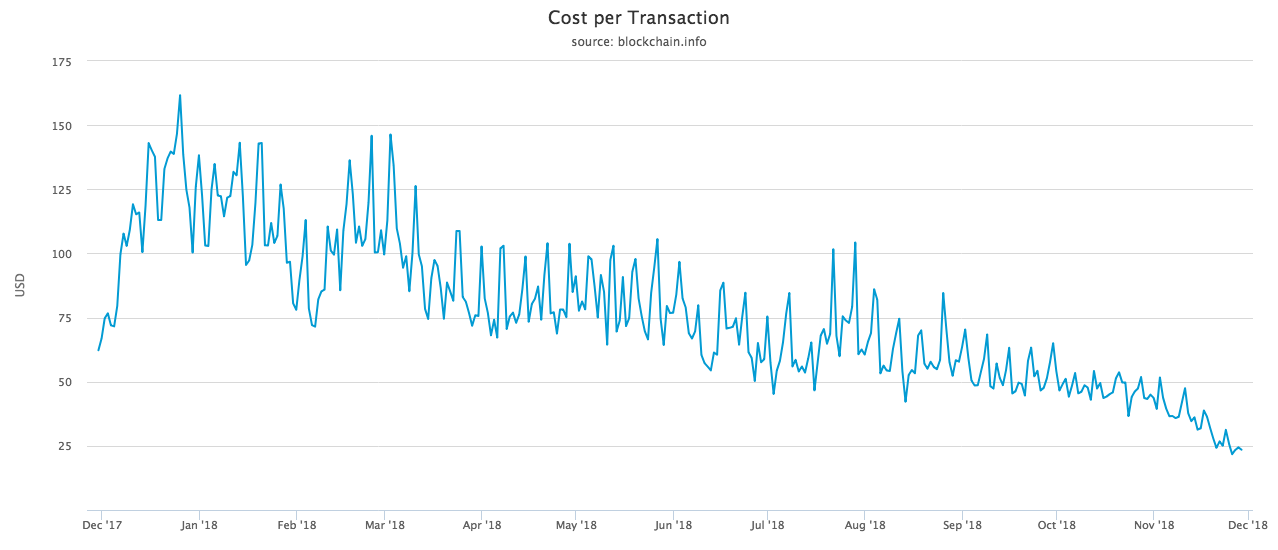 The total number of transactions is increasing over the last two years.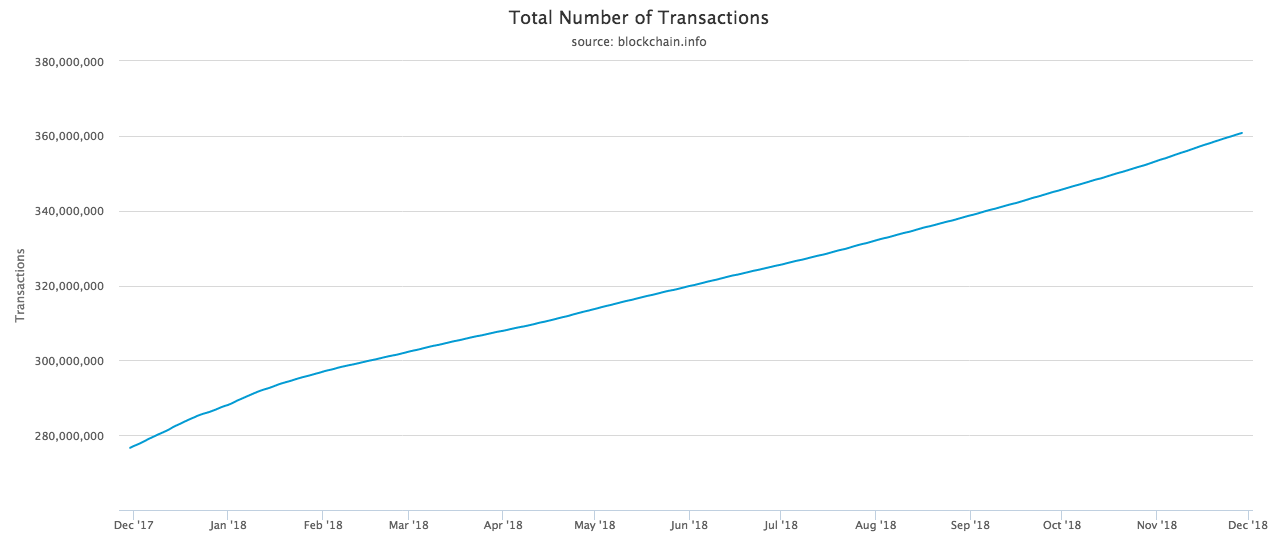 The number of confirmed transactions per day has increased since February 2018.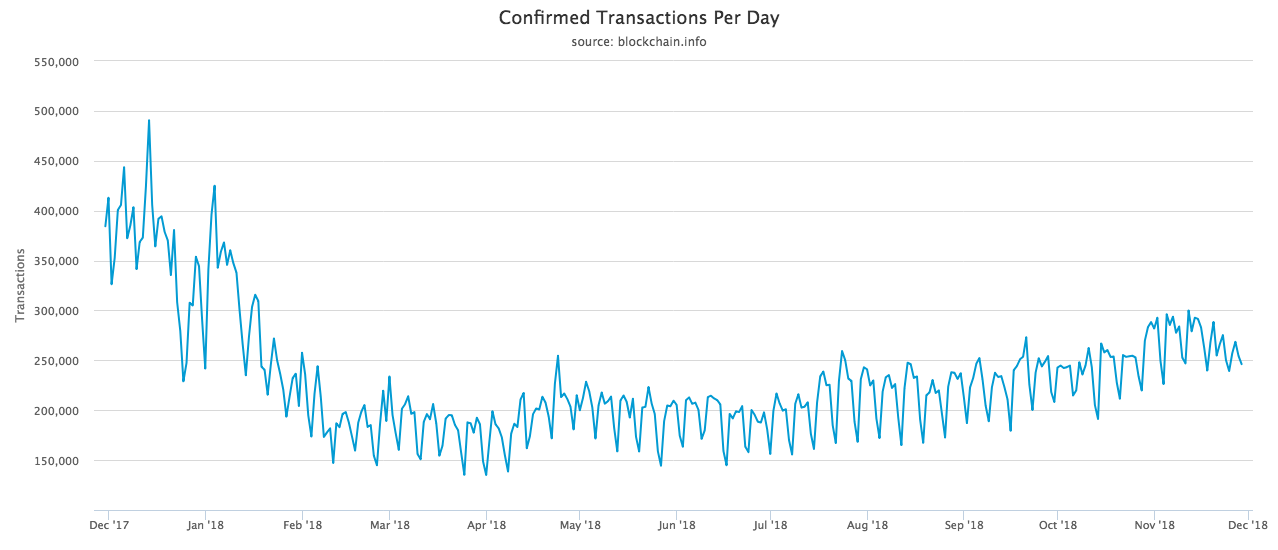 The number of transactions per day excluding the popular addresses is also increasing through 2018.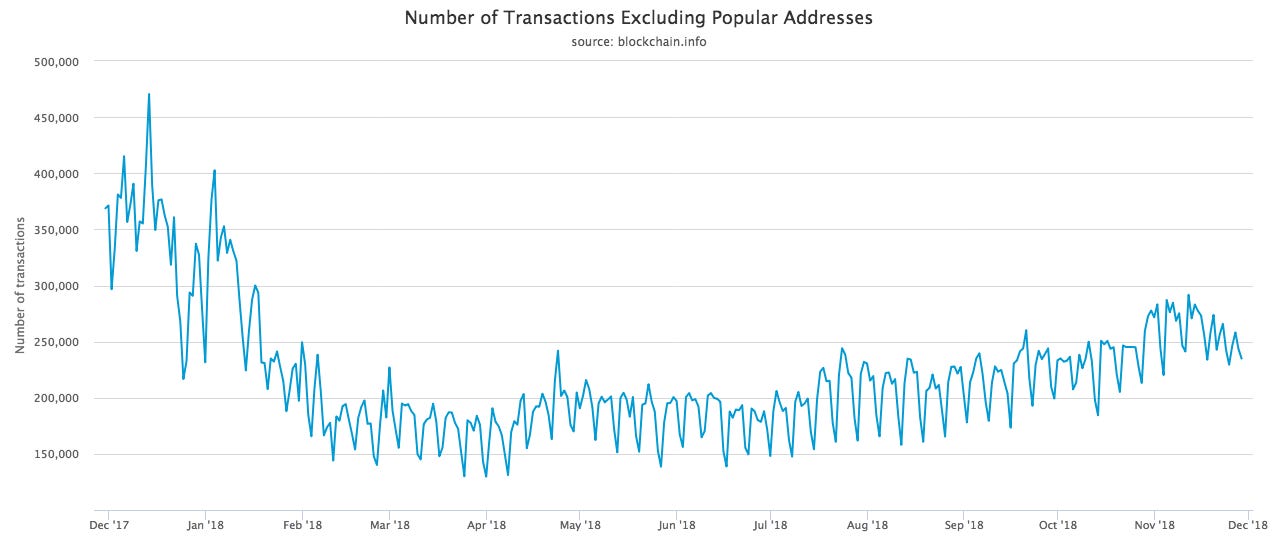 On a linear scale, the hash rate has approximately quadrupled in the last year or so. The hash rate also continues to look healthy on a logarithmic scale.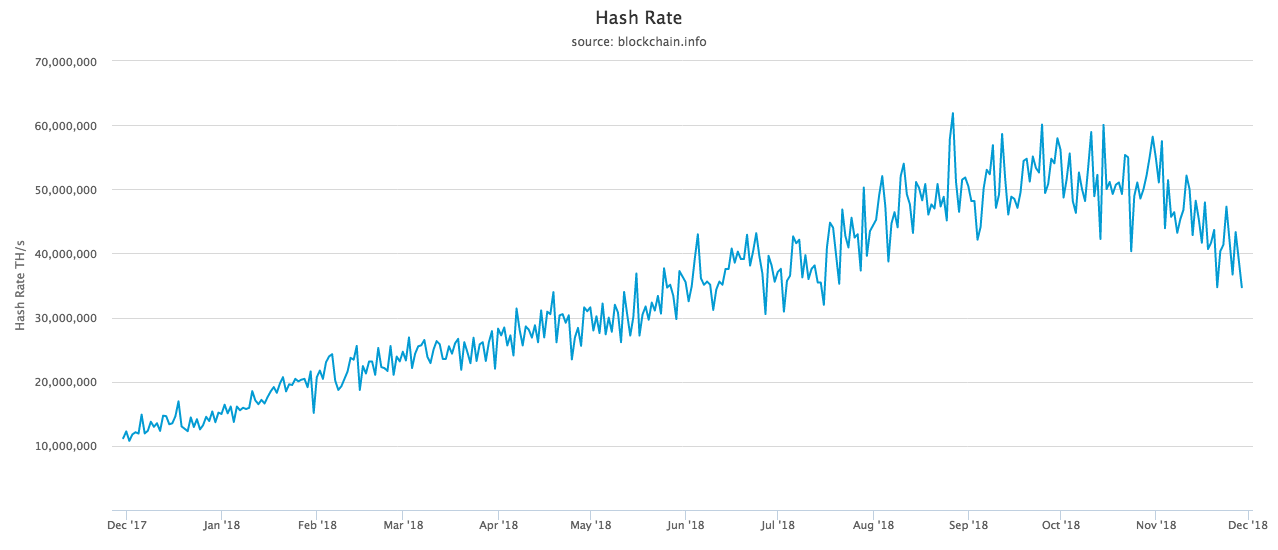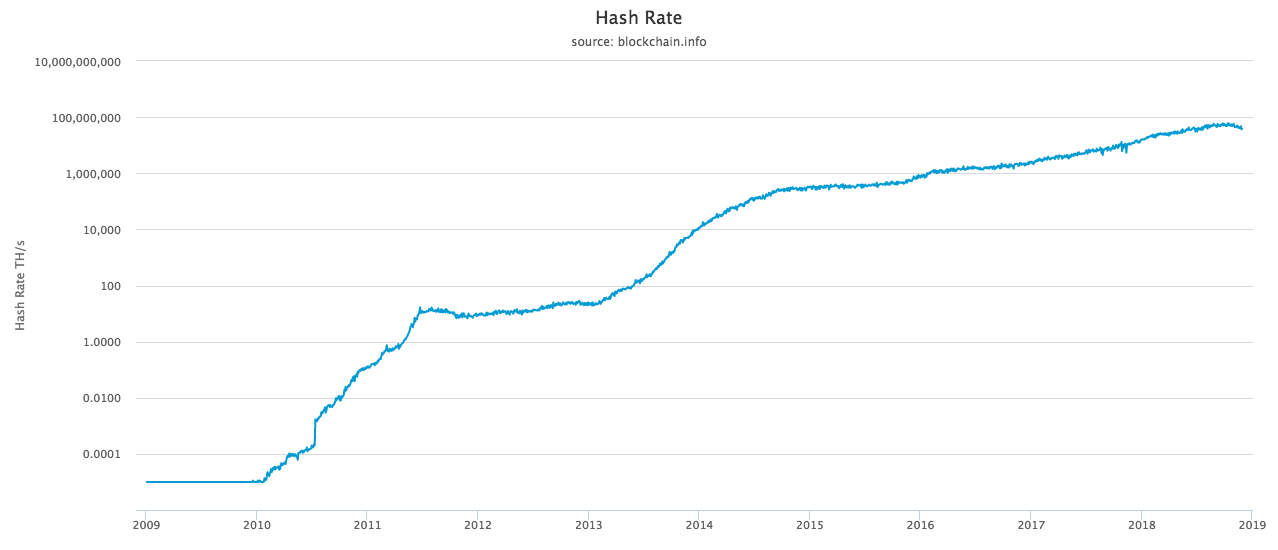 There has also been a 98% increase in the number of Bitcoin nodes running over the last two years, according to Bitnodes.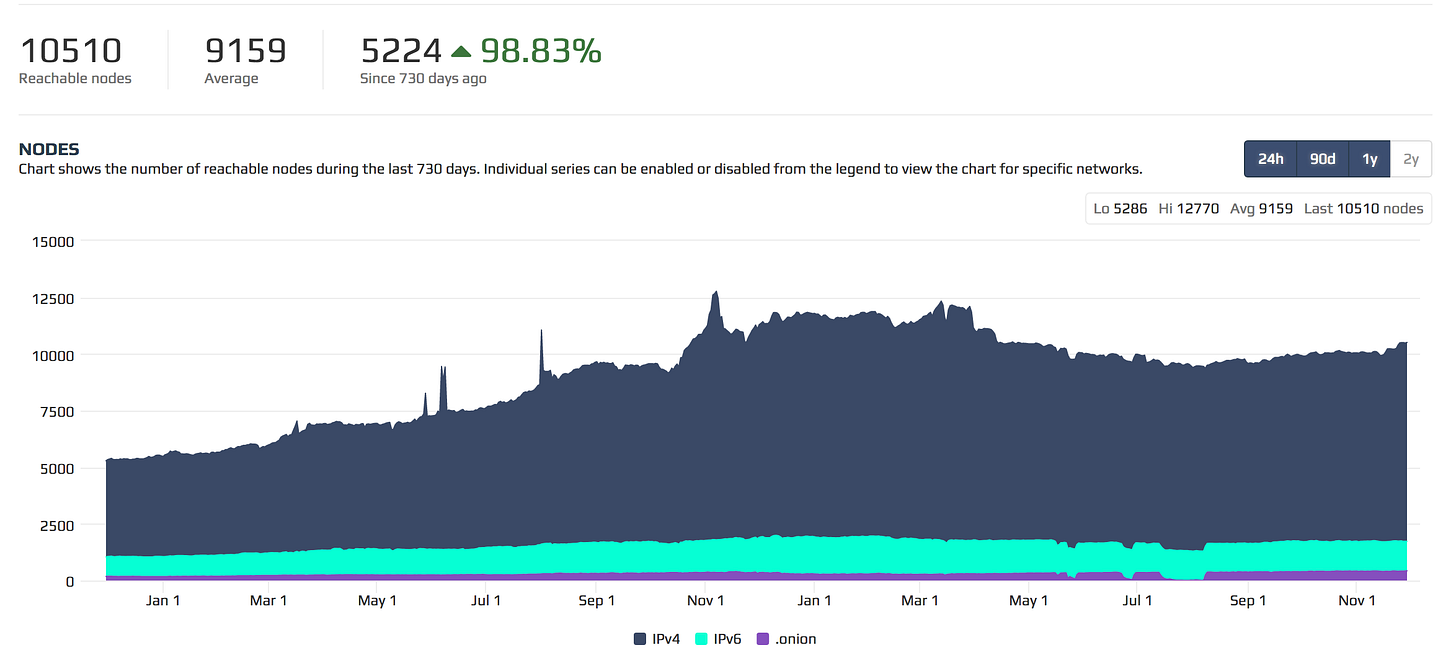 Price is only one measurement of value for an asset. While it is important, it is not an important measurement of future value. The underlying fundamentals for the Bitcoin blockchain appear to be growing stronger despite the decline in the current price.
Don't be distracted by the noise. Focus on the fundamentals. Bitcoin isn't going anywhere.
-Pomp
---
The "Off The Chain" podcast has been downloaded 250,000+ times in 120 countries. You can listen to the latest episode with Ryan Selkis, Founder of Messari now: Click here for Off The Chain podcast
---
THE RUNDOWN:
Amazon targets hybrid-cloud customers with on-site servers: Amazon.com Inc. will let customers put servers used in the company's cloud-computing data centers into their own facilities, an effort to reach businesses that want to store some of their technology functions in the cloud while keeping tighter control of others. The move announced Wednesday by Amazon Web Services Chief Executive Officer Andy Jassy helps provide hybrid-cloud strategies desired by many larger enterprise customers in an area where cloud-competitor Microsoft Corp. is making headway. Read more.
Coinbase, DCG join $4.5 million seed round for crypto evaluation startup: Flipside Crypto wants investors to think beyond market capitalization, and Coinbase apparently agrees. The exchange's Coinbase Ventures arm and Digital Currency Group co-led the analytics startup's extended seed round that closed on November 21, alongside True Ventures and Castle Island Ventures. Although the size of Coinbase's investment was not disclosed and the company declined to comment on the move, all told Flipside has raised $4.5 million. Read more.
TRON announces $100 million blockchain gaming fund: Decentralized internet protocol TRON announced its plans to launch a blockchain gaming fund dubbed TRON Arcade. TRON Arcade, which the company says is designed to "empower developers," will see investment totalling a giant $100 million over the next three years. The move is another long-term commitment from TRON, which acquired file sharing giant BitTorrent earlier this year. Read more.
Fidelity looking to expand digital asset trading beyond Bitcoin and Ether: Fidelity Investments is looking to expand its institutional crypto asset platform to include trading services for the top five to seven cryptocurrencies by market capitalization. The news came in response to a question from CoinDesk posed to Tom Jessop, head of Fidelity Digital Assets, on what other cryptocurrencies may be added to the platform, to be launched next year. Read more.
Sirin Labs' $999 blockchain phone will start shipping in December: Finney, the blockchain phone announced at the apex of the 2018 token craze, is expected to start shipping in late December. Unveiling its final design for the first time at an event today in Barcelona, Sirin Labs, the phone's maker, promises to advance the user experience of decentralized apps (or dapps) with its new hardware. The company claims to have raised over $157 million with an initial coin offering announced early this year to fund the device's development. Read more.
---
If you enjoy reading "Off The Chain," click here to tweet to tell others about it.
Nothing in this email is intended to serve as financial advice. Do your own research.
---