Bitcoin is more transparent than the Federal Reserve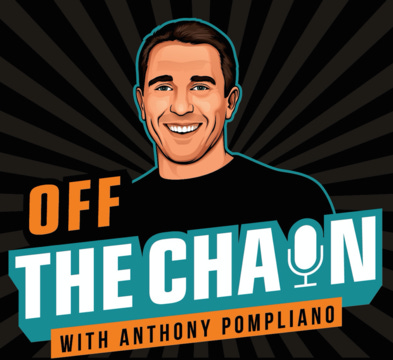 ---
Join thousands of others who receive this daily analysis of crypto markets & news in their inbox every morning - subscribe now.
---
Bitcoin is more transparent than the Federal Reserve.
I was reminded of this yesterday when Federal Reserve Chairman Janet Yellen spent time ranting against Bitcoin at a Canadian finance conference. She went through the normal anti-Bitcoin rhetoric made popular by Economist Nouriel Roubini, which includes "Bitcoin is a bad store of value," "Bitcoin is slow," and "Bitcoin is not accepted anywhere."
The funny thing is that people have been saying these negatives since the inception of Bitcoin almost ten years ago. We have to remind ourselves that Bitcoin is software and continues to improve over time. It is a better store of value, faster, and accepted in more places than ever before. But the most important thing is that Bitcoin has two things that no other currency in the world has: Decentralization and Transparency.
Bitcoin is decentralized — No one controls Bitcoin or can change Bitcoin's design without consensus of the network. This lack of centralization creates a more aligned incentive system that is likely to lead to increased global equality over time.

Bitcoin is transparent — The monetary system design of Bitcoin is public. We can easily find every transaction ever executed since the day Bitcoin launched, we can see what is happening today in real-time, and we know the disinflationary monetary schedule of the future. This helps us (1) understand what is going on and (2) quickly identify if something didn't happen that was supposed to.
The transparency of Bitcoin is in direct conflict with the Federal Reserve. Not only do we have no transparency into historical transactions in the fiat currency system, but we don't even know how much money is being printed today. Additionally, we have no insight into future monetary policy decisions, nor have we ever had an audit of the Federal Reserve.
Frankly, how do we know the Federal Reserve is doing what they say they are doing? We don't.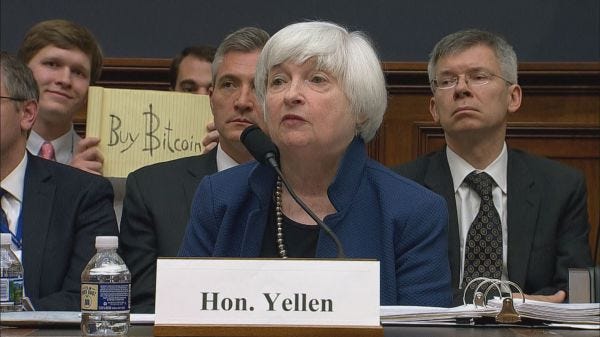 Historically, this lack of transparency has only been an issue for the fringes of society. It was reserved as a talking point for anarchists and conspiracy theorists. But now that the general population is being exposed to a viable alternative currency that provides full transparency, more people are asking the question — Why do we trust a system that refuses to provide transparency? (This is a classic video)
The beauty of Bitcoin is that it doesn't need to replace the fiat monetary system. It is an alternative option that gives people choice. These individuals will eventually choose Bitcoin if they are looking for (1) transparency, (2) a deflationary system, (3) uncensorable & non-seizable asset or (4) a digitally native currency. Unfortunately, the Federal Reserve provides none of these.
The fact that Janet Yellen has to answer questions about Bitcoin every time she takes the stage proves that Bitcoin is already winning. If the digital currency was not viewed as a threat, the establishment wouldn't feel compelled to verbally attack the idea or defend the status quo.
Remember, the US dollar's existence as a non-commodity backed currency is 47 years old. The average life expectancy of a fiat currency is 27 years and almost every man-made currency in the history of the world has eventually failed. It would be unfortunate if the US suffered because our leadership was unwilling to innovate as a step towards retaining our global dominance.
Long Bitcoin, Short the Bankers.
-Pomp
---
The "Off The Chain" podcast has been downloaded 125,000+ times in 120 countries. You can listen to the latest episode with Michael Oved of Airswap & Fluidity now: Click here for Off The Chain podcast
---
THE RUNDOWN:
Bitcoin exchange Bitstamp acquired in latest cryptocurrency deal: Bitstamp, a Luxembourg-based Bitcoin exchange, has been acquired, the company said Monday. The buyer is NXMH, a private equity and investment firm based in Brussels that also owns Korbit, a South Korean cryptocurrency exchange. The financial terms of the deal were not disclosed, but the purchase price was rumored to be around $400 million. Read more.
Paradigm leads $30 million funding for crypto privacy startup StarkWare: Cryptography startup StarkWare just closed a $30 million equity funding round led by Paradigm and featuring a number of other major investors. StarkWare, the company that developed the zk-STARKS privacy feature, is now working to commercialize the tech. Zk-starks operate by compressing large amounts of data into small proofs (starks) and using zero-knowledge proofs to keep the information private. Read more.
Bitcoin's long-term trend lines suggests downswing isn't over yet: Bitcoin bulls could be in for more bad news. Long-term technical indicators suggest the battered digital currency is poised to continue its slump. A technical analysis of DVAN long-term trend lines shows Bitcoin resuming its recent downward trend. Its baseline indicator, which has been hovering above its algorithm line, does not portend a positive future. Read more.
UK government taskforce proposes crypto regulation changes: The U.K. Cryptoassets Taskforce released a report that proposes some changes for cryptocurrency regulation and raises concerns over how digital assets are traded and used. Though the Taskforce has indicated that cryproassets pose a range of risks to consumers, market integrity due to manipulation, and other market-abuse issues, it also notes that the situation may change in the future. Read more.
Nine Japanese banks to trial blockchain settlement using Fujitsu tech: Nine Japanese banks are teaming up to trial a blockchain-based inter-bank settlement system using Fujitsu technology. IT giant Fujitsu announced that it has been chosen as an "application development vendor" for the field trial that will use a custom digital currency to attempt to achieve low-cost transfer of small-scale transactions using real-time gross settlement. The test is aimed to gauge aspects of the tech such as performance, security and real-world viability. Read more.
---
If you enjoy reading "Off The Chain," click here to tweet to tell others about it.
Nothing in this email is intended to serve as financial advice. Do your own research.
---