Bitcoin is likely to hit $100,000 by 12/31/2021
Today's installment of Off The Chain is free for everyone. I send this email to our investors daily. If you would also like to receive it every morning, you can subscribe here.
---
On August 24, 2018 Bitcoin was trading at $6,770. I wrote an email to our investors, and shared it with subscribers of this newsletter, that said "we are likely to see Bitcoin near $3,000 before we see Bitcoin at $10,000 again."
This prediction of a ~50% drop in Bitcoin's price was met with plenty of skepticism, but it ultimately proved to be accurate. Bitcoin proceeded to drop under $3,200 in December 2018 before recovering and shooting past a $10,000 price this past Friday.
Anticipating these market movements allowed Morgan Creek Digital to avoid investing our institutional investors' capital in Bitcoin during the bear market, while having confidence to start investing around a $3,800 price point in March 2019 after the market had bottomed. Simply, it is our job to have an opinion about where the market is going and to act accordingly.
As we continue moving forward into Bitcoin's new bull market, I wanted to publicly state my personal thoughts on future price movements. As I have previously said, making predications is difficult. I don't aim for 100% accuracy, but rather for being right more times than I'm wrong. Part of my process as a professional money manager is forming a thesis (price target), identifying a timeline (date), and establishing a confidence level. And then constantly re-evaluating those three aspects of my thought process as I receive new information.
This exercise wouldn't be nearly as rewarding if (1) I didn't have material skin in the game and (2) have the stomach to be held publicly accountable for my opinions. With that in mind, I believe that Bitcoin will reach a $100,000 price point before December 31, 2021. My current confidence level of this happening is around 70-75%.
It is important to understand a few things as Bitcoin marches towards $100,000:
This is not investment advice. In fact, it is the exact opposite. This is my personal opinion and merely a documentation of my thoughts during a specific point in time. I highly suggest you do your own research, never invest more than you are willing to lose, and don't invest in anything that you don't understand.

Bitcoin is a highly volatile asset. It is unlikely that Bitcoin will go from the current ~$11,000 to $100,000 without experiencing this volatility. I anticipate that there will be numerous 20-30% drawdowns from new all-time highs as the asset continues to appreciate in value. These mini-boom/bust cycles should not cause panic, but rather need to be understood as natural market dynamics whenever an asset gains significant value in short periods of time.

There will be a variety of "experts" that will attempt to "call the top" of this bull market. There is a low probability that any of them will get it right, but there is a high probability that many of them will call the top inaccurately during periods of local highs.

The price appreciation will be driven by a very simple idea — supply/demand economics remains a valid market price determinant. Bitcoin is a fixed supply asset with a disinflationary supply schedule. Over the next ~2.5 years, there will be incredible increases in demand (see next bullet point), while the total supply remains fixed and the new daily supply is decreased by 50% (starting May 2020).

The increase in demand for Bitcoin will come from a variety of sources and will be due to various factors. These include large scale institutional adoption, multiple ETF and retail product approvals, increased global instability, lack of performance in traditional markets, and the continued manipulation of markets, economies, and currencies by governments around the world.

The market cap of Bitcoin will reach $2+ trillion when Bitcoin is worth $100,000. This is less than 1/3 the market cap of gold and less than 1/40 the global money supply.
It won't come as a surprise to me that many people may disagree with these thoughts. In fact, that is what I am hoping the reaction is. The disagreement over the future results of something is what presents the investment opportunity. Additionally, the non-correlated, asymmetric nature of Bitcoin presents an unique risk/reward.
An investment in Bitcoin will deliver approximately a 10x return if I am correct in my $100,000 price target, while the risk is a complete loss of invested capital (-1x). This type of trade-off is personally exciting to me, especially when the investment is sized properly in a portfolio.
It is no secret that I am incredibly bullish about the future prospects of Bitcoin. My price target and timeline are now on the public record. Time will tell if the next two and a half years plays out how I anticipate.
-Pomp
---
The "Off The Chain" podcast has been downloaded 1,000,000+ times in 160 countries. You can listen to the latest episode with Ben Mezrich, Author of Bitcoin Billionaires here: Click here for Off The Chain podcast
---
THE RUNDOWN:
Mnuchin Says Guidelines Move Crypto Firms From 'Dark Shadows:' Treasury Secretary Steven Mnuchin voiced his support for new global regulatory standards to combat illicit financing by criminals, terrorists and rogue nations that will have major implications in the world of cryptocurrencies. Mnuchin spoke Friday at an Orlando, Florida gathering of the Financial Action Task Force -- a multi-government effort that develops recommendations for combating money laundering and financing of terrorism that's comprised of about 200 countries. The guidelines require companies to collect information about customers and the recipients of funds, and to send that data to the receiver's service provider with each transaction. Read more.
Why Blockchain 'Hype' Needs to Stop: Hype—tons if it—has long infiltrated the blockchain and cryptocurrency space, and IBM blockchain general manager Marie Wieck, for one, would like it to end. "Stop the hype" with blockchain, she said. Instead, she said, focus on the value proposition it brings to the table. "The most important point is what value will every participant get out of permissioned blockchains, and candidly, I will love the day when nobody talks about blockchain and they just talk about the value creation," Wieck said. Read more.
Facebook's Crypto Hiring Spree Continues With Search for Finance Lead: Fresh off releasing the white paper for its Libra cryptocurrency, Facebook is looking to hire a finance program manager in blockchain, according to a new job posting. The job description gives few specifics and no mention of its relation to the Libra project. "This individual will be a key part of the Finance Project Management Organization and will be responsible for planning, leading and executing on global, cross-functional finance projects," the description says. Read more.
Ethereum Co-Founder Criticizes Facebook's Libra Token for Centralization: Ethereum co-founder Joseph Lubin said that Facebook's Libra token is like "a centralized wolf in a decentralized sheep's clothing." The social media giant released the white paper for a its cryptocurrency dubbed Libra earlier this month to mixed reviews from experts in the cryptocurrency and blockchain industries and concern from government regulators. Read more.
Report: Two Israeli Brothers Arrested for Hack of Bitfinex Crypto Exchange: Two Israeli brothers have been arrested in connection with the hack of cryptocurrency exchange Bitfinex and other crypto-related phishing attacks. An Israeli police spokesperson reportedly told Finance Magnates that Eli Gigi and his younger brother Assaf Gigi netted tens of millions of dollars. The two are suspected of being responsible for long-term systematic theft of cryptocurrencies by maliciously obtaining access to other users' accounts. Read more.
---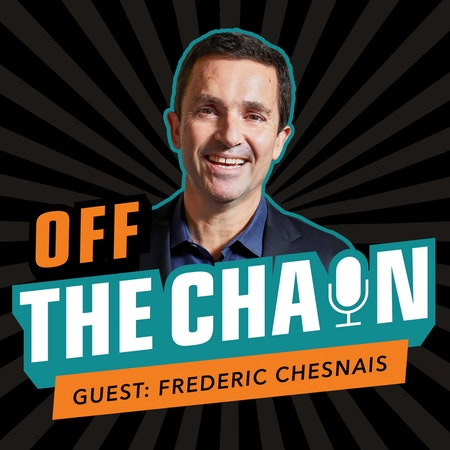 LISTEN TO THIS EPISODE OF THE OFF THE CHAIN PODCAST HERE
---
Frederic Chesnais is the CEO and Chairman of the Board at Atari. He previously built the company into an international giant, sold it, and then came back to save it. After years of hard work conducting an impressive turnaround, Fred has been spending more time thinking about the advantages of blockchain technology, along with where Atari has a competitive advantage over others. This was an awesome conversation!
In this conversation, Fred and I discuss:
The history of Atari's brand

How cryptocurrencies can incentivize new types of work

Why gaming is finding product/market fit in crypto

What Atari plans to do to capitalize on the crypto opportunity.
I really enjoyed this conversation with Fred. Hopefully you enjoy it too.
LISTEN TO THIS EPISODE OF THE OFF THE CHAIN PODCAST HERE
---
Here are my tweets from yesterday:
---
Interested in crypto research? Look no further. The premier research firm in the space, Delphi Digital, has two subscription offerings for individuals and institutions alike. Take a look at their Bitcoin and Ethereum reports to get a taste of their analysis. [Click here]
---
If you enjoy reading "Off The Chain," click here to tweet to tell others about it.
Nothing in this email is intended to serve as financial advice. Do your own research.
---