Bitcoin, Emotion, and HODLers of Last Resort
This installment of Off The Chain is free for everyone. I send this email to our investors daily. If you would also like to receive it every morning, join the 30,000 other investors today.
---
To investors,
Every great capital allocator knows that the best investors are able to remain unemotional about their portfolio. They don't succumb to fear or greed. They simply evaluate the data available to them, form an investment thesis, and follow the plan in a disciplined manner.
This understanding is why so many traditional finance folks are scared off by Bitcoin and those that invest in the digital currency. In fact, one recent thread really brought this to light (Jared Dilan)
This is not a one off perspective in my experience. Many professional investors feel that Bitcoin investors are too emotional. They are religious about the investment. And if the facts changed, these emotionally attached investors would be unable to recognize the change, which would lead to an unwillingness to abandon the trade.
While this is a generally rational assessment, there is one fundamental flaw — Bitcoin isn't an investment. A good portion of the largest owners of Bitcoin are not making a decision to store their wealth in the digital asset with a plan of selling the position later. They are evaluating two separate financial systems.
(1) The fiat currency system and (2) the sound money system.
These alternative options provide opposing value propositions. One empowers fractional reserve banking, artificial expansion and contraction of the monetary supply, human-led monetary policy, and enormous amounts of leverage. The other provides an artificially capped monetary supply, algorithmically disciplined and transparent monetary policy, and a lack of high degrees of leverage.
The proponents of Bitcoin aren't making a trade. They are choosing to live their life, and store their wealth, in the deflationary world of the second financial system. That system's unit of account is Bitcoin.
This individual decision of "which financial system should I participate in?" is a crucial nuance that legacy finance folks need to understand. The fanaticism isn't about Bitcoin necessarily, but it is more about the increased value provided by an alternative to the legacy financial system.
These enthusiasts use memes like "Plan B," "Bitcoin fixes this," and "Long Bitcoin, Short the Bankers." The message is clear — the existing system is flawed and likely to be unable to persist forever. Finally, an alternative system, along with a new monetary structure that returns us to sound money, is available.
Quite literally, Bitcoin is the scarcest money ever invented. The individuals who have chosen to store vast percentages of their wealth in an alternative system are truly the "HODLers of last resort."
They aren't concerned with the USD price volatility of Bitcoin. They are unfazed by fear, uncertainty, or doubt. They can't be shaken out. They will continue to participate in the alternative system, regardless of the issues that the new system faces.
This isn't because they are religious about an investment. It is because they see the potential for a better, more equitable world. They are making an active decision to escape from the legacy system and participate in the new one.
Bitcoin is the vehicle that allows this decision to become reality.
Traditional asset managers will struggle to understand the obsession around Bitcoin. They have historically seen everything as a trade denominated in dollars. For the HODLers of last resort, this is not the case.
One Bitcoin equals one Bitcoin. Assets are measured in satoshis. And there is nothing that will change that.
Over time, even the most conservative people will see the structural issues of the legacy finance system. They won't be able to ignore them. And when that happens, we'll add more HODLers of last resort as the number of people seeking a Plan B increases.
BONUS: Niall Ferguson, author of The Ascent of Money and many other great books, just published a fantastic article on digital currencies and the US/China economic war. He covers a number of important topics in an eloquent way. I highly recommend reading it by clicking here.
-Pomp
---
The "Off The Chain" podcast has been downloaded in every country in the world, with more than 1,500,000 combined downloads. You can listen to the latest episode with Mark Yusko, Founder & CIO at Morgan Creek Capital Management here: Click here for Off The Chain podcast
---
THE RUNDOWN:
Ripple Asks to Toss Lawsuit Over Crypto Securities: The cryptocurrency company Ripple has asked a federal court to throw out a class action lawsuit in which investors allege it illegally sold unregistered securities. The case is significant because it has the potential to resolve the contentious legal question of when cryptocurrencies should be classified as a security—and expose companies like Ripple to potentially massive liability. Read more.
Traders Could Lose Weekends in Digital Age, BitMex's Hayes Says: Arthur Hayes, head of one of the world's most popular cryptocurrency exchanges, says traders may lose their midday breaks and even their weekends as traditional assets absorb some characteristics of digital ones. Digital finance is going to end up affecting everything from traditional equities, bond and currency trading, to the way payments are processed and recorded, Hayes, the chief executive of BitMex, said in remarks at the Milken Institute Asia Summit in Singapore. Hayes, who co-founded the exchange, noted that most markets currently open and close, remain shut on weekends, and some even have lunch breaks. Cryptocurrencies trade 24 hours a day, seven days a week. Read more.
Privacy Coins Face Existential Threat Amid Regulatory Pinch: The subset of digital assets dubbed privacy coins, which have long delighted libertarians and frustrated law enforcement, are feeling the pinch of a step up in regulation. Cryptocurrencies such as Monero, Zcash and Dash, which can to varying degrees obfuscate transactions, are making it harder for exchanges and custodians to comply with fresh international guidelines to prevent illicit financing. Read more.
CME Group Is Launching Bitcoin Options Early in 2020: Derivatives marketplace CME Group has announced that it will offer options on its bitcoin futures contracts starting in the first quarter of next year. The Chicago-based company first launched its futures product back in December 2017, at the same time as its Windy City rival, the Chicago Board Options Exchange (CBOE). In its announcement on Friday, CME said the launch of bitcoin options is aimed to provide clients with "additional tools for precision hedging and trading." The launch is pending regulatory review. Read more.
Verizon Just Won a Patent to Create Virtual SIMs on a Blockchain: Telecommunications conglomerate Verizon is eyeing the use of blockchain technology to underpin the dynamic creation of virtual SIM cards. The company was granted a patent with the U.S. Patent and Trademark Office for the concept on Sept. 10, in which it sets out how it the invention could do away with pre-inserted, branded physical SIM cards. The patent describes how a physical SIM card can be replaced by a software equivalent – a virtual SIM (vSIM) – that is secured with blockchain-based encryption. Read more.
---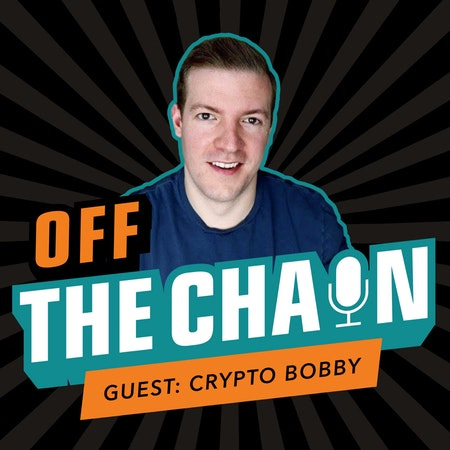 LISTEN TO THIS EPISODE OF THE OFF THE CHAIN PODCAST HERE
---
Rob Paone, a.k.a. Crypto Bobby, is the Proof of Talent and the host of the popular YouTube channel "Crypto Bobby." He is one of the most knowledgable people on the current environment for talent and recruiting in the blockchain industry. This conversation is super actionable and hopefully will help a lot of folks who are looking to jump into the crypto industry.
In this conversation, Rob and I discuss:
Recruiting in the cryptocurrency industry

The Dos and Don'ts of the interview process

How engineers, business development executives, management, data analysts, and marketers can enter the crypto industry
I really enjoyed this conversation with Rob. Hopefully you enjoy it too.
LISTEN TO THIS EPISODE OF THE OFF THE CHAIN PODCAST HERE
---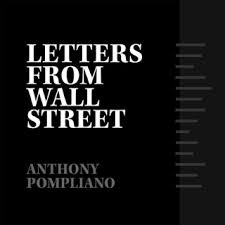 In this new podcast, I read through letters, notes, and memos from investors and entrepreneurs that cover financial insights from the world's most successful companies and investors. The podcast is sponsored by eToro, the world's leading social trading platform.
Today's episode is:
CEO Lawrence Culp of General Electric shares his 2018 Letter to Shareholders.
LISTEN TO THIS EPISODE OF THE "LETTERS TO WALL STREET" PODCAST BY CLICKING HERE
---
Here are my tweets from yesterday:
---
Interested in crypto research? Look no further. The premier research firm in the space, Delphi Digital, has two subscription offerings for individuals and institutions alike. Take a look at their Bitcoin and Ethereum reports to get a taste of their analysis. [Click here]
---
If you enjoy reading "Off The Chain," click here to tweet to tell others about it.
Nothing in this email is intended to serve as financial advice. Do your own research.
---