Bitcoin Becomes More Important In Hong Kong & India
This installment of Off The Chain is free for everyone. I send this email to our investors daily. If you would also like to receive it every morning, join the 35,000 other investors today.
---
To investors,
Bitcoin is different things to different people. This was my message while on CNBC's Squawk Box a few weeks ago.
During the segment, I articulated that various aspects of Bitcoin become more important than others depending on the geopolitical and/or socioeconomic situation that an individual is in. This is not academic theory though. We previously saw this in Venezuela when the country's national currency hit hyperinflation, egregious capital controls were implemented by the Venezuelan government, and economic sanctions were levied against citizens of the country by the United States. 
During that time, many Venezuelans sought out US dollars, but there were a number of obstacles that made accessing the global reserve currency difficult. These obstacles included the requirement to have a traditional bank account, the threat of asset freezing / seizure, and the economic sanctions levied by the US which forbid most people and corporations outside the country from transacting with Venezuela. When faced with these obstacles, Venezuelans sought out Bitcoin, along with other assets, as a solution.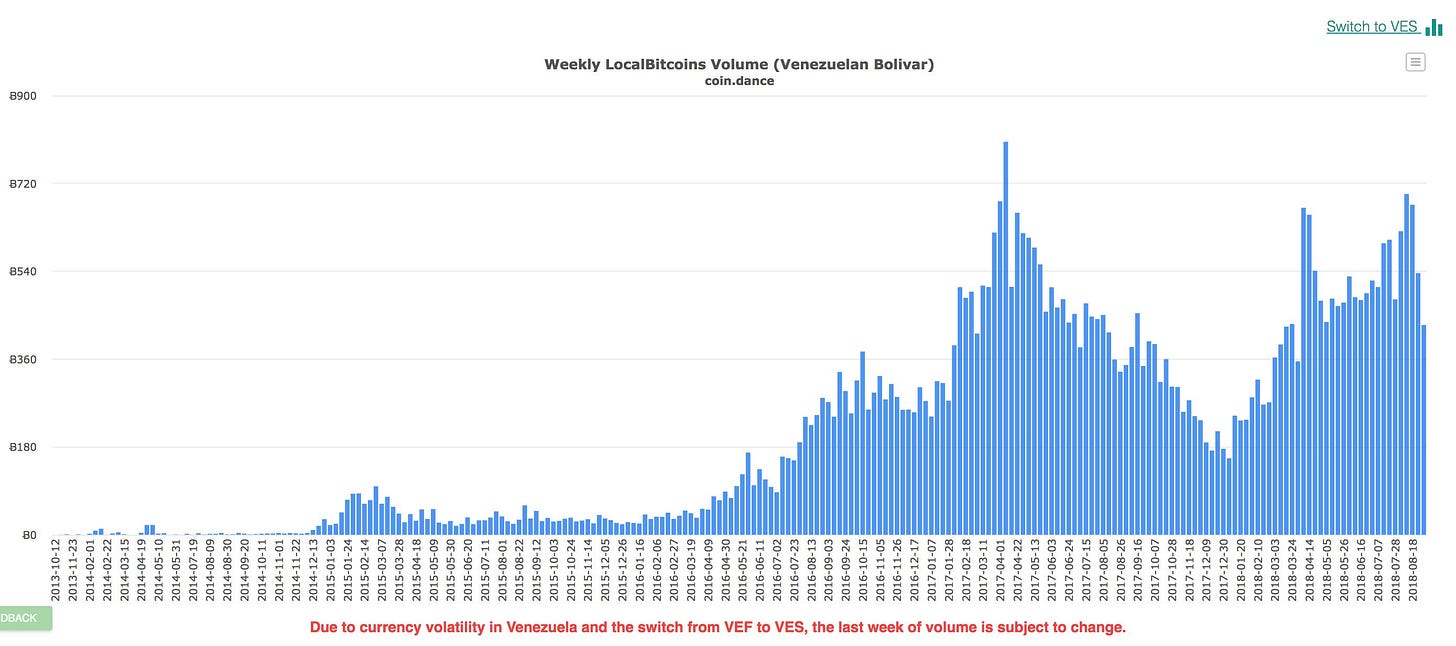 This LocalBitcoin chart shows volume increases through Q3 2018 denominated in Bolivars. Although there is an obvious uptick in Bitcoin demand, the complexities of the situation in Latin America (hyperinflation, collapsing economy, dictatorship, economic sanctions, etc) made it easy for many people to dismiss this "interest" as a correlated event, but one that lacked true causation. 
Hong Kong and India are very different though.
They are not developing world economies. They collectively provide support and governance for over one billion humans. The western world acknowledges both economies as major trading partners of the United States, including financial services, manufacturing, technology, and many other industries. 
Unfortunately, citizens of Hong Kong and India are starting to experience some of the issues that plagued citizens in Venezuela. Most notably, reports have begun to surface that people are having trouble accessing their money in financial institutions in both economies. 
Hong Kong
Protests have been raging on for months now. Each week there are millions of people in the street to show their dissatisfaction with the government's decisions. It wasn't until recently that protests, and the response from the police & military, began to turn more violent. As these videos of tear gas, bean bag guns, and baton beatings have gone viral online, something else caught my eye. More and more reports are surfacing that ATMs across Hong Kong are either (1) running out of cash or (2) completely non-functional. 
The political unrest in Hong Kong doesn't have an end in sight. There is more uncertainty with each passing day, which has led to almost $4 billion being moved from Hong Kong to Singapore according to Goldman Sachs. Capital flight of this magnitude shouldn't be surprising when threats of martial law begin flying around.
Lastly, Hong Kong's interest in Bitcoin appears to be increasing as well. There was more trading volume in the last week than at any other time in Bitcoin's history, including the height of the 2017 bull market.
Although there are plenty of theories pertaining to this volume spike floating around online, the data is fairly compelling. With that said, a few million dollars of Bitcoin volume compared to billions of dollars of fiat currency capital flight means that there is a long way to go around Bitcoin education and awareness in Hong Kong.
India
Some Indian citizens are experiencing a lack of access to their wealth, but the catalyst is far different than what we are watching in Hong Kong. In order to understand India's banking issue, we must first understand what co-operative banks are.
"Co-operative banks, which are distinct from commercial banks, were born out of the concept of co-operative credit societies where members from a community band together to extend loans to each other, at favourable terms. Credit co-operatives (or co-operative banks) are broadly classified into urban or rural co-operative banks based on their region of operation. Urban co-op banks are classified into scheduled and non-scheduled banks.

There are three key points of difference between scheduled commercial banks and co-operative banks. One, unlike commercial banks, UCBs are only partly regulated by the RBI. While their banking operations are regulated by the RBI, which lays down their capital adequacy, risk control and lending norms, their management and resolution in the case of distress is regulated by the Registrar of Co-operative Societies either under the State or Central government. Two, unlike commercial banks which are structured as joint stock companies, UCBs are structured as co-operatives, with their members carrying unlimited liability. Three, while there is a clear distinction between a commercial bank's shareholders and its borrowers, in a UCB borrowers can double up as shareholders.

In the event UCBs fail, deposits with them are covered by the Deposit Insurance and Credit Guarantee Corporation of India up to a sum of ₹1 lakh per depositor, the same as for a commercial bank."
The main concern here is that many of these co-operative banks operate without direct oversight from India's central bank (Reserve Bank of India or RBI). This can change if issues arise, particularly during times of solvency or liquidity issues.
As of October 2nd, the RBI currently has 24 co-operative banks under their direct oversight due to concerns. One of these, Punjab Mumbai Co-operative Bank (PMC), is a top five co-operative bank in the country. Although PMC is being watched closely by the central bank, it had a sudden near-collapse last week.
The reason for the near-collapse is quite complex, but it generally stems from the fact that the bank had two-thirds of their loans extended to a single borrower who has now gone bankrupt. Rather than transparently sharing the current risk profile over the last few months, the bank had presented a much better picture to depositors, shareholders, and government organizations. Obviously, not good.
As the truth has come out, depositors have become concerned about the solvency of the bank. This led to the start of a bank run, which only applied more pressure to the financial institution. As is common in the RBI-led oversight of co-operative banks, the bank quickly instituted a very small withdrawal limit that is intended to prevent depositors from successfully executing a bank run.
While there is strong logic as to why the bank would impose the withdrawal limits, there are now thousands of Indian customers who have had their assets effectively frozen or seized.
Conclusion
The situations in Hong Kong and India are very different, but they both illuminate the importance of Bitcoin on a global scale. The decentralized digital asset provides full control, including lack of seizure or censorship, to any person with an internet connection. These individuals aren't exposed to the risks of their government, their banking system, their financial system regulators, or any other external force.
Bitcoin provides a transparent, disciplined system that continues to store wealth safely. Now this doesn't mean that individuals are going to place 100% of their wealth in Bitcoin tomorrow. The asset is still highly volatile. It can gain or lose 10%+ in a single day. But just as I mentioned in the beginning of this letter, Bitcoin's properties of 24/7/365 access, non-seizability, and non-censorship become much more important to people in areas where lack of access to your wealth becomes a problem.
It would be reasonable to see more and more individuals move small percentages of their wealth into Bitcoin over time. There are more than one billion people who live collectively in India and Hong Kong. These people are getting a front row seat to some of the challenges in the legacy financial system, which will lead to many of them seeking a solution or hedge.
Thankfully, Bitcoin fixes this.
-Pomp
---
The "Off The Chain" podcast has been downloaded in every country in the world, with more than 1,500,000 combined downloads. You can listen to the latest episode with Mark Yusko, Founder & CIO at Morgan Creek Capital Management here: Click here for Off The Chain podcast
---
THE RUNDOWN:
Crypto Rebels Trip Over Each Other en Route to Financial Utopia: Ashleigh Schap's quest for a digital ideal illuminates a generation's aversion to mainstream banking and the regulatory establishment. Read more.
PayPal Withdraws From Facebook's Libra Cryptocurrency: PayPal is withdrawing from Facebook's Libra Association. "PayPal has made the decision to forgo further participation in the Libra Association at this time and to continue to focus on advancing our existing mission and business priorities as we strive to democratize access to financial services for underserved populations." Read more.
Coinbase Discusses Acqui-Hire With Ripple-Backed Rental Startup: Physical storage-turned-rentals startup Omni is dealing with layoffs today. Omni just shed seven operations team members. The startup is in talks to sell its engineering team to Coinbase after also receiving interest from Thumbtack. Omni's rental business was doing poorly without enough users paying a few bucks to borrow a tent, bike or power drill. Read more.
Algo Capital Loses Crypto Funds After CTO's Phone Is Hacked: Algo Capital, an investment firm focused on the Algorand blockchain, lost a few million dollars in USDT and ALGO tokens after its chief technology officer's phone was breached. Algo Capital reported to its limited partners Friday that Pablo Yabo, its CTO, had his mobile compromised which allowed attackers to seize control of an Algo hot wallet administered by Yabo. As a result of the breach, roughly $1 million to $2 million in the cryptocurrencies were taken, according to an email from CEO David Garcia seen by CoinDesk. Read more.
New York's Financial Watchdog Is Hiring Another Crypto Superintendent: New York state is looking beef up its cryptocurrency-focused regulatory staff. The new Deputy Superintendent for Virtual Currency will be tasked with creating and maintaining compliance measures for virtual currencies including markets, involved businesses and other regulatory bodies for the New York Department of Financial Services. Read more.
'Gold-Backed' Crypto Token's Promoter Investigated by Florida Regulators: A German company that claimed to raise $100 million in a 2018 initial coin offering is being investigated by Florida financial regulators. Karatbars International GmbH has announced plans to follow its first token sale with another one in December 2019. While the 2018 token sale was for its allegedly gold-backed KaratGold Coin, this year the company has been promoting a KaratBank Coin connected to a "cryptocurrency bank" in Miami. Read more.
---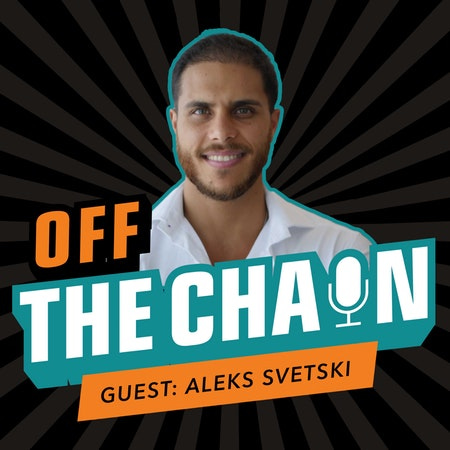 LISTEN TO THIS EPISODE OF THE OFF THE CHAIN PODCAST HERE
---
Aleks Svetski is the founder of Amber. He has a unique perspective on Bitcoin and is building a product to help people "collect Bitcoin." This episode is one of the conversations that reminds you how powerful Bitcoin's potential is and it made me think more critically about what is being built before our eyes. Highly recommend!
In this conversation, Aleks and I discuss:
Bitcoin maximalism

The intolerant minority

Why Bitcoin's community is so important

How investors should view the asset

Why the world hasn't priced Bitcoin properly yet
I really enjoyed this conversation with Aleks. Hopefully you enjoy it too.
LISTEN TO THIS EPISODE OF THE OFF THE CHAIN PODCAST HERE
---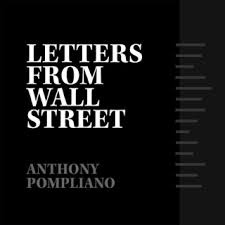 In this new podcast, I read through letters, notes, and memos from investors and entrepreneurs that cover financial insights from the world's most successful companies and investors. The podcast is sponsored by eToro, the world's leading social trading platform.
Today's episode is:
Slack's S-1 Registration Statement is filled with an overview of the business, a detailed explanation of the product offering, and comments on the future outlook of the business.

Joel Gascoigne of Buffer wrote a great letter on angel investing called "I am an Investor in 9 Companies: How and Why I Started Angel Investing"
LISTEN TO THIS EPISODE OF THE "LETTERS TO WALL STREET" PODCAST BY CLICKING HERE
---
Interested in crypto research? Look no further. The premier research firm in the space, Delphi Digital, has two subscription offerings for individuals and institutions alike. Take a look at their Bitcoin and Ethereum reports to get a taste of their analysis. [Click here]
---
If you enjoy reading "Off The Chain," click here to tweet to tell others about it.
Nothing in this email is intended to serve as financial advice. Do your own research.
---