$2+ Billion Ponzi Scheme Uncovered in China
This installment of Off The Chain is free for everyone. I send this email to our investors daily. If you would also like to receive it every morning, join the 30,000 other investors today.
---
To investors,
Bitcoin and other cryptocurrencies introduce new levels of transparency that were previously unavailable in the legacy financial system. This provides advantages and disadvantages for those using or analyzing digital assets.
One of the advantages for those analyzing digital assets is that they are able to track the movement of funds much more easily than they could in the legacy financial system. In order to get this level of information and transparency from the existing banking structure, you would need warrants, subpoenas, or other legal documentation to compel banks to turn over the information, while then being required to stitch the information together if multiple banks were involved.
Thankfully, you only need an internet connection and a little bit of information to begin analyzing a blockchain. One company that has been doing this analysis, Elementus, recently identified a $2+ billion Ponzi scheme that involves over 800,000 retail investors in China. (Disclosure: I have financial exposure to Elementus)
Yes. You read that right. A group of individuals have been conducting a multi-billion dollar Ponzi scheme and there actions are easily traceable on a blockchain (both Bitcoin and Ethereum). There were 9.9 million ETH deposited over time:
And 9.2 million of the ETH was then sent out to previous participants (classic Ponzi scheme):
You can even see which exact addresses were the recipients of the largest amounts of outflows:
The visual below shows which exchanges were used to facilitate the payouts for those "at the top" of the Ponzi scheme:
Pretty crazy to see how large this scheme was, especially when you remember that this is only the Ethereum-related transactions. The team was also accepting Bitcoin at the same time, so it wouldn't be surprising to find out that the Ponzi scheme's total size was at least double what is represented here in the ETH analysis.
The good news is that it appears that the Chinese authorities have successfully stopped the nefarious activity.
In conclusion, this is a great example of how public blockchains provide a level of transparency that was previously unavailable in the legacy financial system. If these individuals had chosen to conduct their scheme with physical cash, it would be nearly impossible to track. And if they had chosen to conduct their scheme within the legacy banking system, we would be reliant on the bankers to identify they nefarious activity and report it. Unfortunately, example after example (1MDB fund, Estonia Danske Bank branch, etc) suggests that bad apples within these organizations actually facilitate the bad behavior, rather than stop it.
As a very wise man once told me, "Transparency is the sunlight that is necessary for strong flowers to grow, but the poison that kills the weak." I think of that saying often and today is no different.
I highly recommend you read the entire report from Elementus, which can be found here: https://elementus.io/blog/plustoken-analysis-ethereum/
-Pomp
---
The "Off The Chain" podcast has been downloaded in every country in the world, with more than 1,500,000 combined downloads. You can listen to the latest episode with Kyle Bass, Founder & CIO at Hayman Capital Management here: Click here for Off The Chain podcast
---
THE RUNDOWN:
Cryptocurrency Exchange Introduces Block Trading for Derivatives: A venture between an exchange and a messaging service is introducing block trades to cryptocurrency derivatives, seeking to drive the market closer to the mainstream. Deribit, an exchange for futures and options on Bitcoin and Ethereum, is partnering with Paradigm, a messaging service for institutional traders, for what it says is the first such offering from a crypto exchange. Contracts can be entered into bilaterally and then settled and cleared at Deribit, which has an insurance fund designed to cover losses from bankrupt traders. Read more.
Korean Banks Back $7.4 Million Funding Round for Blocko: Blocko, a South Korean blockchain firm working on enterprise applications of the tech, says it's raised 9 billion Korean won (around $7.44 million) in an Series B+ round. According an announcement on Thursday, Blocko said Korea's oldest bank, Shinhan, as well as KEB Hana Bank, LB Investment and Dadam Investment took part in the round. The investment brings the firm's total funding to date to over $20 million. Blocko is working to build business-focused blockchain services, and has been working in conjunction with several national institutions such as the nation's stock exchange, the Bank of Korea, Hyundai and the Korea Electronics and Telecommunications Research Institute. Read more.
Miller Lite Teams With Blockchain Firm for Customer Engagement Game: Miller Lite, the popular beer brand from U.S. brewer MillerCoors, has teamed up with a blockchain marketing company for the latest iteration of its "Know Your Beer" program. For the ongoing campaign, launched July 1, Vatom Labs built what it calls a mobile"edutainment game," called Great Taste Trivia, that served a 12-question quiz to cell phones, geo-targeting customers in over 230,000 bars and restaurants across the U.S. Read more.
New Flexa Tech Will Let You Spend Bitcoin From Other Apps Too: The merchant payments startup Flexa will soon allow any other app to run payments in crypto just like its own SPEDN app has since May. Staking with the company's Flexacoin will enable apps to trustlessly provide payments to merchants without any danger of malicious apps reversing a transaction after Flexa has transferred funds. The company raised $14.1 million in a private sale of FXC tokens in April. It's the last piece of the puzzle for Flexa to simplify spending crypto throughout the economy. Now, CEO Tyler Spalding told CoinDesk, Flexa's full business model should be clear to everyone. Read more.
Gemini Heads Down Under With Crypto Exchange Launch in Australia: Cryptocurrency exchange Gemini announced Wednesday that it is officially opening its doors to customers in Australia. The exchange's fifth international move, the development means that Australian users can buy and sell five cryptocurrencies on Gemini including bitcoin, bitcoin cash, ethereum, litecoin, and zcash. The startup, founded by investors Tyler and Cameron Winklevoss, is also making available its iOS and Android application to this market. The U.S.-based Gemini also operates internationally in Canada, South Korea, Hong Kong, Singapore, and the UK. Read more.
---
LISTEN TO THIS EPISODE OF THE OFF THE CHAIN PODCAST HERE
---
CZ is the Founder and CEO of Binance, a company with 400 employees, and hundreds of millions of dollars in profit. He is one of the best operators in the crypto industry and has built one of the most impressive companies in a very short period of time. This conversation was a lot of fun and I really enjoyed hearing CZ's perspective on building the largest cryptocurrency exchange in the world.
In this conversation, CZ and I discuss:
What he understood that many others didn't when he started the company

How he scaled to hundreds of employees

Why the company is fairly decentralized

What the regulatory strategy has been

What Binance's future plans are
I really enjoyed this conversation with CZ. Hopefully you enjoy it too.
LISTEN TO THIS EPISODE OF THE OFF THE CHAIN PODCAST HERE
---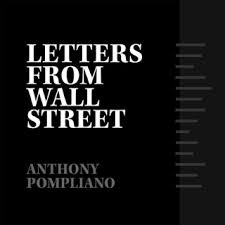 In this new podcast, I read through letters, notes, and memos from investors and entrepreneurs that cover financial insights from the world's most successful companies and investors. The podcast is sponsored by eToro, the world's leading social trading platform. This week's episodes include:
Ray Dalio's 2019 Investor Letter — "Paradigm Shifts" (Bridgewater Associates)

Paul Graham's 2008 Investor Letter — "How To Disagree" (YCombinator)

Tim Cook's 2019 Letter to Shareholders (Apple)

Martin Whitman's 2012 Letter to Shareholders (Third Avenue Management)

Joel Gascoigne's 2013 Investor Letter — "Expert of Nothing" (Buffer CEO)
LISTEN TO THESE EPISODES OF THE "LETTERS TO WALL STREET" PODCAST BY CLICKING HERE
---
Here are my tweets from yesterday:
Bitcoin's progress in 10 years: - Tens of millions of users - Hundreds of billions of market cap - Accepted at many major retailers - Discussed at every level of government - Covered daily on financial television Just imagine what happens in the next 10 years :)
---
Interested in crypto research? Look no further. The premier research firm in the space, Delphi Digital, has two subscription offerings for individuals and institutions alike. Take a look at their Bitcoin and Ethereum reports to get a taste of their analysis. [Click here]
---
If you enjoy reading "Off The Chain," click here to tweet to tell others about it.
Nothing in this email is intended to serve as financial advice. Do your own research.
---